The Essential Guide to Managing Volunteers at Your Nonprofit
How to Get and Keep Your Valued Supporters Coming Back
Are you a nonprofit or public sector organization looking for inspirational guidance on how to lead volunteers with purpose? Then, look no further.  This Essential Guide to Managing Volunteers in Your Nonprofit will help you get started off on the right foot. Whether you are brand new to volunteer coordination or have been at for years, we hope you'll find some helpful advice and resources on these pages.
To engage volunteer time and talent effectively, nonprofits need a solid volunteer management strategy in place. Successful volunteer management starts with a focus on the right tactics that include active volunteer recruitment, strategic placement, relevant training, proper supervision, and meaningful recognition. A well integrated volunteer talent management system ultimately leads to increased volunteer productivity, greater satisfaction, and longer-term volunteer retention.
Managing volunteers needn't be a source of frustration. With a little investment of time and attention, your nonprofit can generate powerful volunteer impact that expands your base of donors and supporters and strengthens connections with diverse communities far beyond your agency's doors.
The Essential Guide to Managing Volunteers in Your Nonprofit will help you develop a strategic approach to engaging volunteers across your agency and will give you tips to build and refine your management skills, whether you are a new or seasoned volunteer manager. Our guide is unique in that it also explains the neuroscience of human behavior and pairs it with tested tools and actions that apply directly to supporting a healthy and prosperous volunteer program.
Don't Have Time Right Now? Download a PDF for Later
Get this entire guide straight to your inbox!
The Powerful Impact of Volunteers
Your approach to managing volunteers can have a direct impact on whether or not they are successful. If you choose volunteer involvement as a model to meet your agency's needs, then it is your responsibility to design an environment where the community can have a pivotal role in your success through meaningful service.
When you think about establishing or improving your volunteer programming, think of yourself as an "architect of experience." It is your job to decide what support is in place so volunteers can give their best selves at your organization – what will facilitate this process and what might be a barrier?
With the right support, research has proven time and again that volunteer service makes a positive impact in the world. Volunteers can inspire hope. They can create better solutions. They can change policy. They can even save lives. And most importantly, they can encourage others to make a difference too.
Here are some interesting statistics about volunteers from the US-based Corporation for National and Community Service 2018 Volunteering in America report:
In 2017, one in three adults (30.3%) volunteered through an organization, demonstrating that volunteering remains an important activity for millions of Americans.
Since the previous report, the overall volunteer rate increased by more than 6%; nearly 77.4 million Americans volunteered 6.9 billion hours last year. Based on the Independent Sector's estimate of the average value of a volunteer hour ($24.14 in 2017), the estimated value of this volunteer service is nearly $167 billion.
Volunteers donated to charity at twice the rate of non-volunteers.
Volunteers invested in community-building; they did something good for the neighborhood at three times the rate of non-volunteers, and did favors for neighbors at nearly twice the rate of non-volunteers.
Volunteers belonged to a group, organization, or association at five times the rate of non-volunteers.
Generation X had the highest volunteer rate among age groups at 36.4%, and Baby Boomers had the highest number of hours at more than 2.2 billion. Millennial volunteering increased more than 6% since the last report, now at 28.2%.
Over the past 15 years, Americans volunteered 120 billion hours, estimated to be worth $2.8 trillion.
These stats show a variety of things:
1) Volunteerism is an important activity and is on the rise (for the first time in over a decade)
2) Volunteers are a key demographic for obtaining donations
3) Volunteers care about and improve their communities
4) Volunteers are active in other groups that aim to create change
5) Volunteers' time is valuable and contributes to the worth of the economy
6) Successfully engaging volunteers can be challenging.
While these stats are particular to the U.S., they reflect a similar pattern throughout other countries as well.
Volunteer Canada's Data on Giving, Volunteering and Participating in Canada paints a broad picture of deep engagement across the provinces.
Volunteering Australia's State of Volunteering report reflects the many benefits volunteers feel are achieved through service.
The UK's NCVO study Time Well Spent: A National Survey of the Volunteer Experience details the landscape of volunteering and the high satisfaction of volunteers with their experiences.
Volunteering New Zealand's State of Volunteering Report covers some of the challenges of engaging this valuable resource.
Finally, our very own annual Volunteer Management Progress Report tracks trends in the field for volunteer-involving organizations.
This knowledge proves that managing volunteers effectively is more important than ever. If nonprofits are able to recruit the right volunteers to support their cause, demonstrate how their work creates value to their community, and show appreciation for their worth, they have the opportunity to foster happier volunteers that will generate a chain reaction to pay it forward.
Volunteer Impact: 25 Resources to Build Your Case
For more resources and ideas for making a solid argument for robust volunteer involvement at your agency, check out our tip sheet.
Debunking Myths About Volunteers
"But it's hard to manage volunteers successfully when we have limited resources and staff time for recruitment, training, and recognition. Plus, not everyone has what it takes to volunteer."
Do you catch yourself saying these things?
In actuality, nonprofits can manage a great volunteer program on ANY budget (large or small) and ANYONE can volunteer. We'll go into details later in this guide about how to work within the confines of your budget; but first, let's quash those assumptions most people have about volunteers.
Myth #1: Volunteers don't like complicated tasks.
Volunteers are actually motivated by challenging tasks that give them the opportunity to grow their skills. It gives them a sense of responsibility and purpose. Of course, assigning them tasks outside their skillset may cause frustration, but many seek to learn from new challenges. As a best practice, volunteers should be matched with tasks that align with their interests while being supported by your organization to feel successful. 
Myth #2: Job satisfaction, organizational commitment, and a volunteer's intent to leave is dependent on a volunteer's generation.
Research has shown that a volunteer's generation doesn't affect a volunteer's satisfaction on the job or their commitment to an organization. Instead, what matters is the way an organization runs its programs and how well it supports, trains, and treats its volunteers.
While the availability of volunteers may be impacted by their life stage, much of what motivates people in the workplace is the same. In other words, today's millennials will be tomorrow's baby boomers. The bottom line is that no matter what a volunteer's age, the motivations for sticking with a volunteer position are the same – people are looking for mutual respect and meaningful work that makes a real difference
Myth #3: Only those with extra time (like retired people or students) can volunteer.
In today's age of technology, anyone can volunteer. You don't need lots of extra time or a ton of skills. Opportunities that involve events are short-term and often only require a few hours of time. Micro-volunteering gives people the opportunity to volunteer in short, convenient stints. These are usually easy tasks that can be done anytime, anywhere, and can include anything from sharing a message on social media, writing cards to veterans, signing a petition, or handing out flyers.
Myth #4: Volunteers are motivated mainly by the extrinsic rewards or perks.
There are many reasons why people volunteer. They might want to learn a new skill. They might want to gain experience so they can get a paying job in that field. They might want to better their community.
Usually a person pursues your organization to volunteer because they connect with your mission and cause, not because of the rewards you offer.
While extrinsic factors (such as earning a stipend or bonus, avoiding admonishment or punishment, receiving praise or instant gratification, or getting a reward, such as a plaque, certificate, or gift) are often what the world relies most on, intrinsic factors are actually much more effective than extrinsic ones as they are longer lasting and generate deeper commitment. They include:
Challenge – Being able to challenge yourself, accomplish new tasks, or reflect on why something did or did not work
Control – Having choice over what you do
Cooperation – Being able to work with and help others
Recognition – Receiving meaningful, positive acknowledgment for your work
Myth #5: Volunteers don't like receiving feedback (particularly if negative) since they are not getting paid.
Like employees, volunteers want to know how they are doing on the job, even if they are not getting paid. They want to know where they stand, what they are doing well, and how they can do better. Leaders of volunteers should not avoid giving feedback because they worry it will negatively impact the organization. It's important to have standards and volunteers should live up to them just as the employees do.
Now that you're aware of some of the myths surrounding volunteerism, let's transform previous notions of negativity into constructive actions to help you move forward.
Change Your Mindset About Managing Volunteers
Along with focusing on your strategy, managing volunteers successfully requires getting yourself in the right mindset. How you view the probability of your success can invade your subconscious and hinder progress. What you believe you can achieve has tremendous impact on whether or not you will reach your goals. If you don't believe you will be able to engage volunteers, chances are you won't.
As leaders, it's up to you to model a triumphant path by finding the right tools and teachers to help you lead. You must have the courage to set goals, identify a shared sense of belonging within your team, provide knowledge and support, and recognize the unique value you bring to your organization. Transforming negative, limiting beliefs into positive, enabling ones can exponentially increase your faith and confidence in your abilities and those of your volunteer team.
Enthusiasm is highly underrated. Don't be afraid to lead by your fearless, energetic example!
Managing Volunteers: The Volunteer Lifecycle
Developing a strategy for managing volunteers starts with setting the stage for successful volunteer engagement. The Volunteer Lifecycle Framework below shows all the activities that need to be planned within the volunteer lifecycle. Using the tools and tips we provide, both within this Guide and in our trainings and community of practice, will help you create an infrastructure that you can re-evaluate and evolve over time as your program grows or changes focus. You'll want to assign a paid staff person or series of people who will have ultimate responsibility for each phase to make sure tasks are completed and program oversight is established.
Volunteer Lifecycle Framework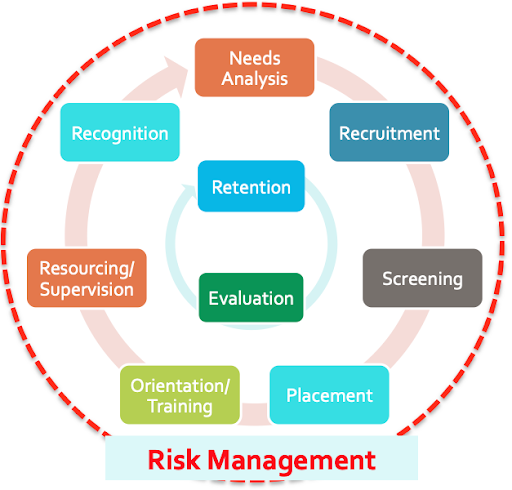 Ready to Get Started?
Now that you understand the importance of managing volunteers, what they can offer, and how you can convert your negative preconceptions to a growth mindset, you can begin scaling up your volunteer management program. The Essential Guide to Managing Volunteers in Your Nonprofit will help you develop each stage of your volunteer lifecycle. Plus, it gives you the evidence behind why we've developed and recommend our tools.
The first step is to ensure the goals of your volunteer strategy align with the goals of the larger organization and the community. When these three align, amazing things can happen.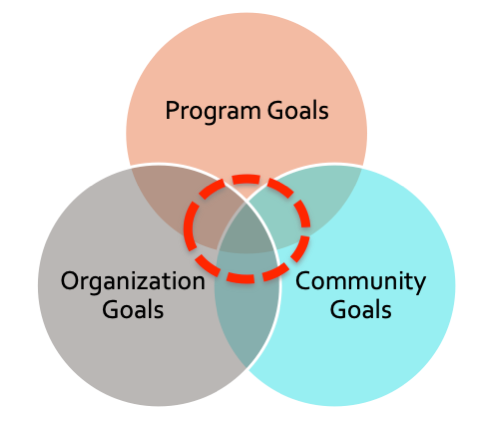 Get Focused by Downloading our Goal Cascade Worksheet
This worksheet will help you align volunteer and volunteer department goals with those of your agency to help you focus volunteer activities on what really matters.