Chapter 4: Volunteer Training
When nonprofits think about volunteer training, the immediate thought is volunteer orientation and induction. But it's more than that. Volunteer training can be helpful and inspiring support for are all stages of volunteer involvement from newcomer to established volunteer to volunteer leader. Volunteer training can be the engine to moving a volunteer past placement to commitment and will help keep their passion fueled.
That said, more and more volunteer organizations are finding it challenging to train and retain committed, long-term volunteer talent. While volunteers may complete their orientation training, only a fraction stay to complete their initial commitment.
The good news is there are specific strategies you can use to improve the number of enthusiastic volunteers who complete training and are ready to lend a helping hand. In this chapter, we'll share practical tactics that will inspire volunteers to commit to a post-training that doesn't involve nagging and desperate pleas for time and attention.
Once you're able to move your volunteer from initial training to regular volunteer shifts, your next goal is to keep them engaged for the long run. We'll give you time-tested strategies on how you can assess your volunteers' needs. And, we'll teach you to create compelling volunteer training sessions through using: blended learning techniques, designing effective learning objectives, and incorporating technology. We'll also give you pointers on how to determine when training is or isn't needed and other ways you can boost volunteer performance.
Why Training is so Important From the Get-Go
Scholarly research has shown volunteers pass through various stages of emotional involvement, they often lack formal training, and that much of their socialization and induction into the organizational culture is done on the job. Striving to learn their roles, skills, and expected attitudes, volunteers sometimes turn to informal sources, such as peers, their own social circles, trial and error, and feedback from the organization's customers. If proper volunteer training isn't provided, volunteers will make their own assumptions, which may not align with the organization's mission and goals.
The Stages of Volunteer Involvement

According to the research, in the newcomer stage (which is generally the first few months), a volunteer's intention is to try and help the organization as much as possible. At this stage, you risk a volunteer quitting if they don't understand the goals of the organization, how their role plays into these goals, and how they will be supported. Not having full understanding in these areas causes ambiguity, frustration, and dissatisfaction.
Learning designers can add specific activities to their volunteer training programs to mitigate loss during this fragile stage. Below are some possible interventions the research offers:
Match each new volunteer with a mentor or "buddy" to observe the veteran performing the skills and then try the skills with coaching before going "solo."
Provide job aids with frequently-used facts and procedures to reduce ambiguity, minimize the complete reliance on recall, and increase volunteer confidence.
Send a welcome email series with short, simple, practical answers to frequently asked questions.
Communicate regularly (e.g., monthly "in-the-loop" email newsletter) with updates or changes to any technical info and helpful tips.
These interventions can be paired with fun, team-building volunteer orientations and activities that build trust with the organization and foster connections, such as:.
Social events, like ice cream or pizza parties, help volunteers get to know one another. Include some kind of structured networking activity to get the ball rolling.
Tours of other departments in your agency in action help volunteers see the bigger picture and context within which they will do their work.
Have a meet and greet where new volunteers can sit down with executive leadership. This lets the volunteers know they are truly valued.
Conduct an internet "treasure hunt" where volunteers track down a specific list of items to get them familiar with the variety of internet resources you use on a regular basis. Give out prizes.
Use technology to get volunteers connected with each other – either through social media, an email list specifically tailored for their needs, or regularly-scheduled webinars on topics of interest and open discussion. Choose technology that doesn't need much management and ask current volunteer leaders to act as the moderators.
New Volunteer Training
Think about your training as a process, not a destination. Your goal is to help align your volunteers' skills with the needs of your organization. A well-designed volunteer orientation will help bridge the gap between what a volunteer already knows and what you need for them to do the job well.
Make sure your training bridges the most common gaps in your context. Below are the most common learning and performance gaps people encounter on the job.
5 Key Learning Gaps

Time is of the essence in new volunteer training. Busy volunteers don't have a lot of extra time on their hands and prefer to spend it making a difference. So, design for the greatest efficiency and focus on the "needs to know" information. To ensure you are actually addressing a gap and solving the real problem, versus wasting their time with information they can read elsewhere, assess and define which learning gaps you are attempting to address before you begin designing your training solutions.
Common new volunteer learning gaps include:
How to explain the organization's mission and services succinctly and accurately to the public
How to fill out and submit required paperwork completely and on time
How to conduct work safely and what to do in the event of an emergency
How we do things around here (insider information about the organization's culture and informal processes)
Also, remember most volunteers are also highly social. Build in opportunities to network and get to know one another. When they bond during training, they will be more likely to return to meet up with new-found friends.
Training for the Established Volunteer
Once volunteers become more comfortable with their roles, they will enter into the more established stage. At this point they will be offering more focused help and are ready to learn new skills. If their needs are not being met at this stage, you risk losing them to fatigue, detached concern or cynicism. There are a variety of things you can do to keep them engaged by enhancing their growth within the organization.
Training isn't effective by simply assembling a slide deck or posting resource materials online. It happens by taking a strategic and focused approach. A strong training begins with setting goals on behaviors you want to change or knowledge you want  to enhance partnered with evidence-based design, skilled facilitation, and reinforcement through practice on the job.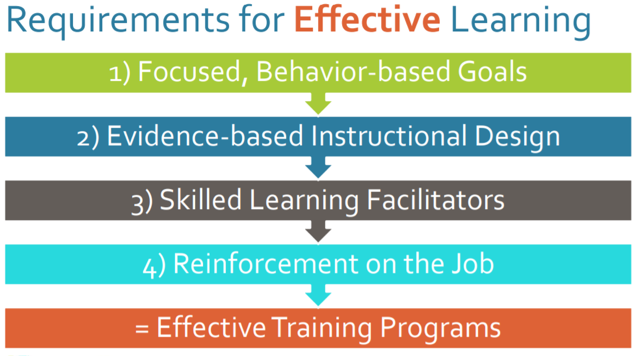 Training is a highly motivational element of the volunteer experience. Promote a culture of continuous learning and growth in your volunteers and you'll keep them coming back for more. You can encourage them by helping them develop individual skills development pathways or learning plans.
Learning Objectives Are the Foundation to Effective Training
When designing volunteer training programs, you'll want to develop action-based learning objectives. These help you focus your course content on "need to know" information and develop quizzes to assess what volunteers learned from the course. A learning objective is a statement that defines the expected goal of a curriculum, course, lesson, or activity in terms of demonstrable skills or knowledge that the learner is expected to acquire.
Use the formula below to help frame your learning objectives. They must be real world, observable, and measurable. A completed, action-based learning objective has three parts:
A brief description of the task to be performed
The conditions under which the task will be performed (including locations, resources to assist, equipment, or software to be used, etc.)
The standards that describe how well the task must be performed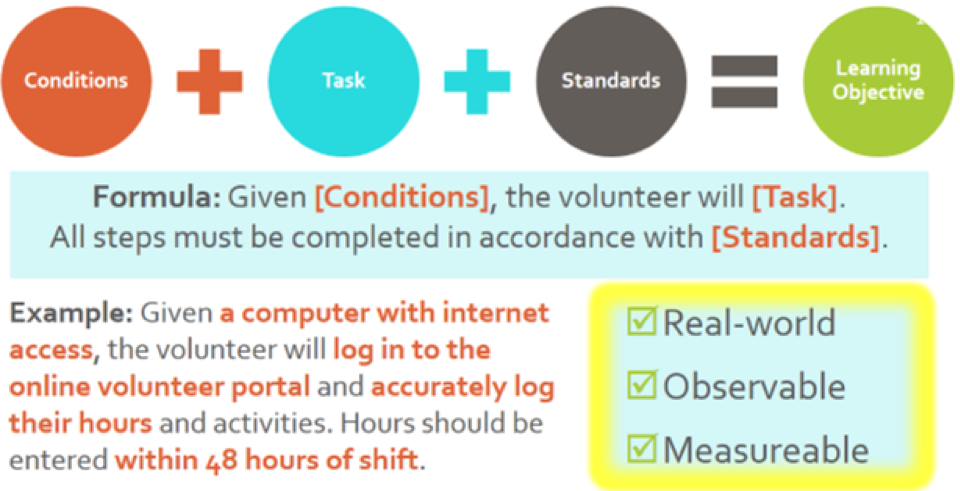 A learning objective is not helpful to your design process if it does not represent a behavior-based skill. Also, if it is not a skill a volunteer will use regularly, skip it. Having 3-5 solid learning objectives in place per hour of instruction is ideal. These learning objectives will serve as the foundation of your training. It will help you stay focused on what you want your learners to do, say or explain, find, or solve by the end of the training.
You can refer back to them when you review your training content to make sure they've been covered. You can also include them in your training evaluation forms to check whether volunteers are truly learning what you intended.
Volunteer Competency Goals
There are three levels of competency you'll want to develop in your volunteer training programs. You will want to incorporate design principles that help them apply knowledge, practice in context, and provide them opportunity to improve their skills and competence. Remember competency can only happen when your practice activities approximate what is to be learned.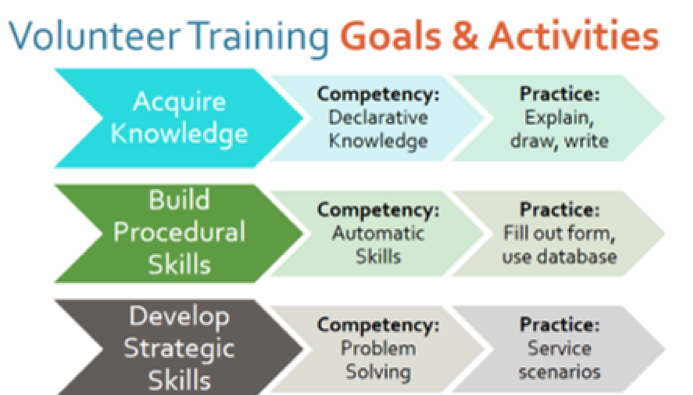 Using Technology in Training for a Better Blend
Preparing volunteers for their work with your nonprofit can be costly and time-consuming, particularly if your training is extensive. It can also be a challenge to get all volunteers in a room together for a train event. The good news is technology is now available to you create training programs that produce high volunteer satisfaction. Using a blended approach of online and in-person training can help you save time by literally teaching while you sleep, reserving class time for the most important content.
What is blended learning?
Blended learning is a formal education program that combines traditional instruction with online learning where learners have some type of control over their time, place, path, and/or pace. Training is presented through a mix of modalities.
Below is an example of training delivery methods ranging from formal to blended to informal.

Here are some aspects of each of modality:
Self Study – Can utilize many of these technologies, but is driven by learner motivation
Classroom Workshops – are the most traditional, but results are highly dependent on instructional design and trainer skill
Live Webinars – Vary widely in level of interaction and effectiveness
Recorded Presentations – a kind of self-study that is guided, also driven by learner motivation
Interactive eLearning – varies in level of interaction, from "click and read" slides to drag and drop activities to highly sophisticated virtual simulations
On-the-job Training – refers to training that takes place in a normal work environment and is guided by a peer mentor or a trainer, can encompass other training methods (e.g., viewing recorded presentations while on the job)
Social Learning – peer supported networks where learners receive feedback, share challenges, and model behavior through their interactions, best with an observer/moderator to check on accuracy of info and to provide resources
Collaborative Learning – project-based learning in groups that can occur with or without technology
Blended learning has advantages for both volunteers and nonprofits. For volunteers, it's appealing because it's self-paced, allows time for them to review content, gives them an opportunity to get involved right away, helps them get acclimated to the use of technology and reduces their travel time. For nonprofits, it can save staff time, reduce expense, track a volunteer's progress, minimize face time, filter out unmotivated learners and promotes ownership of the program.
What type of technology can you use in your volunteer training program?
In the past few years, many free or low-cost technology solutions have appeared in the marketplace. Remember that the more integrated the solution, the higher the cost, so make sure you decide what capabilities you'll need and can afford as you plan.
Below are examples for ways to deliver training content online: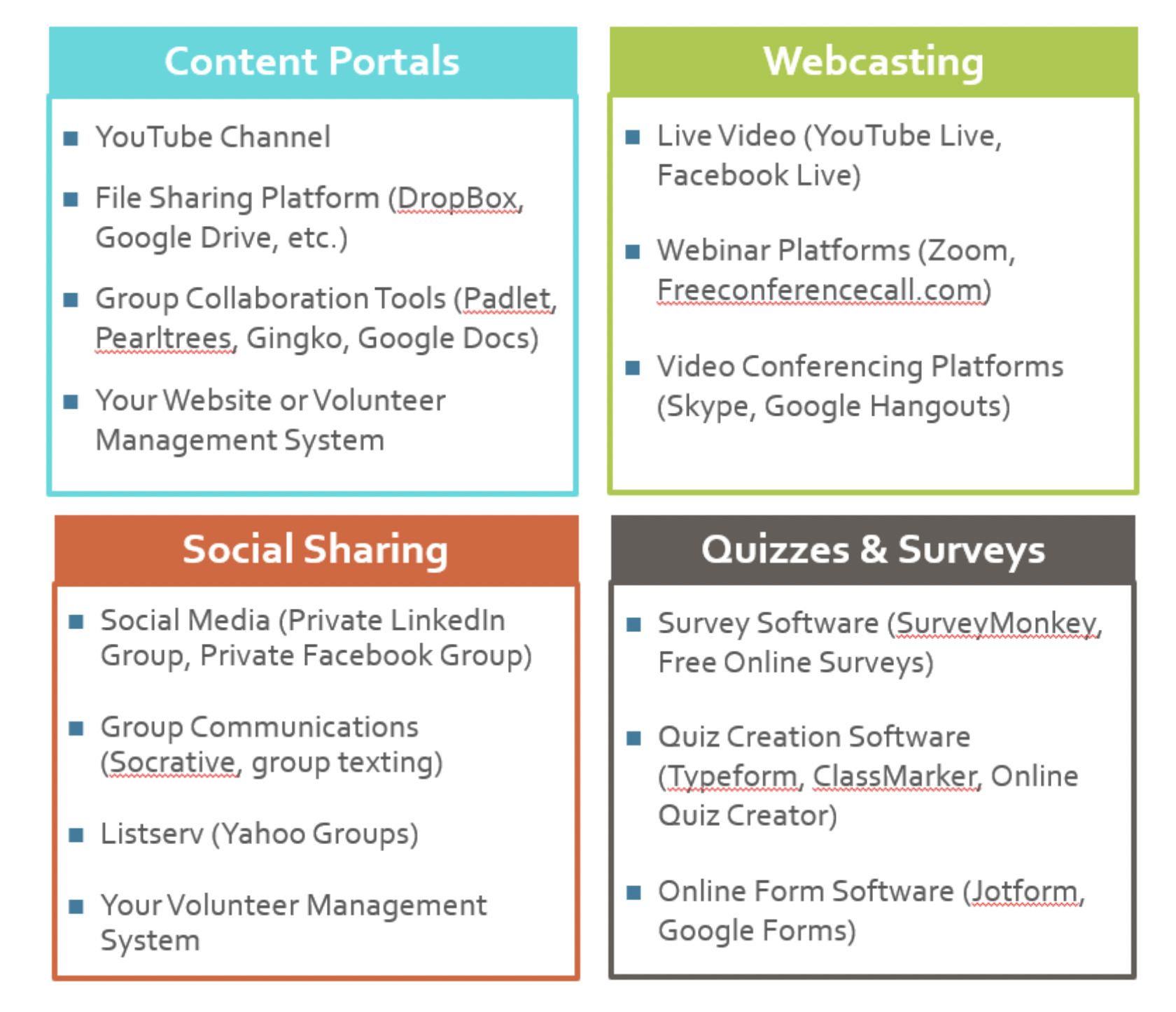 Keep in mind, there are some risks to online training. Digital communication presents major roadblocks to forming deep relationships necessary to learn and work effectively together. Virtual environments require more effort to foster connection and build trust.
The good news is specific steps can be taken to reduce the perception of virtual distance. Here are some tips on how you can increase interaction if you are doing live online training.
Set expectations before the training (and send prep materials)
Set the tone and be upbeat (this is "edutainment")
Start with "easy warm-up wins" (online greetings, polls, surveys, etc.)
Have people say something about their local context (weather, etc.)
Share content that is less theoretical, more highly practical
"Gamify" and delight with brainteasers, fad/facts, etc. (can include prizes)
Use tech features that encourage collaboration
(live chat roll, video, mute/unmute, whiteboards, etc.)
User test (or split test) to get feedback directly from learners
Is Training Always the Answer?
Sometimes, when volunteers are underperforming or are dissatisfied, training may not be the solution to your problem. Here are some tips on how to decide whether training is actually needed when you're confronted with a problematic volunteer matter.
In most cases, knowledge and skills gaps can be successfully addressed head on through more (or more effective) training.
But, for issues regarding motivation or attitude, the work environment, or communications, more training isn't likely to help. So make sure you understand what is driving poor volunteer performance. Is it because volunteers don't know or can't do what you're asking? If so, training may help.
Is it because they've lost motivation, don't have enough time or the right tools, or are getting conflicting information (if any) from direct supervisors? Then, more workshops, courses, and reading will probably frustrate more than help the situation.
Check out this post for more tips on boosting volunteer performance. With careful research, planning, design, and delivery, you can create meaningful volunteer trainings for all volunteers at any stage. Just give yourself time to prepare and practice.
Know What's Working: Download Our Free Volunteer Skills & Training Feedback Form
As you create or update you volunteer training, make sure you pilot test and evaluate whether it is effectively closing the skills gaps you intended.
Use our free, ready-to-use form to get candid feedback from volunteers about how to improve your orientation and training courses.