Just Released! 
2018 Volunteer Management Progress Report
#vmprogress2018
Volunteer Management Trends for 2018 
Learn what over 1,000 pros from 12 countries said about their work, salary, & satisfaction.
WHO took the survey?
1,241 leaders of volunteers from 12 countries participated.  They represent all kinds and sizes of organizations and causes  including nonprofits, government agencies, associations, congregations, and businesses that involve volunteers in communities.
WHAT's included in the final report?
This free 45-page report includes charts and analysis of responses this this years survey.  We also include trend data from the last three years of surveys.
WHAT does the survey cover?
The goal of this "state of the industry" survey is to paint a better picture of today's volunteer management professionals while taking into account their organizational characteristics, resources, location, etc.
WHAT can be found inside?
The top challenges for today's volunteer administrators in their own words (see pages 34-35 & quotes throughout)

How volunteer coordinators rate their level of support from co-workers (see pages 38-40)

Whether or not the diversity of today's volunteers align with the communities they serve and whether intentional volunteer diversity and inclusion is common (see page 41)

Whether we could establish retention benchmarks for short-term, long-term, and project-based volunteers (see pages 36-37)

How the job salaries and number of volunteers engaged compares across organizations of different sizes and types (see pages 27-32)

How volunteer managers compare their work, satisfaction, and intent to continue in the field (see pages 17-21, 22-26, 42-44)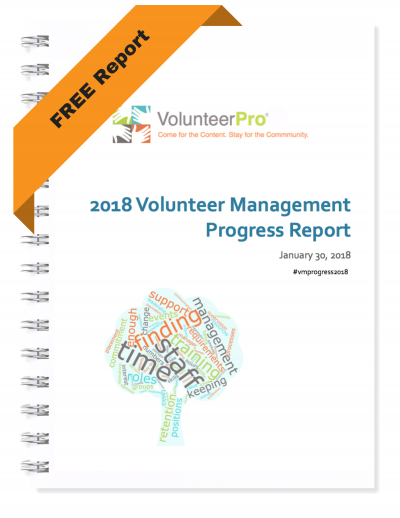 WHY conduct a survey of volunteer management?
Our field needs this. Although researchers have conducted similar surveys, none have attempted to understand trends over time through a survey that occurs (and evolves) every year.
We All Need This Information To Be Better Advocates.
Volunteer resource managers can benefit from seeing how their colleagues rate their own priorities, challenges, and opportunities.
Volunteer-led organizations need clear benchmarks to help them make meaningful comparisons and informed decisions about their volunteer engagement.
Nonprofit consultants, trainers, and capacity builders need to know which are the greatest needs for our field.
And, we all need this information updated every year.  We plan to conduct this survey each year so that we can begin to track emerging trends in our field.
WHO helped distribute the survey?
We are grateful for the help of the following distribution partners and others.  If you are interested in helping next year, please email Tobi at tobi@volpro.net, and we'll get you on the list of distribution partners and alert you in the fall of 2018.
Want to Help Spread the Word?
If you lead a network of volunteer management professionals and would like to help raise awareness of the survey next year, please contact Tobi at tobi@volpro.net.  We'll put you on the list and send you a press kit next Fall that makes it easy to share.
Need Copies of the 2016 or 2017 Volunteer Management Progress Reports?
About The Survey
The survey is a project of Tobi Johnson & Associates | VolunteerPro in partnership with Trina Willard at Knowledge Advisory Group and Pam Kappelides at La Trobe University.