Available NOW!
Check out new volunteer management trends for 2019!
WHAT We're Exploring
Tech Trends!!
Technology is vital for so many reasons. It's an essential tool to recruit today's connected volunteers. It also helps us strengthen relationships and track impact. This year's survey results help the sector better understand where we stand right now and where we need to go.
WHAT We're Reporting
Current capacity levels for volunteers placed around the world

Net promoter ratings for the most widely used volunteer management software platforms

Current technology platforms, tools, and frequency of use

Top challenges for leaders of volunteer management professionals

Competency ratings for volunteer management and tech skill sets

Salary & budget trends, cross tabbed by agency characteristics
WHY conduct a survey of volunteer management?
Our field needs this. Although researchers have conducted similar surveys, none have attempted to understand trends over time through a survey that occurs (and evolves) every year.
We All Need This Information To Be Better Advocates.
Volunteer resource managers can benefit from seeing how their colleagues rate their own priorities, challenges, and opportunities.
Volunteer-led organizations need clear benchmarks to help them make meaningful comparisons and informed decisions about their volunteer engagement.
Nonprofit consultants, trainers, and capacity builders need to know which are the greatest needs for our field.
And, we all need this information updated every year.  We plan to conduct this survey each year so that we can begin to track emerging trends in our field.
WHO helped distribute the survey this year?
We are grateful for the help of the following distribution partners and others.  If you are interested in helping next year (or helped this year and don't see your org listed), please email Tobi at tobi@volpro.net.  In the fall, we'll send you a press kit to make sharing with your network easy.
Oakland Country Volunteer Coordinators Association
Volunteer Coordinators of Southeast Michigan
Get this year's VMPR Tech Edition straight to your email!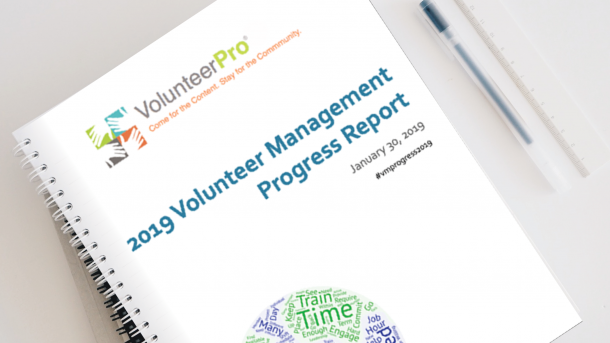 Get the 2019 VMPR Tech Edition
Available NOW!
Learn what over 1,500 volunteer management professionals said about their biggest challenges, tech competencies, and perceived effectiveness!
Need Copies of the Previous Volunteer Management Progress Reports?
About The Survey
The survey is a project of Tobi Johnson & Associates | VolunteerPro in partnership with Pam Kappelides at La Trobe University.