Chapter 6: Volunteer Management Software
Volunteer management software systems are vital tools that help nonprofits track volunteer impact. However, our 2019 state-of-the-industry Volunteer Management Progress Report revealed that volunteer managers are far less comfortable using digital tools compared to their competence in general volunteer resource management. In fact, the overall digital maturity of volunteer organizations is low. This poses the question: How will volunteer organizations keep pace with the general public in this digital age?
The 2019 VMPR survey listed these as the top six activities where nonprofits currently use technology.
1. Opportunity Listings (79%)
2. Online Applications (64%)
3. Broadcast Email "Blasts" (58%)
4. Background Screening (52%)
5. Time Tracking (51%)
6. File Sharing (45%)
Volunteer management software, when combined with other platforms, can help nonprofits perform all of the activities above, and more. By automating administrative tasks and communications, volunteer organizations can streamline their volunteer intake process, track volunteer hours, centralize staff-volunteer communication, create volunteer profiles, schedule volunteer shifts, and segment volunteers by skills and interests.
Choosing the right volunteer management software is a foundation, and learning how to use it confidently will keep you organized, build connections with your volunteers, and enable you to manage resources effectively.
In this chapter, we share how you can choose the best volunteer management software for your nonprofit needs and explain the importance of what each type can offer.
What Volunteer Management Software Can Do for You
Investing the time and effort to understand what volunteer management software can do for your nonprofit can alleviate technology fears and ultimately make your pitch for resources easier. We've discussed the need that volunteers have for connection and training, but did you know volunteer management software systems can help you manage these things and more?
Here are five things volunteer management software systems can do for you:
Send regular communications– You can set up email templates and regular communications to help volunteers stay connected to the organization.
Track volunteer hours– Volunteers can enter their hours so you can calculate ROI when reporting to your donors.
Build Community– HUB pages with resources and opportunities where they can post and comment can connect your volunteers with each other.
House Training– Videos, webinars, and job aids can be posted on your site, making for easy access to your program. You can even post quizzes for measuring the effectiveness of your learning objectives.
Manage Contacts– Information on your volunteers can reach beyond basic contact info. It can also include their interests and special skills, shift schedule, the stages of volunteer training they completed, which communications they've received, and/or evaluation information.
Types of Systems
There are many different types of volunteer management software platforms available that can help your nonprofit get organized depending on your needs. Below is a chart that describes the variety of systems that exist.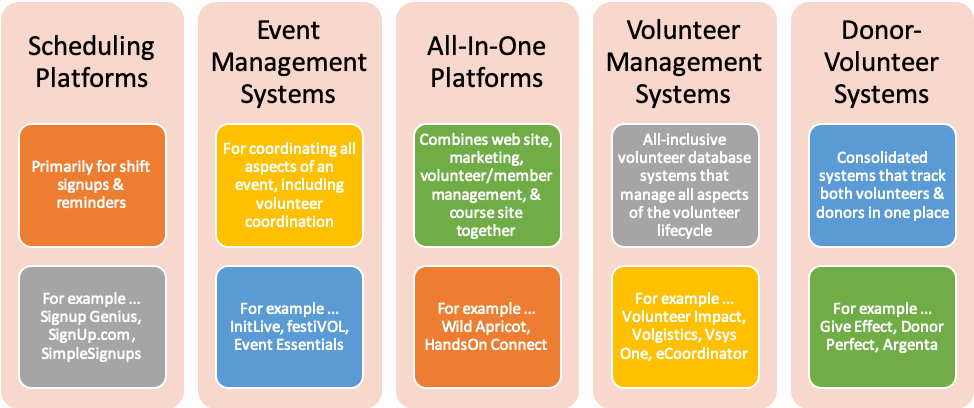 Scheduling platforms and event management systems are good for one-time events where you may not need to keep an on-going list of contact info for volunteers. They are often used by individuals, sports teams, schools, churches, or organized groups.
All-in-one platforms and volunteer management systems are usually used by nonprofits with established volunteer programs who want something more complex to manage recruiting, training, and communications.
Donor-volunteer systems are used for keeping information on volunteers and donors. This information is kept for future fundraising campaigns or for sending notes of appreciation.
In addition to these, there are systems specific to certain environments, like schools. There are also volunteer-driven crowdfunding systems where volunteers can raise money for their favorite causes. Software can be web-based (SaaS) or downloaded (on-premise).
One System Can't Do It All — Setting Up Your Software Specifications
Your volunteer management software should help you streamline your process but also help you measure what's important to your organization by allowing you to sort categories individually and run reports based on combinations of each field.
When choosing a platform, here are some key functions you might consider.
Scheduling Tools – calls to action, shift signups & reminders, changes
Relationship Building Elements – discussion boards, forums, private messaging, email reminders, group texts, etc.
Data Reporting Tools – volunteer conversions, hours, progress though onboarding, departmental usage, awards, etc.
Software Integration – with other systems (your donor software, MailChimp, Constant Contact, social media, etc.)
Bells & Whistles – learning management system, resource portal, gamification, etc.
Choosing Your Volunteer Management Software
Here's a step by step process you can use to select the right platform for your needs.
How to Select Software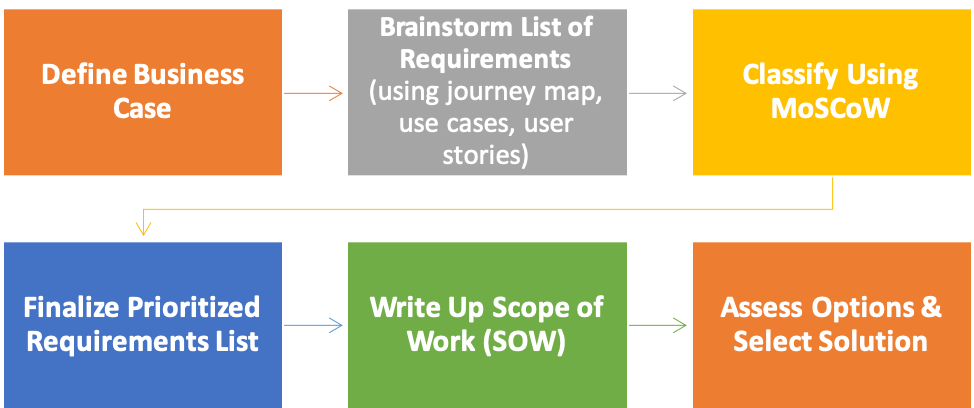 Step 1: Define Your Business Case
A business case is needed when a resource or expenditure on a project must be justified. Include these sections in a 1-2 page document.
Problem or Opportunity – What will be solved with this solution?
Objectives – What the project is expected to achieve

Not necessarily the tools needed to achieve it

THIS, "To track monthly fluctuations in volunteer time & report year-to-date aggregates in real time"
NOT THIS, "To provide a place for volunteers to log their hours

Costs – For start-up, maintenance, and growth
Risks – What could go wrong & how you will manage them
Scope & Interdependencies – What is included & what is excluded, plus key interactions with other projects/agency functions
Plan – Divided into stages

What is required? How is it done?
Who does what? When will things happen?

Personnel – Who will be involved in selection, rollout, and ongoing management (with estimated time needed & saved)

Levels of authority & decision making
Step 2: Brainstorm List of requirements
Once you have presented your business case and received approval to move forward, your next step is to brainstorm a list of preliminary software requirements. Think about which functional and non-functional requirements you will need.
Functional requirements are those related to the technical functionality of the system, how the product must behave.
Non-functional requirements specify criteria that can be used to judge the operation of a system in particular conditions — or how well (to what level) something is to be carried out — rather than specific behaviors.
Some sample questions to ask in your brainstorm might be:
What data do you (and others) need to collect and report on?
What problems would you like the system to solve?
Who will use the software and how?
Are there existing systems that you will continue to use in your agency and can they interface with your volunteer management system?
Step 3: Use the MoSCoW classification system to determine priorities
Once you have developed a laundry list of requirements, you will need to prioritize them. The MoSCoW classification system is a standard way of doing this.
Must Have (Minimum Usable Subset (MUS) of requirements) – This should be no more than 60% of the total list of requirements. Ask the question, "what happens if this requirement is not met?" If the answer is "cancel the project – there is no point in implementing a solution that does not meet this requirement" then it is a Must Have requirement.
Should Have – A Should Have may be differentiated from a Could Have by reviewing the degree of pain caused by it not being met, in terms of business value or numbers of people affected. It may require a workaround.
Could Have – This will have less impact if left out (compared to a Should Have)
Won't Have (this time) – These should be recorded in the scope of work. This avoids being reintroduced 'via the back door' at a later date.

Step 4: Finalize the Prioritized Requirements List
The Prioritized Requirement List (PRL) establishes the basis for agreement between the customer and the vendor on what the outcome of the project will be. This allows you to estimate cost and schedules. It also provides a baseline for validation & verification and controls scope creep. The PRL should be:
Ranked for Importance: Since all requirements are not of equal weight, you should employ a method to appropriately rank requirements.
Verifiable: Use measurable elements and defined terminology to avoid ambiguity.
Modifiable: A well-defined organizational structure of the SRS document that avoids redundancies can allow easy adaptation.
Traceable: Ability to trace back to the origin of development and move forward to the documents produced from the SRS.
Step 5: Develop your Scope of Work
The Scope of Work (SOW) is the area in an agreement where the work to be performed is described. The SOW should contain any milestones, reports, deliverables, and end products that are expected to be provided by the performing party. The SOW should also contain a timeline for all deliverables.
Step 6: Assess options and select a solution
Research available platforms and determine which one will best suit the needs within your budget. Factor in the type of support they offer and how accessible they will be when you need it.
For a list of the most common volunteer management software used by nonprofits and how they rate, check out the 2019 Volunteer Management Progress Report.
Involve Your Volunteers
Make sure your volunteers are involved early on with your volunteer management software selection, implementation, and maintenance. Volunteers can help you assess and choose a software platform, and maybe even recommend one or help train you if they know the industry! This will create buy-in into your process and you can use them as advocates when the changes come.
Once you choose a volunteer management software and have it set up, remember to test it with your users and provide sufficient training with everyone involved. This will prevent frustration and show your volunteers and staff you are investing in their capabilities. As you become more familiar with the system, you will find yourself increasing your nonprofit's digital maturity. Who says nonprofits can't be techy?
Choose Wisely With Our Free Volunteer Management Software Requirements Planning Worksheet
When researching the best volunteer management software for your organization, you'll want to create a checklist of "need to have" versus "nice to have" features that are critical to managing volunteers you are seeking.
Do this before you start to review the options. Otherwise, you risk adding things to your list you may night need. Also, consider developing this in collaboration with a team of volunteer advisors who will be more likely become champions for change for the new system.