Chapter 8: Nonprofit Management Best Practices for Volunteer Organizations
Nonprofit management involves a combination of many different skills. You need to be a leader, a teacher, a listener, a marketer, an observer, a trainer, a coordinator, an event planner, a fundraiser… and the list goes on and on. Throughout this Guide, we've given you specific tools to help you weather the various volunteer lifecycle stages, but what do you need to plan an overarching volunteer program using nonprofit management best practices?
To manage a nonprofit effectively, you need to have the right people, a realistic outlook of your budget, tools and resources to reach your goals, and be able to evaluate your return on investment so you can make improvements to your programs.
Your Volunteer Program Checklist for Better Nonprofit Management
Whether you are new to or familiar with nonprofit management, make sure you have these minimum required tools and documents. These will help you build relationships, solidify your brand, keep on mission, and set up a successful volunteer engagement strategy and framework for your organization.
Organization Mission Statement – Reinforce identification with common goals. Keep it updated, free of jargon and industry buzzwords.
Volunteer Manager Job Description – Ensure specific and adequate amount of time is allocated for relationship building with all stakeholders. Update the job description annually to reflect actual work and percentage of time spent on each major task area (see Chapter 1 for a free job description template).
Business Cards – Include an inspirational quote or philosophy of volunteer involvement on back of card. One for business card for you and a generic one for volunteers.
Marketing Style Guide with Logos – Consistency of design reduces perceived difficulty of tasks and asks of volunteer communicators. Use high-resolution files of logos and consistent fonts and colors.
Volunteer Management Software System – Managing volunteers with excel spreadsheets just doesn't cut it in today's world. You need a software platform that helps you automate redundant tasks, allows volunteers to manage their own profiles and log their hours, and acts as a communications conduit with your supporters. See Chapter 6 for a free worksheet that walks you through how to choose the right system.
Volunteer Position Descriptions – Link volunteer roles to your organization's mission. Be flexible enough to create new ones based on a volunteer's interest.
Volunteer Application Fact Sheet (or web page) – Clearly communicate steps in the application process and build trust. Post on web page and/or include a recruitment brochure.
Volunteer Application – Gather vital volunteer info & help volunteers understand that the organization is a place that prioritizes safety. If used, include a background check and personal reference releases in the document with a short explanation as to why they are important.
Volunteer Screening Interview Questions – Learn about the volunteer's preferences & their behavior in certain situations. Remember, these are a two-way street – talk & listen (see Chapter 3 for a free cheat sheet)
Volunteer Agreement – Reassure volunteers that yours is a well-run organization and their information will be protected. Include privacy, confidentiality, and conflict of interest agreements, if applicable
Volunteer Manual – Inspire new volunteers and help them understand social norms and unwritten rules. Also, include a short Acknowledgement Form that the volunteer signs
Recognition and Retention Strategy – Instead of waiting until the last minute to set up a volunteer recognition event, find ways to integrate volunteer appreciation into your daily nonprofit management practices (see Chapter 7 for a free volunteer appreciation eBook with ideas that align with research-based volunteer motivations).

Newsletters – Part of your retention strategy might include a newsletter. This is a great way keep you existing volunteers in the loop and engaged. For some great ideas on how to structure and create one, check out this post on nonprofit newsletter writing.
"A noble leader answers not to the trumpet calls of self promotion, but to the hushed whispers of necessity."
– Mollie Marti
Build a Budget to Support Volunteer Engagement
Having a budget is a key component of effective nonprofit management as it allows an organization to focus on their mission and grow their programs. A well-thought out volunteer program budget will tell you exactly where you stand and can help you plan for the future. Without one, you run the risk of overspending, having to cut back on services, or losing donors.
Fiscal planning is an on-going process. You will want to start planning for your volunteer engagement budget 3-6 months before your next fiscal year begins. This is to evaluate your current financial status, assess your program goals for the next year, and look into potential revenue streams. Within that time, factor in 1-2 months for budget approval depending on all the different nonprofit management levels you may need to go through (e.g. Executive Director, Board of Directors, fiscal department). Finally, take time to monitor and report on your financial status.
A budget consists of revenues and expenses. Whether your plan for revenue and expenses is small or large, you can create and track your own plan for resource allocation. There are four general costs covered by nonprofit budgets:
Direct Costs — Directly related to a specific project or program
Capital Expenditures — Items that have lasting value (cars, real estate, etc.)
Indirect ("Hidden") Costs — Not project-related but necessary to successful functioning
In-Kind Contributions— "Free" donations of goods or services (count as both expense & income)
Indirect costs are also known as overhead costs, administrative costs, supportive services, or operating costs. Many organizations have a set fee or overhead cost for each program (a percentage of the total program budget).
Volunteer Program Budgets
So what should nonprofit management include in their volunteer program budgets? Basically, any resources you need and use, including those that support you in becoming a better manager and leader. When the true costs of volunteer involvement are not included in a budget, it reinforces the myth that volunteers are free labor. This simply isn't the case. Engaging volunteers takes solid strategy and real agency resources, both cash and in-kind, to be successful.
Here are a few things to include:
General Marketing (website design, search engine optimization, brochures, display/promo items, etc.)
Volunteer Recruitment (online postings, volunteer center membership, background checks, etc.)
Volunteer Appreciation (special events, recognition items, food/beverage, etc.)
Volunteer Support & Reimbursement (volunteer management & communications software, mileage, travel, phone, supplies, etc.)
Professional Development for Volunteers and Those How Lead Them (training, certification, publications, conferences, membership fees, etc.)
Volunteer Management and Other Software (for application and onboarding, volunteer impact reporting, online training delivery, communications, etc.)
Create a Chart of Accounts
Every organization's accounting system has a chart of accounts that classifies sources of revenue, types of expenses, and their corresponding line items. Line items are simply the categories included in each budget. If you align your categories to match your fiscal department when you develop your volunteer budget, you will be able to monitor expenses and communicate with internal stakeholders in terms they understand.
You can start building your volunteer budget by making projections for line items.
Possible Volunteer Program Line Items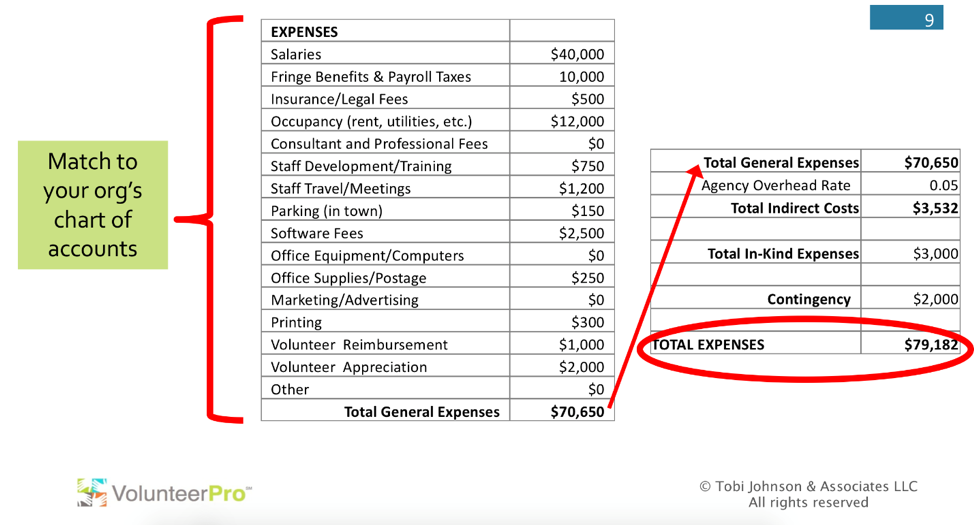 When developing budgets for activities that some staff aren't familiar with, add short narrative explanations for entries. This helps those reviewing the budget understand the underlying rationale and explains why a number in this year's proposed budget may be different from last year. Here are some areas you can apply to your situation if the information is not clear:
Staffing information (positions, qualifications, roles, etc.)
The Math (the calculations)
Vendors (volunteer management software, for example; why chosen)
Special Events (purpose, plans, locations, etc.)
Volunteer Recognition (rationale, goals, etc.)
Overhead (if applicable, what it covers, how it is charged or paid to other departments)
Expected Volunteer Hours & Achievements (equivalent FTEs, strategic goals)
Where Will the Funds Come From?
In addition to expenses, a complete budget should include an estimate of your projected program revenue for the next three years, listed by funding source. By listing more than one year, you can paint a clear picture of how the funding will change over time. For example, you can show that when government grants decline, other planned sources take over.
If you're unsure of your funding, you can qualify your income projections by marking them as committed, likely, and possible. This helps build transparent and trusting relationships with those that have the power to approve or block your budget and to plan for contingency funding.
There are many creative ways you can bring in funding for volunteer services. Here are just a few strategies:
Allocate a percentage of total charitable donations to the organization, based on the percent the total volunteers donate
Allocate a percentage of total program fees, based on the percent of the total staff hours volunteers donate
Allocate special event proceeds, all or a portion of the revenue
As agency overhead, ask every program in the agency where volunteers are placed to set aside a percentage for volunteer services
Include volunteer services as a percentage of program grants that include volunteers, as part of direct service costs
Conduct fundraising campaigns to cover general operating expenses or specific purchases
Planning a budget takes time, and even if you don't have one yet, start thinking about it now. Having a dedicated budget will show the value of your program, and it can be help bring in more donations and resources. You have nothing to lose and everything to gain.
Leveling Up Nonprofit Management and Volunteer Leadership Skills in Employees
An often overlooked, yet highly valuable, nonprofit management practice is to grow the volunteer leadership skills in employees. And it can start with helping your staff understand the importance of staff-volunteer relations.
Positive staff-volunteer relations are vital to the health of the organization. Staff are a big part of setting the tone of the organizational culture and can be a factor in volunteer retention. If you notice your retention rate declining or that there are tensions between staff and volunteers, you'll need to nip those problems in the bud as quickly as possible. 
Here are some early signs that will tell you if your organization should examine your staff-volunteer relations.
Talk of "Us" versus "Them"
Blurred boundaries between volunteer and staff roles
Territorialism or reluctance to work jointly or include volunteers
Minimal information sharing or information hoarding
High volunteer turnover rates
Low satisfaction of employees and volunteers
Direct complaints (or indirect grumbling) about each other
Volunteer-Staff Climate Audit
Conducting a volunteer-staff climate audit is a quick way to assess volunteer-staff relations and monitor the impact of interventions. The audit is essentially a survey with statements about staff-volunteer relations using a Likert-type scale. The results of the audit will give you a sense of what the problems are so you can address them appropriately.
How to conduct a climate audit:
Form a paid staff-volunteer committee to conduct the audit
Distribute the survey to volunteers, paid staff, and direct service clients who come in regular contact with volunteers
Discuss the results as a group, but take care not to blame certain people or departments
Once you've completed your audit, then you can develop your plan for change. Make sure your messages are succinct and communicated consistently to those who will be affected by any new volunteer or staff policies you develop. Your plan should include the following:
People – Who is affected (directly and indirectly)?
Process – How will things change? Who cares?
Platform – What tools and support are needed? What technical skills are required?
Positioning – Who else is aligned with your solutions at the organization?
Stakeholder Buy-in
You may need to get buy-in from top management about your plan. Organizational leaders are ultimately responsible for setting policy, tone, and the example to lead changes to employee responsibilities and accountability. If your executives don't actively and publicly support volunteers, you aren't likely to get that support elsewhere.
To ensure volunteers are fulfilling a truly strategic function at your organization, review your mission or mandate in order to ensure that volunteer roles are working toward your ultimate goals. Include volunteers in the process. Ask questions like:
How can our organization meet our mission more effectively by engaging community volunteers?
Where are our most critical gaps?
What are innovative ways we can partner with volunteers to improve our talent and social capital?
What is the best we can do here?
What might we have to adjust to be even better?
You can also embark on a larger workforce planning process with your co-workers and volunteers.
Nonprofit Management Accountability
Now, that you've assessed the problem and garnered buy-in from management, staff, and volunteers, it's time to "bake accountability" into your program. Volunteers are everyone's job, so take purposeful steps to ensure everyone is on board.
You can do this by creating agreements on how staff and volunteers will work together, the expectations of the work to be done, how staff should support volunteers, and the communication that is expected.
Other ways to promote accountability include:
Ensure the Chief Executive has volunteers on their team
Keep your Board and staff apprised of volunteer activity, outcomes, and impacts
Ask your Board to make big picture decisions about volunteer policies
Include the director of volunteers on the management team
Invite volunteers to play a role in program development and decision-making that directly affect them
Add volunteer involvement tasks to every employee's position description and include volunteer management in the employee manual
Train all employees on how to lead volunteers effectively, and evaluate them on their performance
Acknowledge both volunteers and employees for team excellence
Finally, ensure all team members  – employee and volunteer alike – are held to the same standards of professionalism and collegiality.
Nurturing Staff Leaders
By developing agreements, including volunteer involvement in employees' job descriptions, including volunteers in decision-making, and acknowledging volunteer-staff team collaborations, you are creating a healthy staff-volunteer culture. This process helps staff recognize the importance of strong relationships between staff and volunteers and gives them a platform for building and advocating for a better program.

In order for staff leaders to be successful with volunteers, they must also have the nonprofit management skills necessary to motivate and support volunteers. These include meeting management, problem-solving, conflict resolution and sharing power. This should all be supported by supervisors through ongoing training and coaching (see Chapter 5 for supervisory skills to reinforce).
Finally, don't forget to reward both staff and volunteers for their effective collaboration. It will elevate morale, inspire emerging leaders, and reduce resistance to the inevitable nonprofit management changes volunteers will bring about.
What's Your Philosophy for Nonprofit Management?
Often we take our leadership approach for granted. After all, we know what we believe, right?
But, what about our followers – those we serve?  Are they clear on the key values, beliefs, and principles that support and drive our decisions? If we're not clear ourselves, our beliefs likely aren't translated into our works and deeds. When it comes to leading volunteers, transparent leadership is a vital component to ensuring success.
At the foundation of your nonprofit leadership philosophy are your beliefs about human nature that align with personal values. Below are five statements that can help you build your philosophy and an example for each.
I believe [insert your values] …
My thoughts will [insert desired attitudes & actions] …
My words will [insert desired attitudes & actions] …
I will lead by/with [key principles anchoring you] …

For example … "I will lead with wit, knowing that our work is serious, but we don't need to take ourselves too seriously."
I expect to [insert behavior] in challenging situations] …
Use your personal philosophy statement as your compass, for you alone. It does not need to be shared with anyone else.  It will, however, become clear through your words and deeds as you forge a new, exciting future for your volunteer team.
Build Your Own Nonprofit Leadership Philosophy with Our Free Tool
Use this worksheet to brainstorm and hone in on the personal values that drive your work and describe what you stand for. The clearer you are about your values, the more credible you will be to those you lead.
Top Notch Nonprofit Management Starts with VolunteerPro
Ready to roll up your sleeves and dive into managing your nonprofit volunteer program through exceptional nonprofit management practices?
In this Guide, we've equipped you with the basic information and tools you need. Now, it's just a matter of putting everything into practice. Remember, it takes a combination of the right mindset, knowledge, skills, and abilities – combined with and a supportive organizational structure — to create a meaningful and effective volunteer involvement strategy.
If you value what you've learned and are ready to level up your program with additional quality resources, training, and support while you implement your new volunteer initiatives, get started with a VolunteerPro membership.