Proven Impact is the Key to Winning Volunteer Grants
We often get questions about how to find and secure volunteer grants, funding for volunteer coordinators, and resources for volunteer programming.
Often, staff members have high hopes that if they just find the right funder, they can go directly to the source and get funding for the volunteer salary and program budget.  But, it's rarely that simple.
Just as most foundations won't award grants for fundraising or development staff salaries, nor do they often do so for volunteer managers.
The majority of today's funders are focused on investing in direct service programs and other initiatives that have a concrete solution to offer the community. This is true even when it's broadly understood that volunteer administration contributes to positive program outcomes.
What's more, funders are keenly interested in seeing demonstrated progress as a result of their gift or award.  In other words, they want to bet on a winner.
Setting a Strong Foundation for Volunteer Grants
To assess the capacity of an organization to make effective use of funding, some foundations look to the nonprofit's existing volunteer services infrastructure.
According to the Leighty Foundation — a respected champion of volunteer engagement funding: "Before making the case to a funder to invest in volunteer engagement," they argue, "it's important to model strategic engagement within your organization."  
To attract financial support, they recommend the following four strategies, among others:
Measure and communicate the overall impact of volunteer involvement

Include volunteer empowerment as a performance measure or accountability indicator for staff

Recognize volunteers in personally meaningful ways

Evaluate how partnering with volunteers impacts your mission currently
From the foundation perspective, ensuring that the volunteer strategy is focused on impact is an important step toward success. Organizations who are able to demonstrate this capacity will be more likely to secure those elusive grant dollars.
A Balance of Impacts in Volunteer Grants
To be competitive in today's nonprofit funding environment, nonprofits must be ready to clearly communicate to prospective donors and funders that they are 1) engaging volunteers strategically to meet your organization's community goals and objectives, and 2) that they are making progress with their proposed strategy.
Impacts can vary, depending on the nonprofit and the foundation's key interest areas.  They can be related to improving an individual's condition or status, boosting knowledge and learning, or influencing a change in undesirable behavior.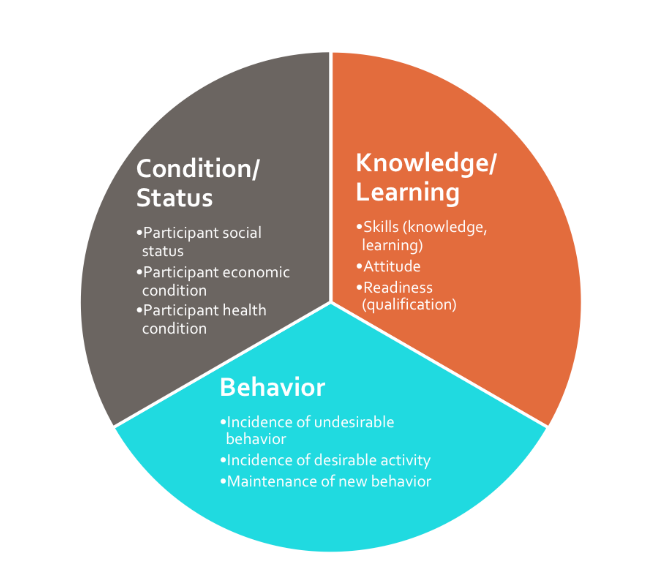 Having solid performance metrics on hand can help you build competitive, data-driven case statements for funding appeals. They can also help you establish benchmarks and track real progress for grant reports. The evidence you gather can be the difference between merely describing change and proving it.
There are four key areas that offer outcomes indicators and can demonstrate both capacity and growth to funders using a balanced scorecard approach.
Metrics are distributed across four key quadrants the represent key aspects of the volunteer enterprise:
1. Human Capital & Organizational Capacity — speaks to your diverse pool of volunteer talent and their level of engagement with your organization
2. Partnerships & Funding — relates to your program budget sources, but also to other in-kind assets brought to bear through strong community collaborations
3. Customer Experience — has to do with how those served by you or who benefit from your work, directly or indirectly; it also related to those who have a stake in your success from within your organization
4. Quality Assurance & Business Processes — are those management strategies you have in place to improve your performance over time
The chart below illustrates key areas of inquiry and possible ways you might track performance to share in grant proposals and progress reports.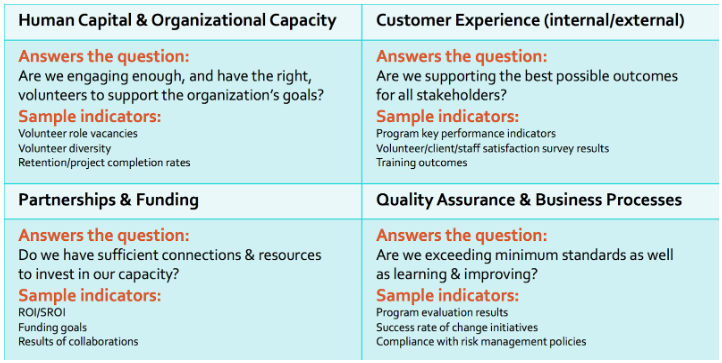 Sample Outcome Indicators for Volunteer Services
Many organizations focus on volunteer hours and retention, but funders want to know more than participation rates. They want to know what has occurred as a result of the volunteer effort overall.  
Below are just a few of the general possible outcomes you might track. To be most compelling, those you settle on should directly align with your mission and strategic goals.
For Volunteers
Volunteer satisfaction or referral rate

% volunteers with improved skills

% volunteers with increased confidence

% volunteers who feel they've made an impact

# of new volunteer friendships/professional relationships

% increase in advocacy activities

% increase in volunteer leaders
For Organizations/Programs
# volunteers recruited, trained, certified, deployed

$ in-kind resources generated by volunteers  

$ financial resources generated by volunteers

% of the target population aware of issue/services

% decrease in administrative costs or increased ROI

% grant or State Plan outcomes achieved

# of service beneficiaries reached (or reduced waitlist)  

# of earned media mentions
For Service Beneficiaries
Increased quality of life for clients

Increased feelings of well-being or safety

Client satisfaction or referral rate

Increased health outcomes (for health-related organizations)

Decreased crisis events (for social service organizations)

Money saved clients (for health, finance or insurance-related organizations)

% reduction in unemployment (for employment-related organizations)
These are only a few examples of ways to demonstrate the impact of volunteers.  If you are able to settle on a few measures that truly represent impact and communicate the insights and key takeaways you glean from the data you collect to funders, you will be far ahead of many volunteer organizations and well on your way to securing the sustainable volunteer grants you need.
Moreover, the better organizations can explain the value proposition of volunteer services —  and to develop and track metrics that matter — the better we can position ourselves for more robust volunteer grant funding for the sector as a whole.