Delegating to a Strong Volunteer Team
Delegation is one of the beautiful, but potentially challenging aspects of building a strong volunteer team. As a leader with a trained and stable group of volunteers, your job as the volunteer manager can evolve to entrusting roles to your volunteers versus doing everything yourself. The challenge is in A) letting go of control and B) knowing how to delegate effectively.
Letting go is something all of us "go-get-'em" personalities struggle with from time to time. This might be something you have to consciously work on if building a volunteer team is one of your goals. At the same time, adding thoughtful delegation techniques may help you let go as you gradually build trust in yourself and your volunteers.
Here's how to empower your volunteer team with delegation:
When you think of delegation, you might think that it means relinquishing all control in the relationship.  But delegation isn't just about handing over the reins and walking away. There are many options for levels of autonomy and initiative, based on the task and the person assuming it.
No matter what level of task you're thinking of delegating, follow these steps to set it up for success.
1. Prepare – Choose the appropriate person/team, determine your expected results, decide on the volunteer's level of authority, anticipate possible problem areas, etc.
2. Assign Task – What will be the task's deliverables, deadlines, and expectations for communication and updates? What frequency and content will you need and will you want it in person, via email, or another way?
3. Confirm Understanding – Ask the volunteer "how would you explain this task to a fellow employee?" Do they have the tools and resources to be successful? Do they understand what the task will require?
4. Get Commitment – Re-affirm the volunteer's level of autonomy and ask for a verbal affirmation that they accept and agree.
5. Coach (to avoid "delegating back") – When the volunteer hits roadblocks, offer confirming and corrective feedback. If they need additional help and are essentially asking you to take the task back, refer them to resources that can help (human and otherwise).
6. Require Accountability – Set dates for status checks and a develop a contingency plan.
7. Acknowledge Learning & Celebrate Success  – Reflect on results yourself and with the volunteer. Publicly acknowledge the volunteer's success if they are comfortable, and privately praise their personal growth.

Supporting growth in your volunteer team
You can build more tasks and freedom into the volunteer role as you both get more comfortable, repeating the steps each time. In order to encourage that growth, you don't want to just walk away. Support the volunteer's autonomy and confidence by keeping these in mind:
Provide job aids & supports (checklists, tip sheets, reference tools, mentors, coaches, etc.) – We all appreciate guidance, no matter how independent we are. Your volunteer wants to do the job correctly and any materials you can provide to help them understand the steps and expectations will reassure them that they're on the right path.
Make it safe to fail – Mistakes are learning opportunities and rarely irreversible. Encourage your volunteer to reach out to you when mistakes are made so you can bring in support when needed.
Set appointments for check-ins – Set them and then actually do them. These are a great chance for your volunteer to share tidbits that may not seem important enough to warrant an email or phone call. Plus, these are wonderful opportunities for you to gain feedback from your volunteer. One-on-one time with your volunteer (especially one you're promoting into leadership) is always going to be a beneficial conversation.
Don't rescue! – Let your volunteer figure things out. If there's a problem, remind them that you believe in their ability to fix it (and remind yourself that they are perfectly capable). Of course, this doesn't mean hanging them out to dry in a real emergency. Give your volunteer the space to learn and grow in their role in order to gain that confident autonomy that will make them a rockstar volunteer.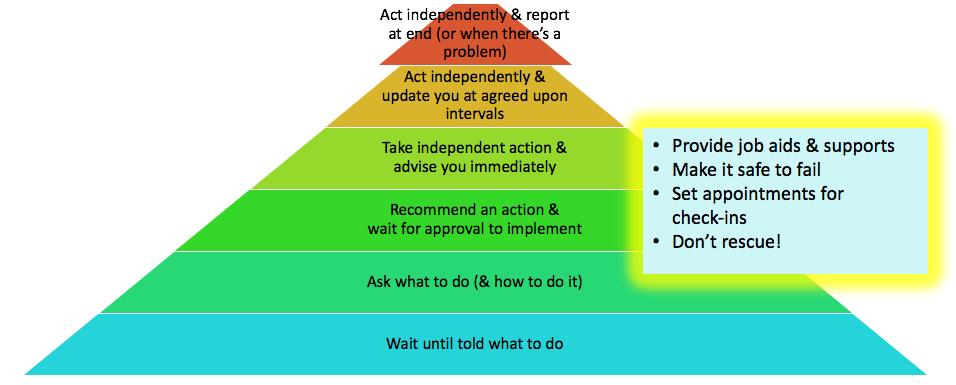 Your volunteer team can be a super powerful asset to you and your organization. It takes some time to build and it takes more time to find volunteers who want and can handle leadership roles.
When you find those potential leaders, empower them with clear communication and confidence. They already love your mission and your increased trust in their volunteer leadership abilities only deepens that love.
It's sometimes hard to take your hands off the wheel, but you can trust yourself to know who, when, and how to let go in order to let your volunteer team grow.