Volunteer Recruitment Messaging
As a volunteer coordinator, chances are you didn't get into your profession because you wanted to do marketing. And yet, as you scan the projects your organization does and the volunteer needs they have, you find yourself recruiting, recruiting, recruiting.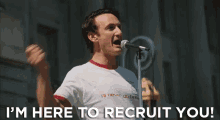 We feel you. Volunteer recruitment can seem like a never-ending struggle. It's one of those things that will always be a part of a volunteer coordinator's role. But, with some basic marketing practice thrown it, volunteer recruitment doesn't have to be all drudge – it can actually be fun!
Continuing on our theme of volunteer recruitment marketing, this week's blog turns slightly from assessing your audience to assessing your message. There are two key components to writing great volunteer recruitment messaging. 1. Focus on a single idea. 2. Answer to what your volunteer needs, not your organization. If you've been following this series and you thought "hey, that sounds a lot like purpose and audience," you're spot on.
The One Big Idea in Volunteer Recruitment Messaging
Start by identifying your one big idea, your thesis. Your recruitment copy thesis is the one big argument you will make for the benefits of volunteering. It should describe one compelling reason that joining your cause makes sense for volunteers and will address a key volunteer "problem" (see below). It will also be your guiding star as you develop the rest of your recruitment campaign messages.
The Formula:
Any [type of volunteer you seek] can [solve their problem] by volunteering for your cause because [how it solves their problem].
For Example:
"Anyone who cares about our neighborhood health can help keep it clean and green by volunteering for the West Town Greenway — we will show you how to educate kids on easy ways to reduce pollution."
"Problems" to Solve in your Volunteer Recruitment Messaging
Second, you should focus your recruitment messages on volunteer needs that your organization can meet. Below are six well-researched motivations for volunteering and the volunteer "problem" or need each serves.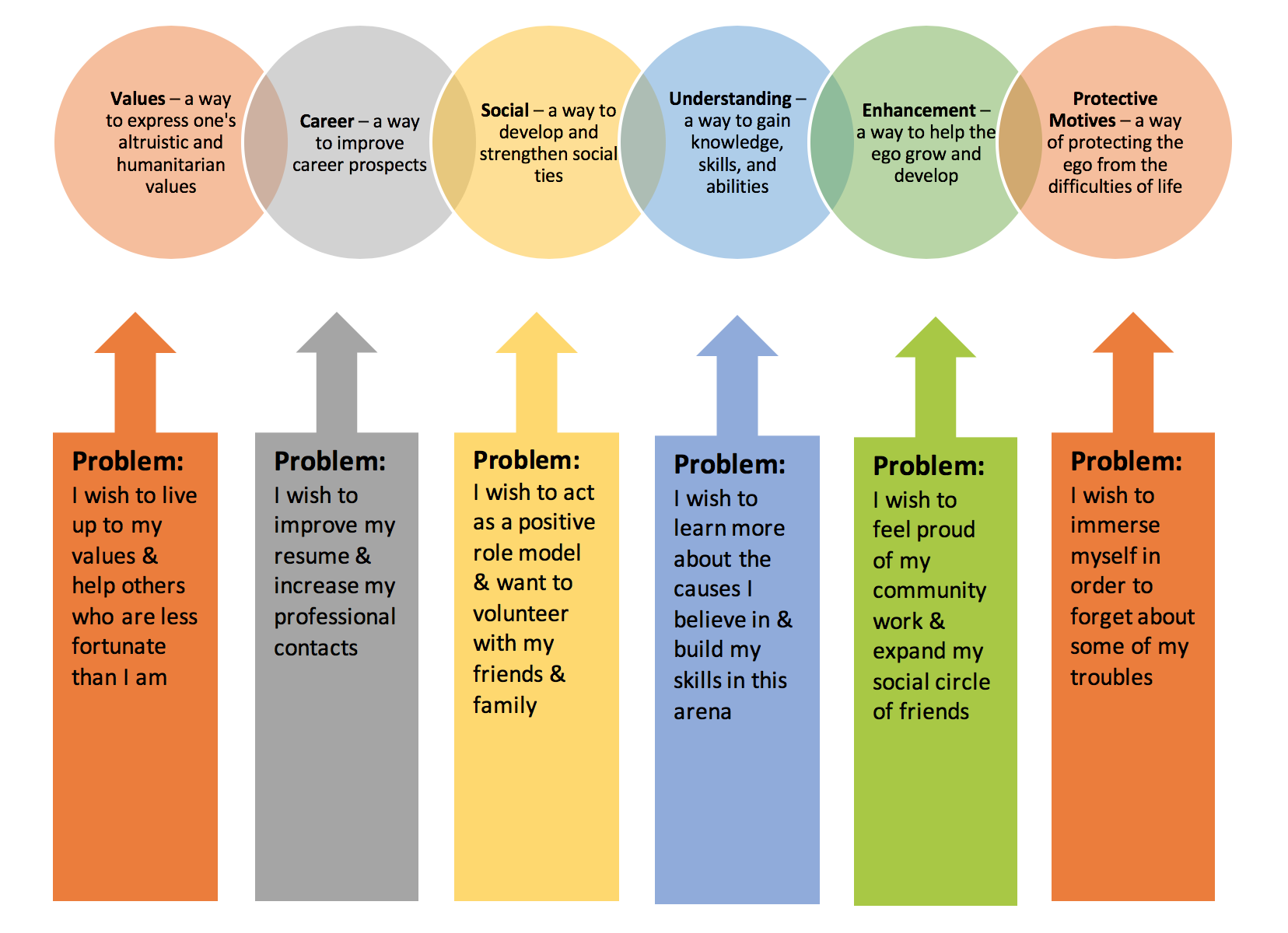 We don't usually think about volunteer needs or "problems" they hope to solve. But, research has shown that volunteering serves people's specific functional needs. We humans are self-centered, but not necessarily selfish. We hope to have needs met (conscious or unconscious) and oftentimes those needs align with giving back to the community or helping others.
Focus on only 1-2 per campaign and build your messaging around them. If possible, include volunteer quotes or testimonials that offer proof that the "problem" is "solved" or the need met.
This approach allows your potential volunteers to know clearly and quickly who you need and for what purpose. From there, you can position your messaging to address the "problems" your volunteer may be feeling.
Drawing upon the earlier example, your message could expand out like this:
Career Example
"Anyone who cares about our neighborhood health can help keep it clean and green by volunteering for the West Town Greenway — we will show you how to educate kids on easy ways to reduce pollution. Make contacts with others who share your interest in environmental health and explore leadership opportunities on our Weekend Green Teams."
Understanding Example
"Anyone who cares about our neighborhood health can help keep it clean and green by volunteering for the West Town Greenway — we will show you how to educate kids on easy ways to reduce pollution. No previous knowledge required – just an interest in learning practical ways to green our community from our trained experts and a willingness to share what you learn with kids."
Thoughtful volunteer recruitment messaging isn't going to automatically bring hundreds of volunteers knocking at your door. It is, however, more likely to connect you with more of the right volunteers for your mission.
It's a waste of your time as the volunteer coordinator (and the potential volunteer's) to sift through applicants who, for whatever reason, aren't right for your project or mission.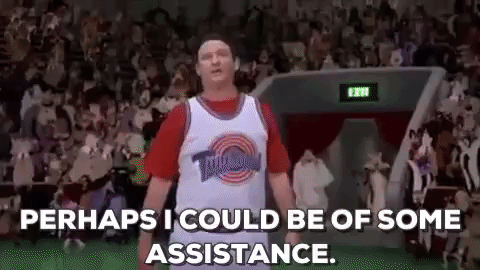 By focusing your volunteer recruitment messaging on a single idea and connecting it to potential volunteer needs, you stand out to those who are looking for a mission or project like yours. Others may pass, but those are not the applicants you want anyway. The goal in refining your messaging may be to get more applicants, but it must also be more of the right applicants, lest this process just become even more suffocating than it already may be.
At VolunteerPro, we know that volunteer recruitment is one of your top challenges. In July, we are looking at practical ways you can improve your recruitment strategies so that you gain solid volunteers who stay committed to your work.
If this is a topic that challenges you and your organization, we've got a few other resources that can help you design a recruitment system that keeps your organization full of high-quality volunteers.
How to Write Volunteer Ads Webinar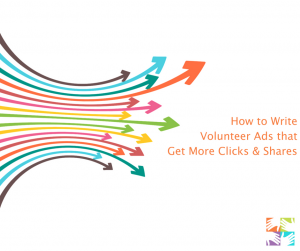 On Wednesday, July 18, we are offering a 1-hour webinar completely dedicated to the topic of recruiting volunteers online.
With thousands of organizations vying for the attention of volunteers, you need to stand out. If volunteers don't read your appeals and take the time to learn what you have to offer, you simply won't get much response. So, your ability to inspire action through your volunteer recruitment ads is a critical element to your success.
Register for How to Write Volunteer Ads that Get More Clicks & Shares to take part in a detailed presentation of proven online recruitment strategies.
VolunteerPro Membership
OR, if you'd really like to advance your recruitment strategy (and training, and volunteer experience, and impact…) then you need to check out a VolunteerPro Membership. (Bonus: it's on SALE right now!)
VolunteerPro is the only online learning community and master-level library for managers of volunteers. Membership includes full access to VolunteerPro's ready-made templates, volumes of professional articles and webinars, and time-saving tools for today's volunteer managers.
The best resource for growing and supporting a volunteer program to advance your organization's mission is on sale right now.
We know that professional training for your work can be hard to find.
Our members transform their volunteer programs after gaining the tools and education to build a powerhouse volunteer program.
Grow your program's recruitment, training, and impact potential with a VolunteerPro Membership!