How To Actually Shift Your Nonprofit's Volunteer Culture
You Can Keep Your Violins
The calling to be a volunteer manager is quite abstract. This is mostly because Volunteer Management isn't recognized as a professional career path, leaders of volunteers usually don't control their own budget dollars, and the position is often seen as entry-level.
The calling of a volunteer manager is also a mighty task. This is mostly because leaders of volunteers are pretty much a secret pillar. The wave their seemingly magic wands, mobilize the power of volunteers, and invisibly steer nonprofits to success.
Ask Paula Allen, Volunteer Manager at Filoli Center and current VolunteerPro Member, what she thinks about this predicament and she'll briefly say, "You know, volunteer management isn't an official profession, which is dumb. Let me sing you the sad story with tiny violins."
On her very next breath, however, she'll weave you a story about a young woman who always believed in the preservation of history and using volunteer power to do it. She didn't need any kind of permission to enter into this abstract, mighty calling over 10 years ago, of which she says "I love and hate every minute of it. I love working towards a common goal. I hate all the sticky, inefficient bits in-between."
Can you relate?
Wearing Many Hats
Paula has served as Volunteer Manager for Filoli Center since late 2016. Hang on to your hat for this description of what her position entails.
She manages over 560 volunteers across 9 departments and coaches/trains 13 staff members on how to successfully supervise volunteers. Paula is over database management, scheduling & shifts, recruiting, onboarding, tech support, staff/volunteer conflict resolution, all aspects of volunteer life-cycle, as well as developing all the processes and procedures for volunteers and staff to follow.
Dust your hat off, cause that's not all.
Filoli is in its beginning stages of a 5-year strategic plan, which will include a year-long volunteer program assessment. Paula, who is going to be "vastly involved" in this process, is endeavoring upon four monumental culture shifts within her program:
1. Unearthing and handling psychological contracts
2. Empowering volunteers to proactively, and with accountability, serve without micromanaging them
3. Mentally (and sometimes physically) letting go of volunteers who aren't missionally engaged
4. Getting staff and volunteers alike on board with said culture shifts
So essentially she wants to overhaul her entire volunteer corps.
Again, can you relate?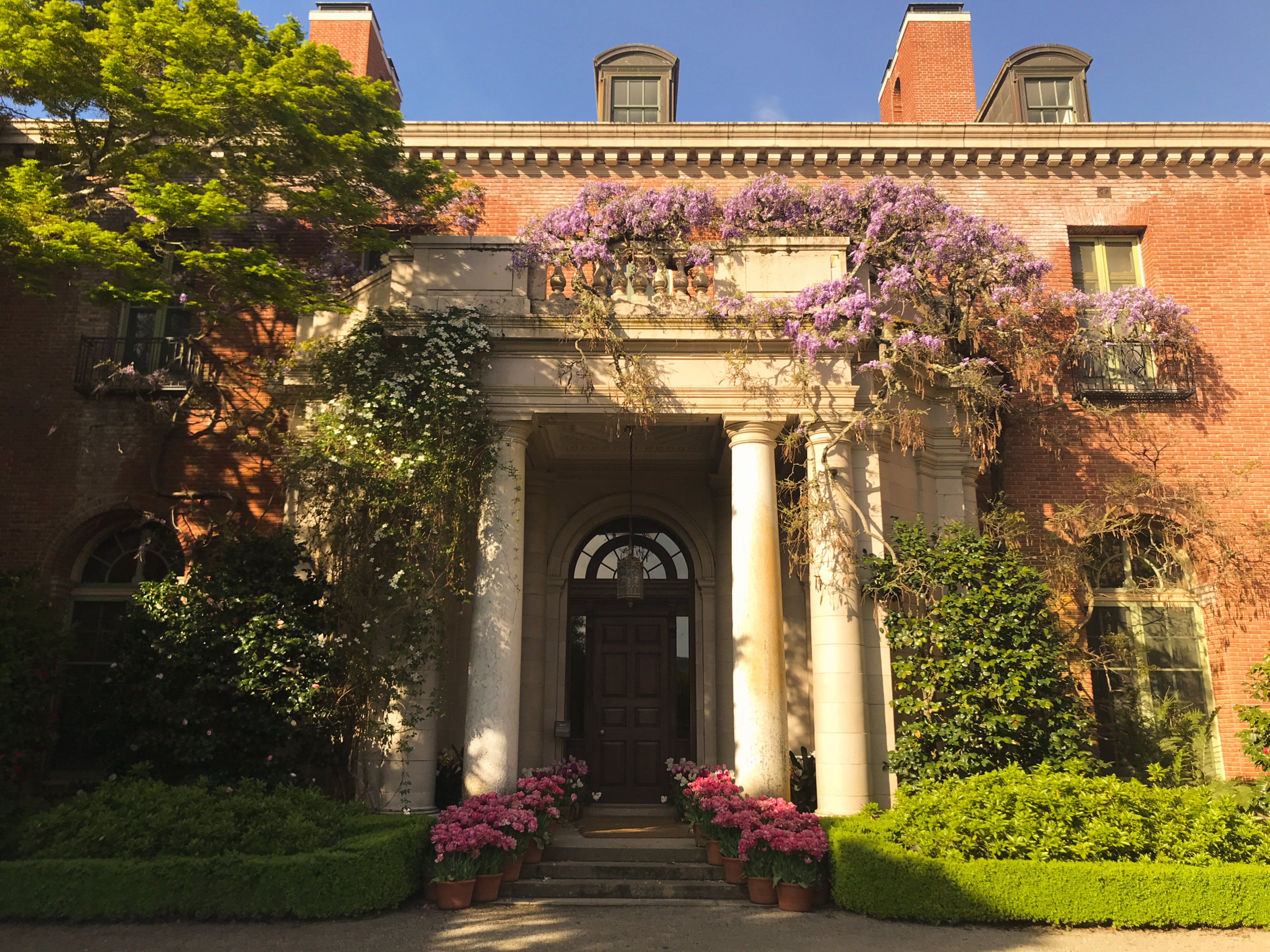 She's Got it All Under Control…
I (Rachel speaking) had the pleasure of chatting with Paula a few weeks ago. She told me all about Filoli's incredible grounds including 16 acres of English Renaissance gardens and a 102-year old, 54,000 square foot house on 654 acres of nature preserve.
She explained how they invented a fifth season at Filoli just for holidays, and how volunteers undergo a "fast and furious" period of training prior to each season so they can competently interact with Filoli's "diverse public."
Then, she went on to illustrate Filoli's volunteer demographic: mostly retirees, willing to go through involved training, who can commit to 72 hours a year of service.
Part of their strategic plan, she said, was expanding that target audience to include working professionals and young mothers. They want a core of highly trained volunteers to complete the 72 hours, and another segment of more episodic volunteers to fill in the non-skilled positions.
You can tell, this woman is driven. She's passionate. She knows where she wants to go. So naturally, my next question was: "So, it sounds like you really have it all together. Why did you choose VolunteerPro?"
…But Maybe a Hand Up Would Be Nice
Throughout 2018, Paula noticed VolunteerPro webinars popping up around her corner of the internet. Landing page after landing page, she wanted to take our webinars, but she couldn't sell the price to her management.
Throughout that year, she struggled with her mindset about her position. She wasn't sure if she was going the right direction with her volunteer program. She often felt like she was the only person with the best-practice answers to the volunteer program problems they encountered. But, she didn't have the right tools or language to convince everyone else.
"Basically, I was the only resource I had to make any changes," she says. "And while I like fixing things, and I like making things more efficient, I was fixing a broken system and driving myself up a wall."
Enter VolunteerPro
When she started looking into the CVA exam, she noticed VolunteerPro was hosting a free masterclass on that very subject with our friends over at AL!VE. She, of course, signed up, attended the webinar, and was told at the end about an awesome VolunteerPro discount for webinar attendees only.
"I added up all the webinars I used to want to watch in the last year verses the price of the actual membership," says Paula. "And I was like, oh look, it's a no-brainer."
So, just like that, Paula became a member in March of this year.
And, she hit the ground running.
"So I've been a member for three months and to be quite honest, your content is incomparable," says Paula. "It's focused, it's applicable, it's efficient, I know it's aligned with best practices, and it's practical. I can actually use it."
3 Ways One Member Used VolunteerPro to Shift Nonprofit Culture (and You Can Too)
Like I said, Paula is a driven lady. She jumped right into our VolPro community, started asking questions, giving her own advice, attending coaching calls, and getting in on webinars.
In just three months, she has already seen shifts in that pesky, immovable thing we call culture. Here's exactly how she's done it.
1. Awareness
Paula and Filoli knew some sort of change was necessary for them to progress as a nonprofit. Had they been unaware, they wouldn't waste time on strategic planning.
They did, however, need a little bit of prompting and direction to figure out what the actual problem was.
From our recent member exclusive masterclass (How to Form a Volunteer Welcome Team to Lead Your Recruitment & Onboarding Efforts), Paula learned about something called the psychological contract or PC.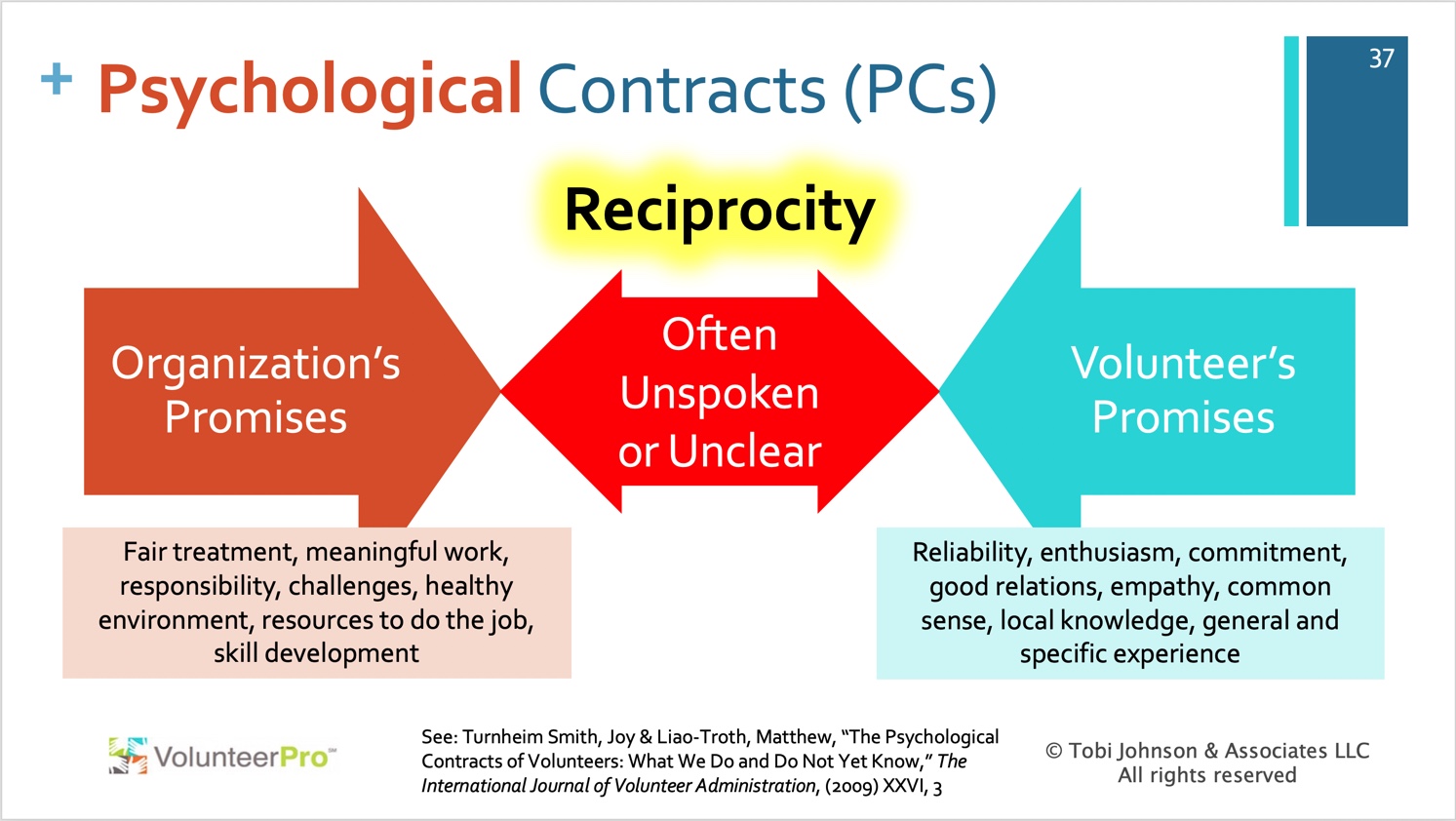 We have a post that delves into psychological contracts, so I won't go into detail here. But, basically PCs are unspoken expectations from one party, which when broken by another party cause problems – big ones.
Once aware, Paula immediately took the data to her CEO, who had been wondering why some of their volunteers were showing decreased engagement. She showed her boss a study featured in the webinar and explained that their volunteers must be dissatisfied with how they were being managed.
"My CEO listens to data. She doesn't want stories. She doesn't want anecdotes. She just wants data and credible resources," says Paula. "I showed her the venn diagram, and she was like 'Aha! That's our problem.' And I was like, yes, our psychological contracts are totally not meeting up."
They walked away with a realization: "control too much, nail everything down, expect everyone to follow to the letter, and you get: un-engaged volunteers."
With the problem pinpointed, Paula knew how to move forward. She recognized the effects of contract breaches within her volunteer corps, and knew she had to encourage volunteers and staff alike to openly state PCs and come to a compromise.
2. Research
Paula is an avid learner and educator. She enjoys doing deep dives into data, implementing where she can immediately, and putting other tactics in her mental pocket for later.
VolunteerPro has given her a starting place to research applicable topics and make real progress.
"So it's wonderful that Tobi can synthesize the data and give it to us in bite sized pieces you can understand, but the depth is there," she says. "And you can go deeper. I have a whole stack of articles and book citations that I've printed out that I'll get back to at some point."
As you've seen, being able to use this research to communicate with Filoli's CEO has been invaluable. Paula likens it to having a "shared language" between her and her boss that is clarifying and focused.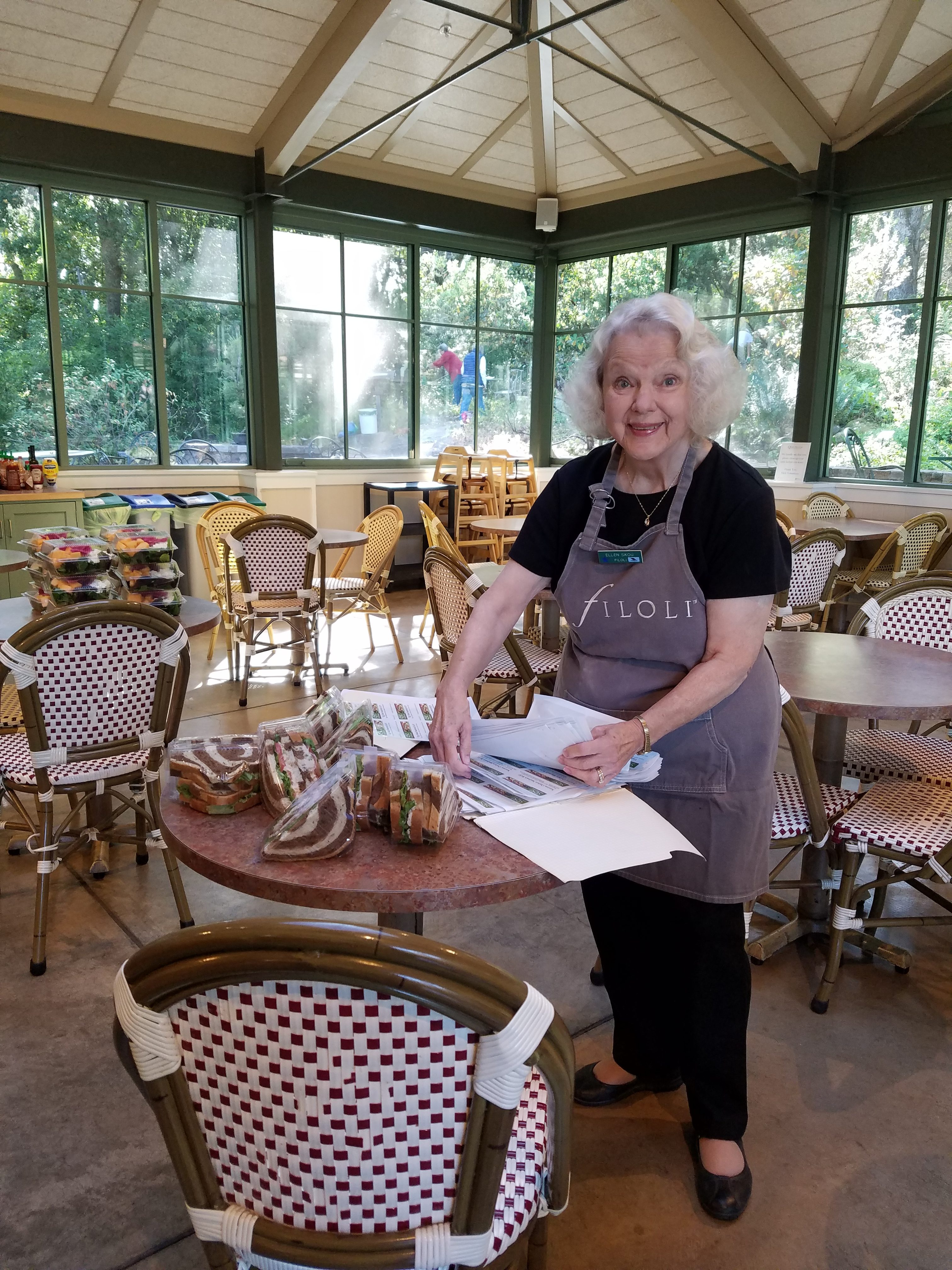 3. Mindset
Another asset VolunteerPro has given Paula in these short three months is a shift in her own mindset.
"The resources you all provide are kind of like moral support or confirmation," she says. "Like ok I'm going in the right direction… this instinct is right."
In fact, being able to trust her instincts has helped in targeting the right volunteer audience in recruitment and whittling away Filoli's current volunteers who aren't onboard with the organization's mission.
Shifting culture from "we've always done it this way" to "who are we becoming today" isn't easy. But Paula and her CEO are on the same page. They have actually seen a decrease in retention since implementing their 5-year plan, but they see it as a good thing.
"We want to stop chasing after the people who aren't as engaged, because things have changed," she says. "Our numbers are trending down, but that's ok for us right now because the people that are resigning are the ones who aren't on board."
Her CEO calls this moving away from "punitive directives" and toward "benevolent facts." So, rather than cones of shame for volunteers who don't meet their minimum hour requirements or complain when the mission statement changes, they're giving those volunteers the gift of goodbye when necessary.
They understand now that their particular volunteer roles are not for everyone, and that's ok. It's a good thing. And they're making room for those who are as passionate as they are about preserving Filoli's incredible history.
But Wait There's More
Perhaps the greatest benefit Paula has gotten from her VolunteerPro Membership is the sense of community.
"Knowing that I'm not the only person crazy enough to be a volunteer coordinator out there in the universe," she says. "And having a group of peers to touch base with, share victories, and ask weird questions – that is my favorite part. I should have done this a year ago when I first learned of you. I should have just taken the plunge."
Getting From Point A to Point B
With the help of VolunteerPro, Paula knows she is going the right direction with her volunteer program. She loves her job, she believes in the work she is doing, and when she hears her CEO talk about Filoli's future, she sees "this shining vision of the future."
"I've got all the resources I need to communicate with people, logically lay things out, make a program, and convince people that they want to join it," she says. "Now, it's just how do I get from point A to point B. Now I just have to do the work. And the good thing is, I like it."