Throughout the course of this pandemic, we have been getting a lot of questions in the VolunteerPro Membership Community on the topic of making a plan for developing and engaging your volunteer community online.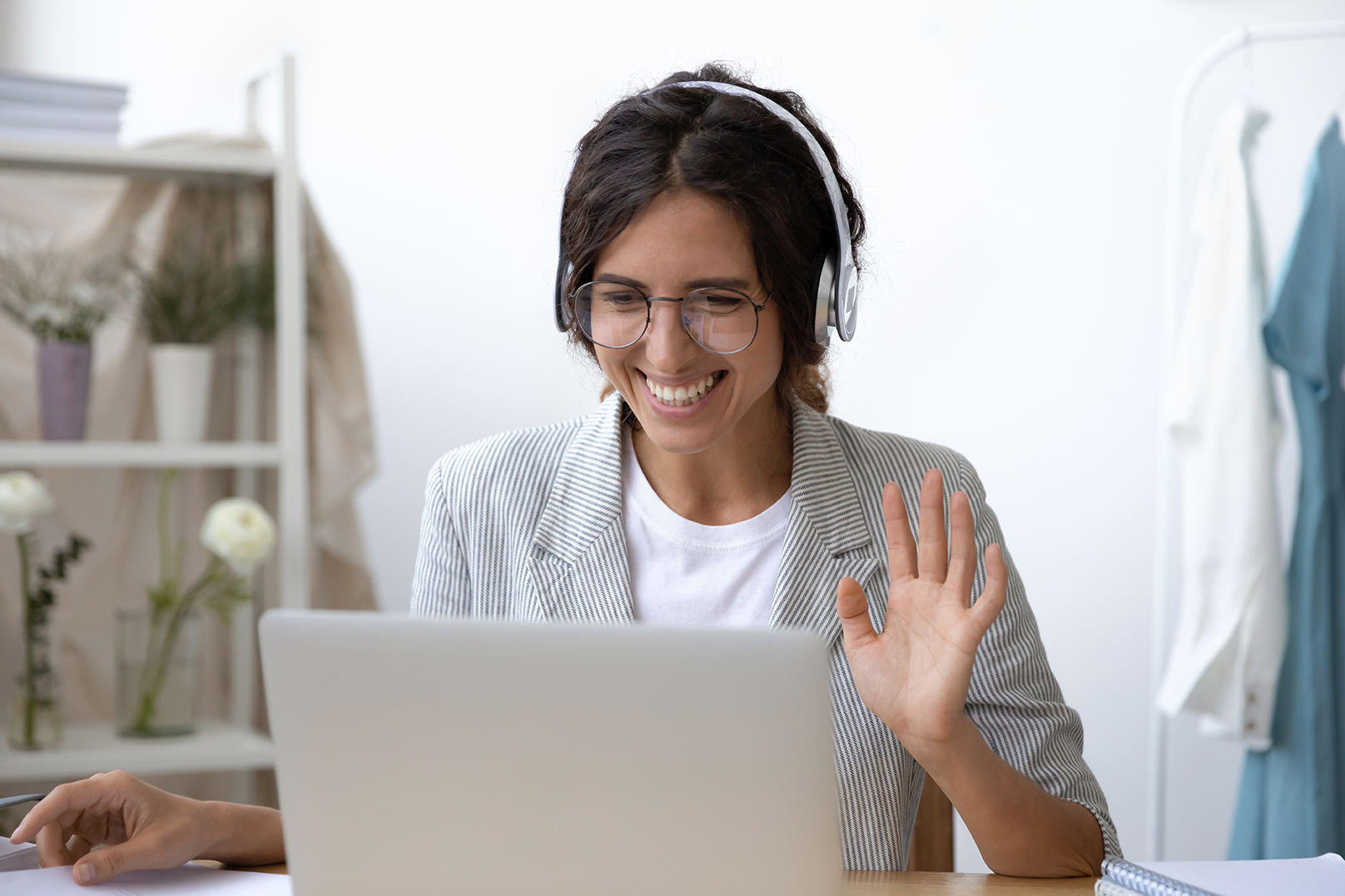 Before 2020, engaging with anyone in-person was compulsory. You pass people in the hallways. You interact with folks in a training session. You're onboarding a new group of volunteers. All these micro-touches build relationships and trust. Even just a smile and saying, "Hello" goes a long way in building connections with volunteers. But when you're mostly interacting online, you can't really do that.
What do you do when you run the largest intergenerational mentoring program in the country and a pandemic strikes? Elizabeth Pawloski shares how they've been able to connect K-3 students and older adults online while staying physically distant. Listen to the latest Time + Talent podcast episode, now!
Reasons to Develop a Plan for Engaging Volunteers Online
Sure, you can post to social media all day long, but it's not going feel exactly the same to volunteers. As a result, you need to put a little more thoughtful effort and planning into how to maintain the relationships with your community of supporters.
Somethings to be mindful of that make online volunteer engagement a little different than in-person:
Increased number & types of touchpoints​
The online behavior data does not lie​
Information is archived for review​
Can meet people where they're at​
Extreme personalization & autonomy​ is possible
Easy to update & make corrections​
Relatively low cost​
Can be fun!​
Keep a Sense of Community
Whether your volunteers are really far away or just across town, you may not be seeing them in-person as often, if at all. In this pandemic, we have this real sense of virtual distance that we're far and not as connected.
That feeling of being far away is not really good for us as human beings. We have this human instinct to want to be part of a group and to be included in a community because that's how we've survived as a species.  So, there are many reasons why you want to keep close to your volunteers during this time.
Keep Up Momentum
Even if you've had to hit the pause button on most of your volunteer opportunities, you want to continue the momentum of building your community. That doesn't have to involve connecting with people every single day, but you want to keep some type of momentum going.
One of our mantras at VolunteerPro is to work with human nature, not against it. You want to start thinking about your reentry back into "normal operations," whatever those are going to look like for your organization. You definitely don't want to start again from a complete stop in communication.
Stay Top-of-Mind
Right now, many non-profits are really worried about individual giving as well. Developing a good plan for online engagement will help boost your individual giving.
We know that corporations are giving like crazy right now. Some non-profit organizations are really reaping the benefits of having that additional funding at this time, specifically organizations that are helping in this crisis. The corporate sector really understands the needs of non-profits. Not only those that are providing essential services right now, but also those that are losing funding or struggling with the economic collapse that we're all going through. So, there's a lot going on. It's a very complex environment,
However, you need your volunteers and other supporters to stick with you during this time, because they know the most about your organization. And when it comes time to make asks for different types of support, volunteers are either going to step-up to the plate themselves, or they're going to act as ambassadors for you. That's why there's real need to continue to keep people close.
Explore Ways to Engage with Your Volunteers Online
Over the years, the VolunteerPro team has learned a fair amount about how to engage people online through our premium VolunteerPro community, where we have members interacting and learning together. As a result of that experience growing our own online community from nothing to now hundreds of active members, we can share best practices around developing your plan for online volunteer participation.
Make a Pivot to Online Community Leadership
As you move from living as a brick-and-mortar volunteer coordinator to an online leader, you're going to have to adjust and keep current with your volunteers and tweak some of your regular, more comfortable tasks. If there's a "new normal" here, as we all know by now. It may be uncomfortable, but don't be afraid to try new things and get out in front of your volunteers where they already are… and that's probably Facebook.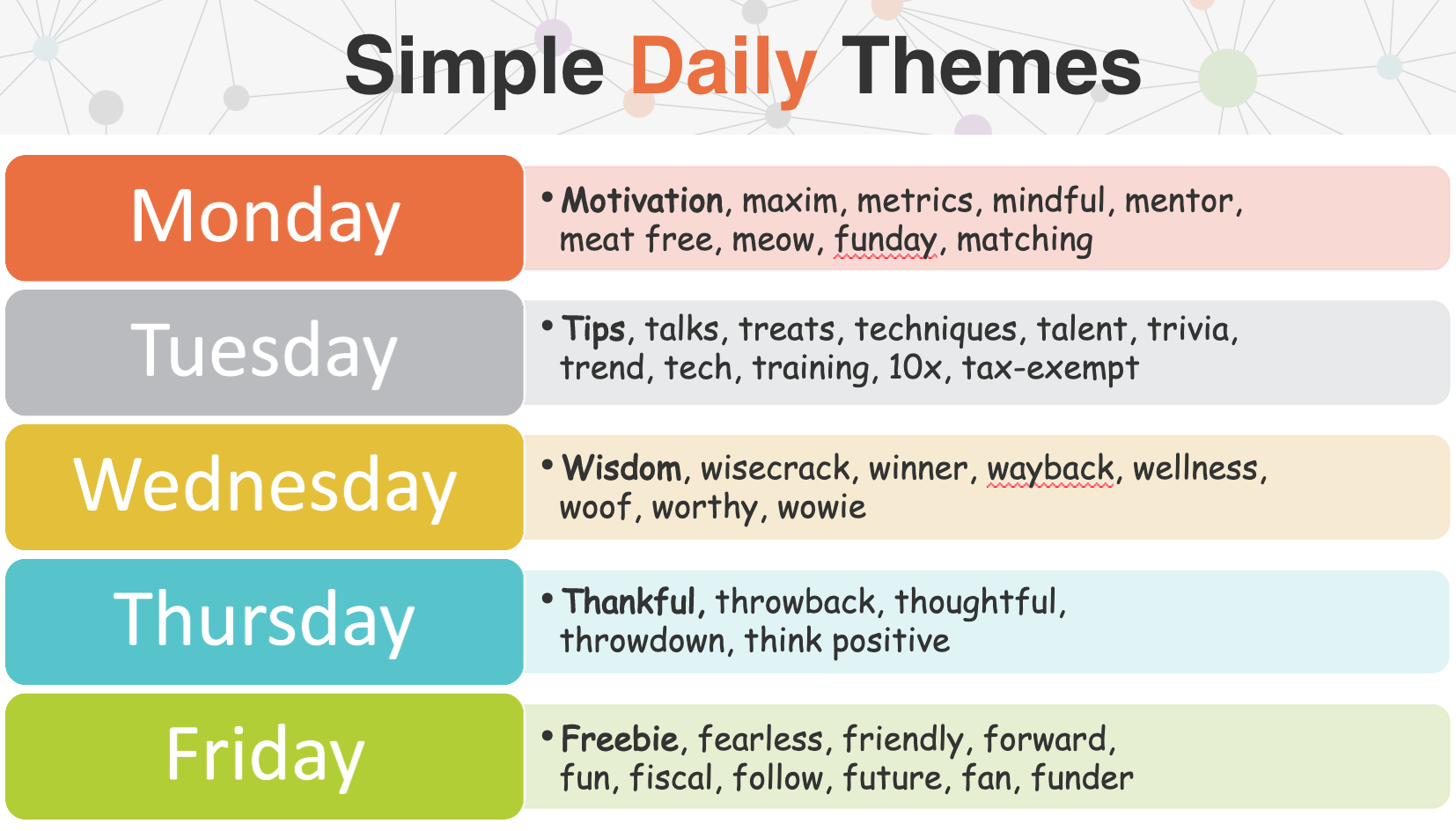 For example, during stay-at-home orders earlier this year, Tobi, here at VolunteerPro, utilized weekly Facebook Live broadcasts to conduct mini-training sessions for the Insiders group. Topics were picked from member discussions based what seemed to come up most often. After a topic was chosen, Tobi would then talk about trends, tips, and proven trials surrounding the issue. Timeliness of different issues, actionable take-aways, and a regular cadence of Live videos (every Tuesday in this case) kept members active in the Facebook Insiders Group and eager for more interaction.
If you are thinking about posting on social and you're sort of lost for what to post and what kind of content, download our Volunteer Quotes Social Media Bundle!

Keep the inspiration flowing with our Volunteer Quotes Social Media Bundle. Get 30 customized images for Twitter, Facebook, Instagram, Pinterest, and LinkedIn, all with inspirational quotes your volunteers will love.
Where Do Your Volunteers Hangout Online?
You may stumble around trying to figure out what the next new thing is or where exactly your volunteers like to hangout online. So, it goes beyond simply learning or setting up new technology and coaching your volunteers on how to use it. And if your volunteers are not super tech savvy, then you will have to figure out a way to train or coach them on how to get online.
On the other hand, some in your community of volunteers will decide they don't want to be online at all. And if that's the case, then you have use the good old fashioned methods, which is, you know, me making phone calls or writing, writing letters. It's not rocket science, but it's nice if you can encourage people to give it a try.
Develop a Strategy for Volunteer Community Engagement
Aside from learning the tech and encouraging your volunteers to take it on, it's really planning how you interact wisely with volunteers online that will gain traction as far as developing and growing the level of engagement. Online activity and discussion is great, but your real goal should be to create a greater sense of community among remote volunteers so that they feel closer and more connected to your cause.
Volunteer managers tend to get stuck at that point. While you do need to think about how often to post on Instagram or whether or not you should set up a private Facebook group, you really need to first think more strategically about how all of your activities online work together versus just one platform at a time. Just like when we talk about how volunteer management is not just about finding people to work for free, there's a whole strategy underneath it.  The same is true when you're interacting online.

Online community building involves content production and strategy as much as it is, how to use the technology. Planning a weekly calendar of online activities for yourself can be very helpful in creating a regular cadence of interaction.
Different Content for Different Folks
For example, at VolunteerPro, we do four or five different kinds of weekly content outside of our regular course offerings in the paid VolunteerPro membership community. We have a weekly newsletters and a weekly blog post. We do a weekly Facebook live. Tobi writes a weekly member update email that is sort of like a newsletter (it comes out on Mondays for our members and tells us what's up for the week). Of course, we have daily social media posts. And then we co-host the Time + Talent podcast with Jennifer Bennett at Volunteer Match. And then we curate the VolunteerPro Insiders group on Facebook. There we are doing conversation starters in each of our communities.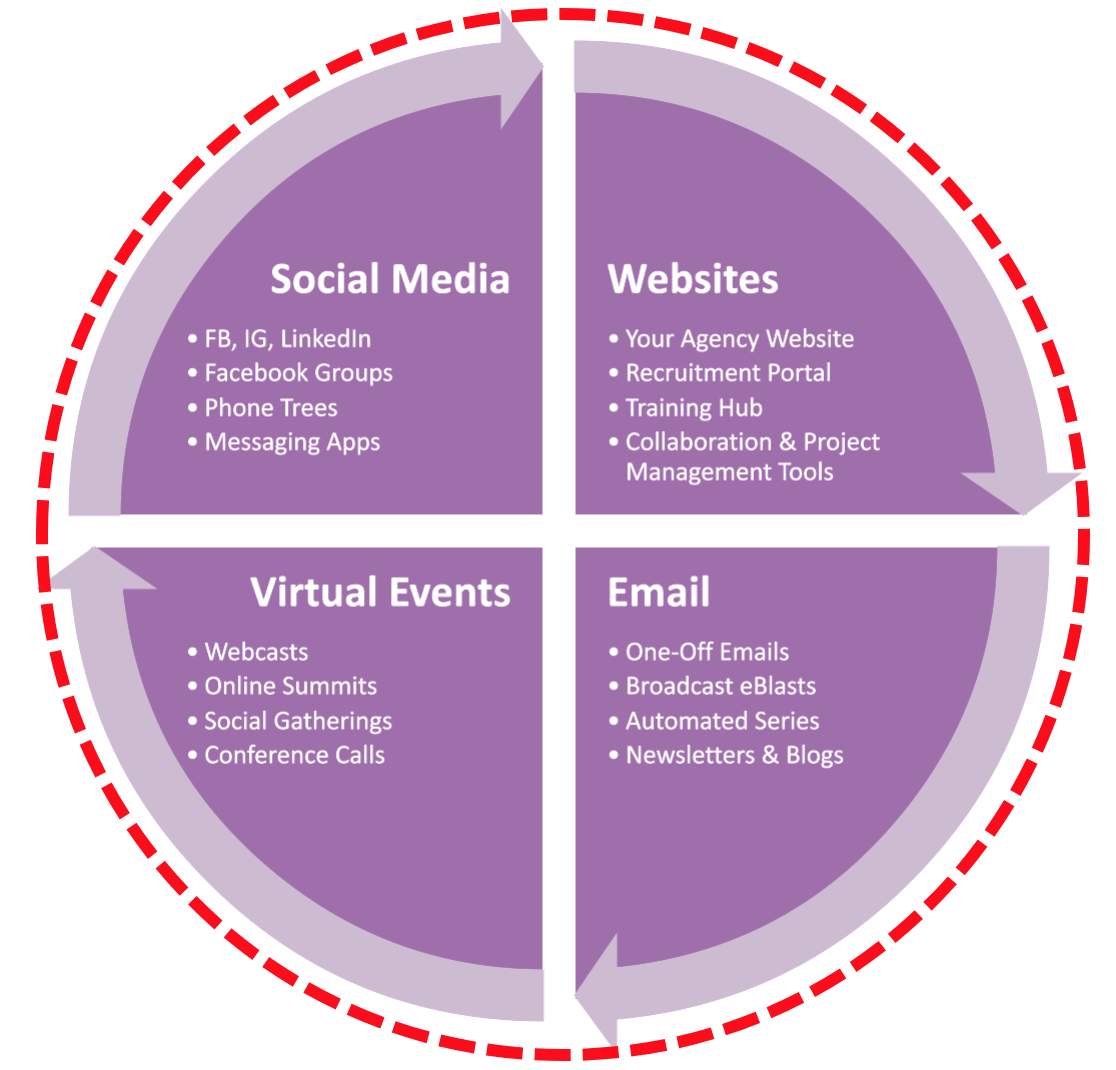 As you can see, VolunteerPro pumps out a lot of content. We like to include different formats for different types of learners, but you don't necessarily have to do five different things every week. You can choose one thing to do every week. We like to think about it as creating helpful edutainment. At the end of the day, your community is volunteering as part of their leisure time, so you need to try to make volunteering fun!
Don't Be Afraid to Stretch Yourself
You may have used some of these tactics here and there. You may have just used an email newsletter or maybe done some webinars. But if you can really figure out a community strategy that balances online and face-to-face (with masks, of course) community engagement, you're going to have an even stronger volunteer team.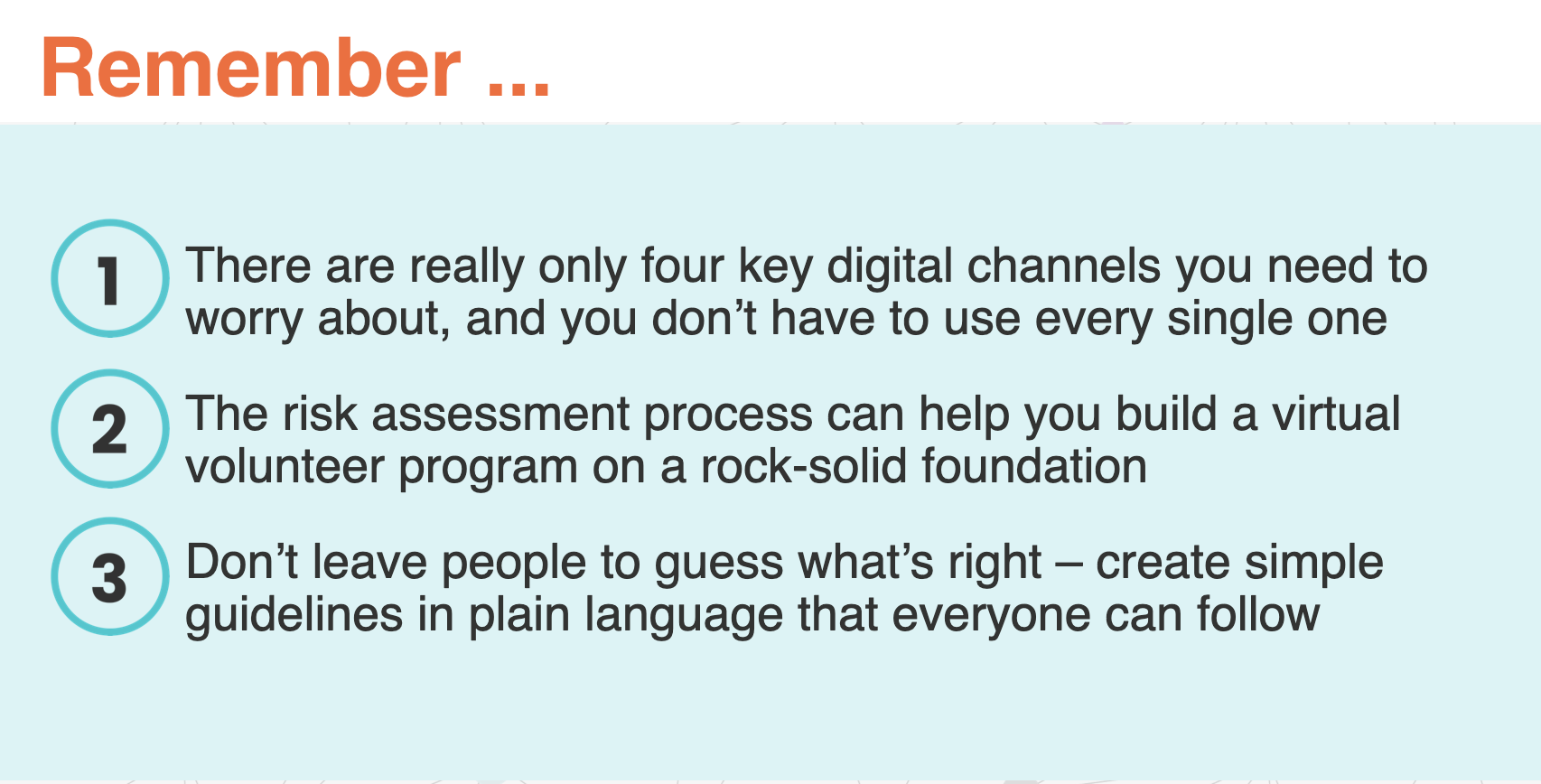 There's a bonus for trying to muddle through this and figuring out how to make it work. You might decide to continue to use some of these methods when you go back to "normal operations." And you might even use them to build a stronger volunteer community going forward.
So, it's not a bad thing to stretch yourself right now and think about it as a long-term strategy that you're going to take on, versus the mindset of "I'm only going to do this for the next 30 days, 60 days, or 90 days." You might surprise yourself and do better than you think!