Put Down the Trophy: Simple, Heartfelt Volunteer Appreciation

Whenever volunteer managers are gathered together, there are a few topics you can count on coming up in the conversation. Keeping a healthy recruitment pipeline. Getting or keeping team buy-in. Making time to do it all. Finding creative ways to show volunteer appreciation.
The topic of thanking volunteers often turns into discussions special gifts, plaques, or recognition dinners. It seems like we are in a constant search for ways to adequately express our gratitude to our volunteers. If you're feeling stuck or like you do the same old thing every year, you are definitely not alone. (It's why we built the Free e-Book Volunteer Appreciation: 50 Ways to Show Your Love.)
At the same time, we know that most volunteers aren't putting in the hours to get an engraved plaque. They volunteer with your organization because they want to have a hand in changing the world so it bends closer to your mission. They want to experience that particular change, in whatever big or small way they can.
The Volunteer Appreciation Disconnect
So why is it that we acknowledge that world-changing effort with a fancy dinner? There's nothing wrong with a nice dinner and presentation of awards, but there's a bit of a disconnect between what motivates volunteers (passion, values, purpose) and what we traditionally offer as recognition for that effort (t-shirts, trophies).
There's one quick and easy way you can bridge that volunteer appreciation disconnect – the meaningful thank you note. You don't need to ditch the formal recognition (it's fun in its own way too, right?). But the proven way to connect your gratitude with what motivates your volunteers is to give them an experience that shows them their impact. So this year, just get the same thank you gifts you got last year, and spend the time you would have used scouring trophy catalogs crafting some truly special thank you notes.
Here's how:
The best volunteer appreciation notes have six characteristics.
1. Make it personal and acknowledge their personal sacrifice
This may seem super obvious but address your letter or note using the volunteer's name. Tell them specifically what you've noticed or what they did that went above and beyond. "Thanks for your time and commitment" is fine. "Thank you for staying late to scoop out 15 extra dog kennels," says you know their time is valuable and that you noticed that they gave it to your organization.
This could also be an opportunity to mention ways they've contributed in the past. Has this volunteer been with you for a long time? Have they served in other capacities? Are they a donor? You don't have to write them a laundry list of their accomplishments but thinking about their history with your organization and noting it when appropriate makes your note even more personal and lets the volunteer know you really see them and their worth.
2. Make it specific
Point to something a volunteer did, or the way they made someone feel and say thank you specifically for that. Typically, you'd look for ways a volunteer goes above and beyond their role.
It also could be a place where you see the extraordinary in the ordinary. Maybe the "above and beyond" for your volunteer is that you know you can always count on them. For example, "Tammy, you come to the shelter every week and quietly take care of the checklist of tasks. I saw you come in today and it just struck me that I don't know how we'd get through a week without your kind and consistent service."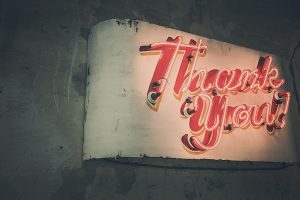 3. Connect it to the mission
Remember, volunteers are with you because they want to advance your mission with their own two hands. They really care about your work, specifically. When you communicate your gratitude, connect it to the mission in order to underscore the impact of their work.
They chose you and your organization for a reason. Remind them regularly that they chose well because they are making a difference with their work.
"It may seem like washing towels and cleaning the dogs' toys are just busy work. But because you give your time to do these tasks, the rescue team was able to bring in five new dogs just last week. They can do that because they know you're here to keep the kennels clean and safe."
4. Make it timely
This is as much for you as it is for your volunteer. When you see or hear something that you want to recognize, do it. Right away! This way you won't forget, and the experience is still fresh in the mind of the volunteer. Plus, the more quickly you acknowledge a positive experience, the sooner you reap the positive benefits from a happy, heart-warmed volunteer.
5. Wear your heart on your sleeve
This is easier for some than others but find a way to show how the volunteer's actions or presence made you feel. You're their person! Their leader! Let them know that you are personally impacted by their time, that you are proud of how much they've given to the organization.
"Kelly, we had been searching for someone with your sills for so long! Your work on our database has eased our whole intake process and the whole team is beyond grateful. Even more, I know how important it was for you to find a cause where you could really invest your skills and I am personally so thankful that we connected. My work just got 10x easier and I have you to thank for it. We are going to save so many more dogs now!"
6. Sign your name
Again, this might go without saying, but put pen to paper and sign it. If you're sending your note via email, still make sure to include a personal closing.
Bonus points if you can get a recipient of your organization's services, a board member or other high-ranking member of your team to write a note.
Volunteer Appreciation Can Be Simple
Volunteers may appreciate a special token of your organization's gratitude, but the experience of receiving a personal and heartfelt note will remind them why they are doing what they are doing. They are driven to help your organization and your community, without pay, because by doing so, they can bring about improvements in society in ways that matter.
You don't have to ditch the traditional volunteer acknowledgment goodies. People do love free t-shirts. Just remember that the most powerful acknowledgments require nothing but a quick note or email that is personal, specific and thoughtful.