This is How to Leverage Google to Find Volunteers Online
Wondering how to find volunteers that are interested in both volunteering and your particular cause? Look no further than the most ubiquitous tool out there – Google.
But you've got to set yourself up for success.
Too many nonprofits miss out on the very basics of getting set up on Google. But, if you do it properly you can reap the rewards of better search rankings and more traffic on your website. And, not just any traffic – visitors who are actually searching for causes just like yours to support.
In today's world, hard selling and cold calls to action don't work. Nor do fliers posted on grocery store bulletin boards.
As we've entered the technology age, there's been a subtle shift toward using marketing to attract customers who are already looking for a solution.
In order to find volunteers, this means rather than focusing primarily on finding and convincing the public to consider volunteering, you might do better to focus on helping volunteers find you.
And, the best place to find volunteers is to be where they live – online an on their smartphones.
People are online more than ever before. So, now's the time to boost your digital strategy and reach volunteers where they go first for information and inspiration on their devices and, more specifically, on their favorite search tool – Google, Alexa, Siri, etc.
So many nonprofits are taking a casual (read nonexistent) approach to their online presence. But you can make great strides and stand out relatively quickly.
One of the most impactful way to get results is to use a strategy called Search Engine Optimization (known in marketing circles as SEO). And, the good news? It doesn't cost a thing.
The Basics of SEO
Search Engine Optimization, or SEO for short, is a purposeful approach to getting found online.
According to Ahrefs (a popular data tool for marketers), SEO can be defined simply as "the practice of optimizing content to be discovered through a search engine's organic search results."
And, what do we mean by search engine results? As of September 2019, Google's market share is nearly 93% of all search engine activity. They have basically eaten competitors like Bing for lunch. So, it pays to focus all of your efforts on Google.
When you type into Google's search field, you'll get some suggested topics that are most commonly used with that "keyword." Google also knows where you are located geographically and will show terms that make sense in your local area. These may or may not be relevant to what you are looking for.
Google Search Query for "Volunteering"
For example, I live in Knoxville, Tennessee. So, I get results like "volunteering in Knoxville" and "volunteer UTK" (that's our local university).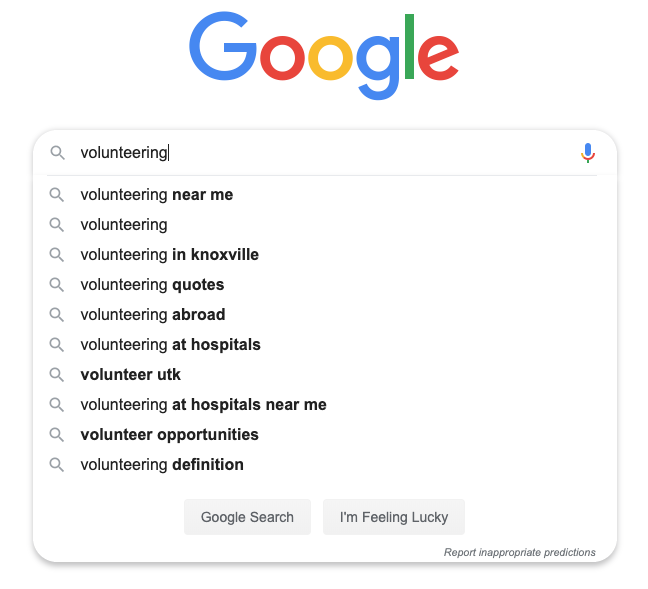 People search online using what are called "keywords." A keyword (or search term) can be one or more words that represent the intent of your audience.
Keywords can be short ("volunteering near me") or long ("volunteer opportunities near me to help animals"). While shorter keywords often mean more traffic volume, they are harder to rank competitively on. Conversely, long-tail keywords get less traffic but can get you on the first page of Google faster.
There are three types of common searches using keywords:
Informational Searches – In this case, people are commonly looking for instructions or ideas. For example, "where can I volunteer overseas?"
Navigational Searches – These searches are more focused where the searcher wants to explore a specific solution. For example, perhaps the person has searched how to volunteer abroad and has decided that Habitat for Humanity might be an option, so they type in "Habitat for Humanity."
Transactional Searches – These kinds of searches are highly focused and are used when the searcher knows what they want and are ready to buy or commit. For example, "Habitat for Humanity volunteer opportunities."
So, what is Google searching for?
When you search for information in Google and other search tools, the company will serve up what their algorithm believes is the most relevant match with the searcher's intent. And, they will prioritize what they believe to be the most important on the first page of what are called "SERP" results (or Search Engine Results Pages).
So, let's say I want to volunteer at a hospital in Knoxville. I might use the keyword "volunteering at hospitals near me." Sometimes for volunteer opportunities, the results generate a bunch of irrelevant ads and info that doesn't relate to volunteering.
But somewhere on the page (if someone's been doing their homework), links to volunteer opportunities will show up.
You'll see below that East Tennessee Children's Hospital is doing well as the first organic rank. You'll also note that all three top ranked paged include the word "volunteer" in their title, helping the reader quickly scan and find what they are seeking.
These details matter when you're trying to find volunteers, so work with your website designer to make sure both the page title (or link) and the page snippet (or description) include your keyword, don't get cut off, and are highly-engaging calls to action.
Don't leave this up to chance – if you're lucky enough to land on page one of the search results, it will be this micro content that entices the viewer to click your link and not the one next to yours.
SERP Result for "volunteering at hospitals near me"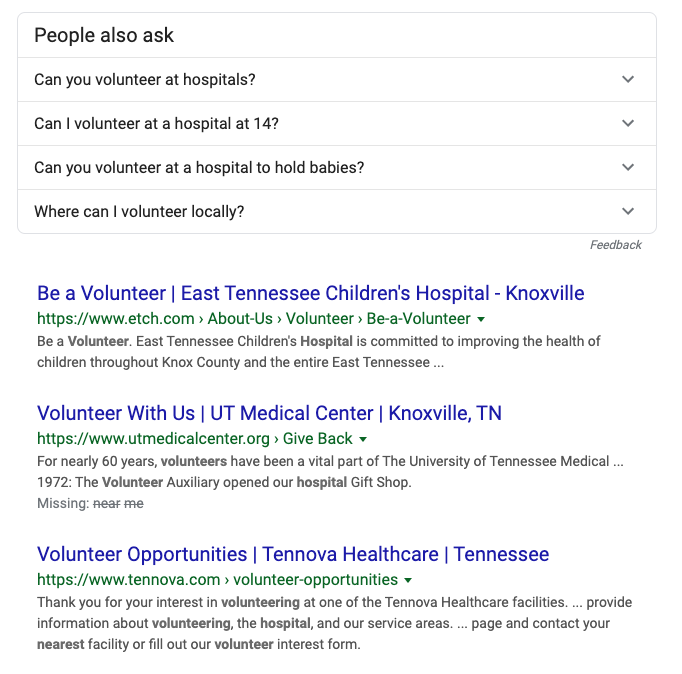 Last year, Google introduced FAQs to each SERP page (listed under "People also ask.") Each of these are also an opportunity to point searchers to your page.
If you don't rank on Google, no one will see you. So, your goal is to show up on page one and, even better, at the top of the page.
Question: "Where do you hide a dead body?
Answer: "On the second search page of Google!"
No joke – the second page of Google is where ideas go to die. But, rest assured, you can compete. Keep reading …
Market research shows that 75% of users never make it to the second page of search results. And, the #1 organic (not sponsored) result gets nearly one third of all clicks.
What's more there's not a lot of advantage in paying to be there through an advertisement. Research shows that 70-80% of users ignore the paid ads, focusing on the organic results instead.
Good news for cash-strapped nonprofits!
With Google's recent BERT upgrade, search results are only going to get better and more intelligent and relevant.
So, there's no better the time to jump in and get your SEO strategy in order so you can find volunteers more easily.
A Simple SEO Strategy to Find Volunteers
While SEO strategy in is not an overnight fix to your volunteer recruitment woes, with some purpose and intention, you can gain traction and find volunteers. So, have patience.
Check out how we were able to grow the organic traffic by over 651% to our VolunteerPro website in only three months, from 742 visits in April to 4,834 visits in September. [Hat tip to my team!]
Annual SEO Strategy Results for VolPro.net

The fact is that competing on Google may very well be easier for nonprofit volunteer organizations.
First, most don't have a clue how to do this and, therefore aren't focused on it. Second, you'll have little keyword competition from large for-profits who have big budgets, because they have no interest in your keywords.
So, let's get to it – how can your volunteer opportunities start to rank at the top of Google.
Step 1: Identify the Keywords Your Audience Uses
Think about the last time you needed info quickly. You probably went to Google and typed in a few words. You didn't think it through, just did it from your gut. That's what volunteers do, too.
So, brainstorm the kinds of keywords your audience uses for the following three types of searches:
You'll want to identify keywords for all three, so you show up for people at all stages of their journey of exploration. If you don't know, ask your new volunteers how they found you and what words they used if they used Google.
Then, use online keyword search tools to identify which keywords get the most traffic – those are the keywords you want to rank for because those will get the most views if you make it to page one.
Helpful Tools
Step 2: Decide Where You Will Feature These Keywords on Your Website
For better search results, keywords need to be included in a URL or your website address for a specific web page. A URL is simply a path name that helps computers communicate.
When it comes to SEO, your URLs teach the Google bots that crawl your site the logical structure of your content. That way, Google can index it and decided where your link should appear.
Keywords should be used in the webpage URL (separated by dashes, not underscores). The closer to the start of the title tag of your web page your keywords are, the more helpful they'll be for ranking, and the more likely a user will be to click them in the search results.
Here's an example of how you could find volunteers, using keywords related to animal volunteers.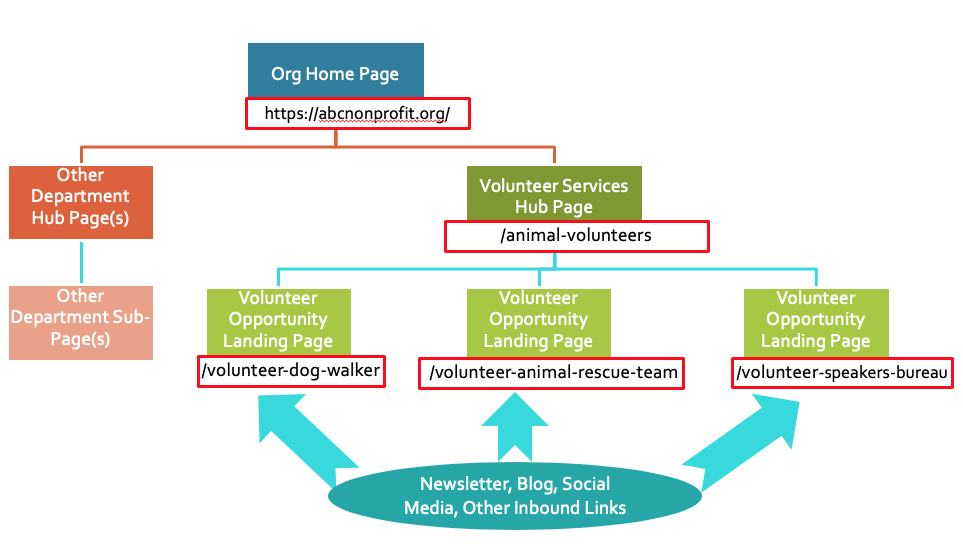 The optimal structure, according to experts is:
http://www.example.com/category-keyword/subcategory-keyword/primary-keyword.html
So, for the Dog Walker role at this agency, the website URL would be:
http://www.abcnonprofit.org/amimal-volunteers/volunteer-do-walker/volunteer-application.html
Map out your key volunteer roles and set up web pages for each that map from a main volunteer recruitment landing page. There are a few reasons to do this – first, it makes for a better, simpler user experience. Second, it gives you an opportunity to feature some of those lively keywords your future volunteers are using on Google.
Helpful Tools
Step 3: Create & Test Engaging Keyword-Focused Content
Make sure your web pages include valuable information around the keyword.
But, don't stop at your volunteer recruitment pages. Build out blog posts, helpful volunteer guides, and other website content that also includes different versions of your core keywords.
One Caveat: You might be tempted to re-use your main keywords in your blogs and other pages. The jury is out on whether this helps or hurts SEO but many experts agree that it's a bad idea to compete with yourself.
So, I recommend you get creative and use variations of your core keywords – in other words long-tail keywords — and then link to your core pages. This will tell Google that they are related without "cannibalizing" one another.
Also, test your new pages to see where your visitors are focusing their energy. Maybe this information or call to action has the most interest to them. Perhaps it's the page payout that's working for you. The longer you can keep visitors on your website and pages, the better you'll rank in Google.
You can also use heat mapping software to help you follow how visitors navigate through your pages. Test both your volunteer recruitment pages and your home page (to see if anyone is seeing and clicking on your 'volunteer now' button or tab).
Don't link to your volunteer recruitment page form your home page yet? Change that ASAP. You're missing a big opportunity to recruit people who are researching your cause, but may not know that you also have service opportunities.
Heat Mapping Results for VolPro.net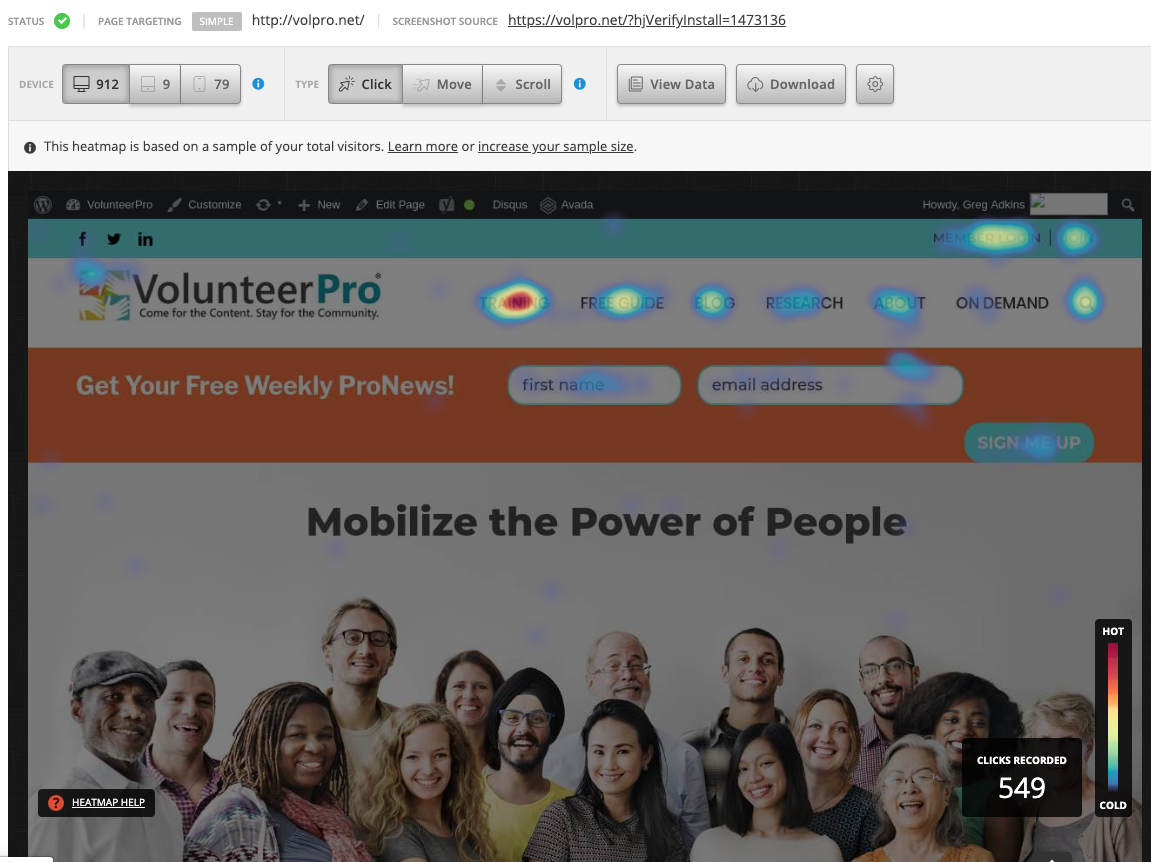 From the heat map above, you can see that visitors to our VolunteerPro home page are primarily interested in our training offerings (the top menu item on the far left in red). That's good news for us!
Helpful Tools
Step 4: Drive Traffic to Each Page to Build Momentum
Remember, Google is looking for pages that are relevant to its users. So, you need to show that your pages are of interest to your audiences. Use your newsletter, emails, social media, and other pages on your site to find volunteers to send to your open opportunities.
Also, refresh the content on those pages, so people keep coming back.
Helpful Tools
There are many more SEO strategies you can use to boost traffic to your website and thus your Google search rankings. But, start with the four I've outlined above.
These will help you build a foundation that you can grow over time to help you find volunteers.