Building Better COVID-Related Volunteer Roles
In the VolunteerPro membership community, like others around the world, leaders of volunteers are getting creative about how they design COVID-related volunteer roles. 
Whether volunteers are working on-site or remotely, there is still plenty to do to move missions forward. 
And, with no end in sight for the pandemic, and even surges in many areas here in the United States, it may be a long time before we can bring back our volunteer teams to full "normal" operations. 
What we may have at first thought was a sprint has now become a marathon. 
Which means it's time to pivot again. 
It may appear like a new task, but is this anything different than what we should have been doing all along?  
One of the primary responsibilities of a volunteer manager is to mobilize human resources for an organization. It's what we do. 
And to be effective, we must align community talent with the needs of our agencies, even when these needs be more or emerging and evolving. 
I've argued that keeping volunteers engaged during the current COVID crisis, which includes fostering an eco-system of support, will be a key to the future sustainability for many organizations. 
But in these times simply creating volunteer busy work in the name of "engagement" won't cut it.  
When people are overwhelmed, overworked, and over-stressed — as so many are now — non-essential activities easily fall to the wayside. Volunteer roles that have little meaning, I'm afraid, will meet this end and all the effort put into their mobilization wasted. 
But there is another way – design roles that really matter and make sense in today's environment. 
Meaningful COVID Volunteer Roles
The emerging needs of an organization, combined with what's available in the agency's pool of volunteer talent, should help guide a new roster of volunteer positions.  
In today's world, an organization that maintains only one kind of volunteer "job" will end up with a very homogenous group of volunteers and may find themselves facing recruitment and retention problems.   
There has always been a myriad of ways to engage volunteers: 
Office Support and Internal Info Sharing

 
Direct Service or Operations

 
Volunteer Recruitment and Marketing

 
Evaluation and Technology

 
Leadership and Donation Appeals

 
What the current context calls on us to do is to focus, to get clarity on what areas need the most attention right now. We also need to consider the new needs that have emerged because of COVID.  For many, the pandemic has unveiled vulnerabilities that need to be addressed and weaknesses that need additional structural support. 
Now is the time to address them. 
When I think about meaningful roles that will have an impact, I break it into four categories – 1) Needs of the community, 2) Needs of the organization, 3) Needs of volunteer services, and 4) Needs of volunteers. 
You can draw these out on a chart like these and brainstorm the needs of each group in each quadrant. Then, circle back around and identify which volunteer roles could meet those needs. Finally, distinguish whether they must be performed on-site or if it could be successfully completed remotely.  
Align Volunteer Roles with Emerging Stakeholder Needs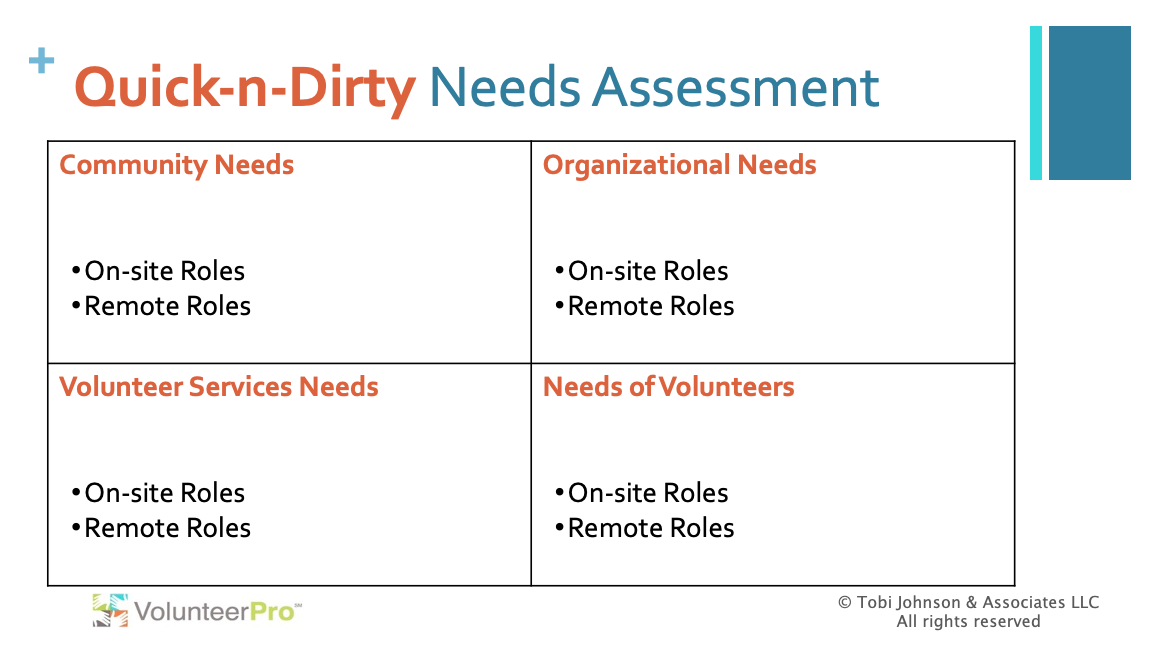 Below are some examples of stakeholder needs and volunteer roles to fill them: 
Needs of the community

 

A safe space to hang out

 

Activities

 for kids who are stuck at home

 

A way to feel useful without having to leave home

 
          On-site Volunteer Roles 
Monitor social distancing on an outside playground on agency property

 
          Remote Volunteer Roles 
Virtual

 reading sessions with children

 

Friendly visitor phone calls to home-bound seniors

 
Needs of the Organization

 

Allowing symptom-free visitors to the building

 

Additional funds to cover lost 

revenue

 

Advocates for 

nonprofit

 relief funding

 
          On-site Volunteer Roles 
Monitoring and admitting visitors by taking temperatures and asking questions

 
          Remote Volunteer Roles 
Needs of Volunteer Services

 

Help re-organizing the office 

environment

 and systems so they work more efficiently

 

Input on how to better support volunteers 

during

 COVID

 

Data on the current volunteer experience and ways to improve it

 
          On-site Volunteer Roles 
Assisting with office clean up and de-cluttering and re-writing of Standard

Operating

 

Procedures

 (SOPs)

 
           Remote Volunteer Roles 
Participating in a volunteer support task force

 

Participating

in volunteer survey advisory team

 
Needs of Volunteers

 

Clear safety instructions when they return to work

 

A way to combat social isolation

 

Ongoing updates on what's happening at the agency

 
          On-site Volunteer Roles 
Organizing, scheduling, and leading trainings of small pods of volunteers

 
          Remote Volunteer Roles 
Organizing, scheduling, and leading online volunteer 

meetups

 

Leading volunteer communications editorial and content team

 
These are only a few ideas.  What's important is that you align roles with the actual needs of your stakeholder groups and your program.   
Thoughtful design can go a long way. 
Also, you don't have to recruit and prepare volunteers for these roles all at once.  Focus on the low-hanging fruit – both roles that will have the greatest positive impact on the highest number of people and those that volunteers are eager to contribute to. 
Design Satisfying COVID-Related Volunteer Roles
As volunteerism is considered true leisure time by many volunteers, it's also important that roles are designed to be both meaningful to the cause and to the volunteer.  
Taking into consideration the elements of job satisfaction can be a helpful litmus test to check whether a role should be developed fully and offered. 
Elements of Job 
Satisfaction
 for 
Volunteers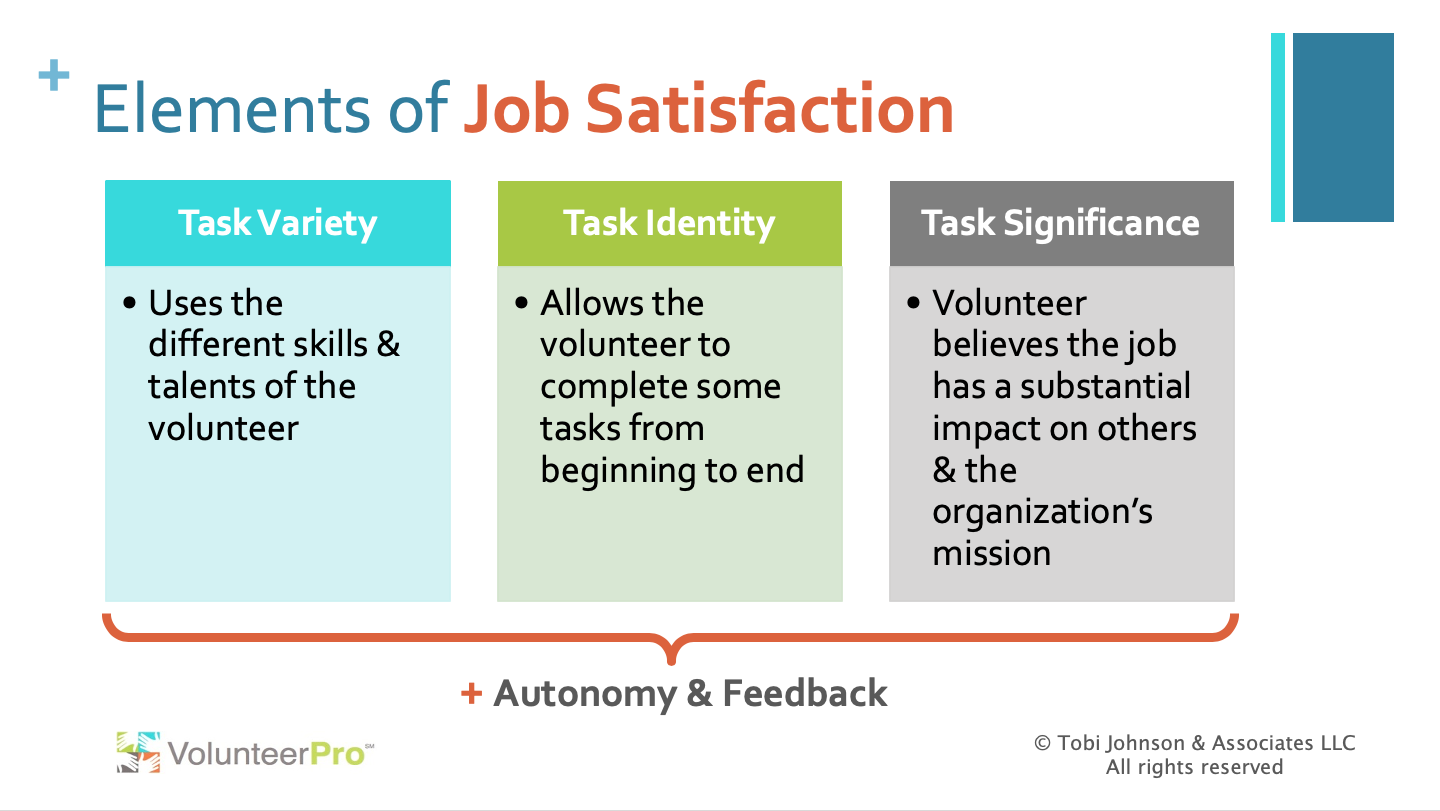 Task variety, task identity, task significance will affect how meaningful the work will be to a volunteer. The level of autonomy will affect whether or not the volunteer will assume responsibility for the outcomes of work. And, the quality of feedback will determine whether the volunteer understands the results of their work and where improvements might be needed. 
Autonomy and feedback are also essential elements of success. 
Feedback is a direct response, positive or negative, to an activity performed in the interest of the organization. Job design theory suggests that feedback be: 
provided by direct supervisory contact, rather than filtered through management (this means the direct supervisor, not the volunteer coordinator!)

 
This means that each volunteer role must also be assigned a direct supervisor for support. This person may be paid staff or an unpaid volunteer. 
If there is not enough capacity to support a role, then the role should be shelved for the time being until that person can be identified and oriented to their leadership responsibilities. 
Involve Volunteers in Solving Your COVID Volunteer Role Dilemmas
The identification of COVID-related volunteer roles need not take place in a vacuum.  
Why not work with volunteers to do a needs assessment of what needs doing? And, then create tasks and roles together?  
As noted above, no one really wants to do "busy work" unless it contributes to the organization's mission. So, it is much better to have a conversation about what volunteers feel is important and how their work can figure into your larger goals.  
If volunteers are included in exploratory conversations, you may be surprised by what you learn, and you will no doubt enjoy the benefits of buy-in for new initiatives. 
Finally, your volunteer team is a treasure trove of yet to be discovered talent.   
Make it easy for your volunteers to share what they're interested in sharing, and help your entire team locate just the right volunteers to help with COVID-related volunteer roles using a Volunteer Talent Database. This might be accomplished using the volunteer profile feature of your current volunteer management database or by building a simple online directory of volunteers.  
Your data might include … 
How long they have volunteered with the organization

 
Past volunteer projects they have been a part of (here & elsewhere)

 
Why they were attracted to this volunteer opportunity

 
Special skills they bring to the team

 
Glad gifts, personal quests, no-no's

 
Any additional notes about their work, special talents, and preferences

 
There's a bonus to making your talent pool transparent to all, too.  
People build trust differently on remote teams than on co-located ones. Research shows that co-located teams do so through interpersonal and social interactions, but remote teams do so based upon their perceptions of ability and reliability.  
By highlighting the skills and capabilities each person brings to the team, you help members create a base of trust from which to work through the pandemic. 
As you can see, there is a myriad of ways to engage volunteers and keep them active with meaningful roles. Given your design, some time and attention, your agency will reap the reward to progress and a dedicated team that's ready to help you navigate the stormy waters ahead. 
Free Tool: 
Volunteer Resourcing Plan Template
Last year, we created this template to help organizations proactively plan their goals and roles for volunteer involvement. While we developed it to kick off the 2020 year, it can also help you plan your pivots going forward.