Managing Volunteers: A Little History and Wisdom from over 10 Years of Helping Helpers
Managing volunteers is much more complicated than it looks, isn't it? 
Last Saturday, I was doing a Facebook Live with some of my fellow Master Gardener volunteers. We go live and chat about all things gardening (usually veggies) for about an hour. Then, we jump off and shoot the breeze for another 30 minutes or so.  As volunteers, we love to socialize and just catch up. 
Last weekend, we started talking about the challenges of managing volunteers – in their case taking on the role as a volunteer that leads other volunteers. It's been frustrating to them, and they've received no training or support on how to do better. 
I mentioned that I was building a volunteer coordination fundamentals online course that I hoped would help both paid and unpaid folks tasked with managing volunteers. They leaned in and wanted to learn more. 
Believe it or not, developing beginner trainings is as difficult, if not harder, than developing intermediate and advanced curriculum. 
As a subject matter expert, I must remember way (waaaaaaayyyyyy) back when I started.  What were my struggles? Where did I get stuck? What do I wish someone would have told me? 
These are the things to share with newcomers that can make or break their experience. Knowing the fundamental best practices – and pitfalls – ensures they stick with it and keep trying instead of throwing up their hands in frustration.   
High quality training also helps to address fixed mindsets and normalize their experience because they know they're not alone in their foibles. Yes, we've all been there. Everyone starts at the beginning. 
One of the ways I go about reminding myself of what's needed is to talk with people. A few years ago, I ran a focus group with local volunteer coordinators who'd been on the job less than a year.  They helped remind me of what it was like to walk in their shoes. 
I also review my old work. 
Over the past few weekends, I've been up to my elbows re-organizing my workspace and storage closet. It's been a walk down memory lane. 
In 2009, I hung up my shingle and started Tobi Johnson & Associates as a consulting firm to help volunteer organizations.  After 20+ years in nonprofit program development and leadership, I had amassed a mountain of material, insights, and experiences. 
As I dug through the boxes and my old training files, I found some doozeys! 
THIS was probably my favorite …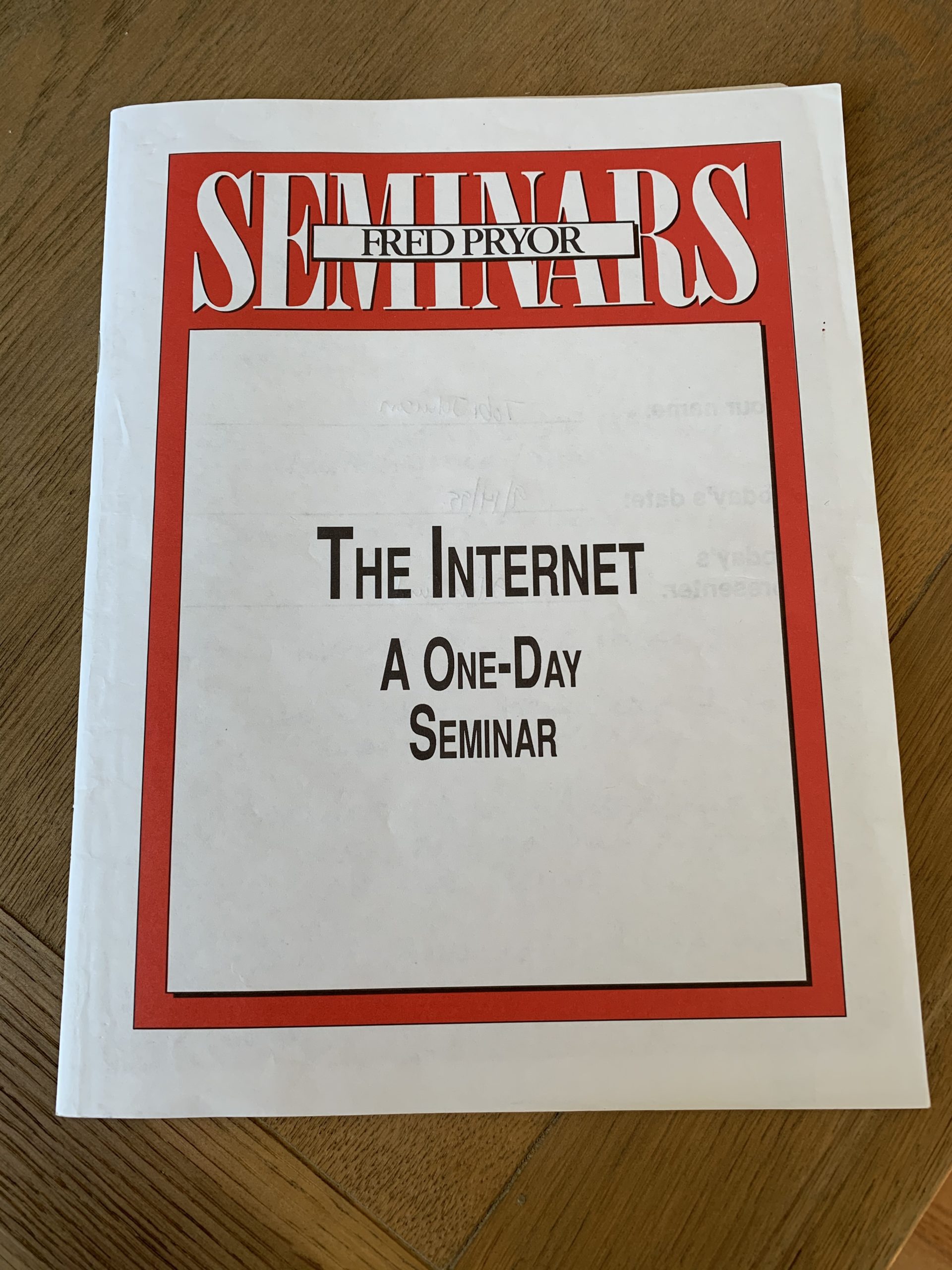 Isn't that a hoot?  It certainly gave me a chuckle.   
Yes, my friends, I was around at the beginning of digital time. 
Back on September 14, 1995, I attended a course to teach me how businesses were using the Internet, five years after the very first website went live. 
In my handwritten scribbles from the day I have noted "a basket seller in Albuquerque, 3 weeks ago, was getting 300 hits a day and people are ordering." 
Ahhhh …. the birth of e-commerce. 
Little did I know that years later, I would become said online entrepreneur.   
All I can say is that I am grateful we no longer have to order a CD-Rom through the mail to get access to the world wide web. 
After about six years in business as Tobi Johnson & Associates, I realized that the only way to scale my expertise was through digital content, namely memberships. in June 2015, we opened the doors to our fledgling VolunteerPro community.
Last weekend, I came across my speaker notes for some of the earliest VolunteerPro webinars … the ones where we had about five people join us! And, I marveled at how I had the courage to create a community back then.   
Who the heck did I think I was anyway?!  I did not have a clue what I was doing, and for the first few months we had an empty space. 
Back then, with a few exceptions, on-demand online learning only occurred at universities. Membership sites, beyond corporate customer support portals, simply weren't yet part of the picture.  
So, when we opened the doors, we had a LOT of splainin' to do!  
No this isn't social media; no, this isn't "fluff" and yes, you can really learn here; and yes, it is worth the investment … messages we *still* have to repeat over and over again. 
Now membership sites are all the rage (but still challenging to pull off successfully, and with integrity).
A few years ago, we expanded again into digital courses. After years of waiting, FINALLY, there were platforms available that could help realize our vision of an easy, on-demand way to learn. And so, the Volunteer Management Academy was born.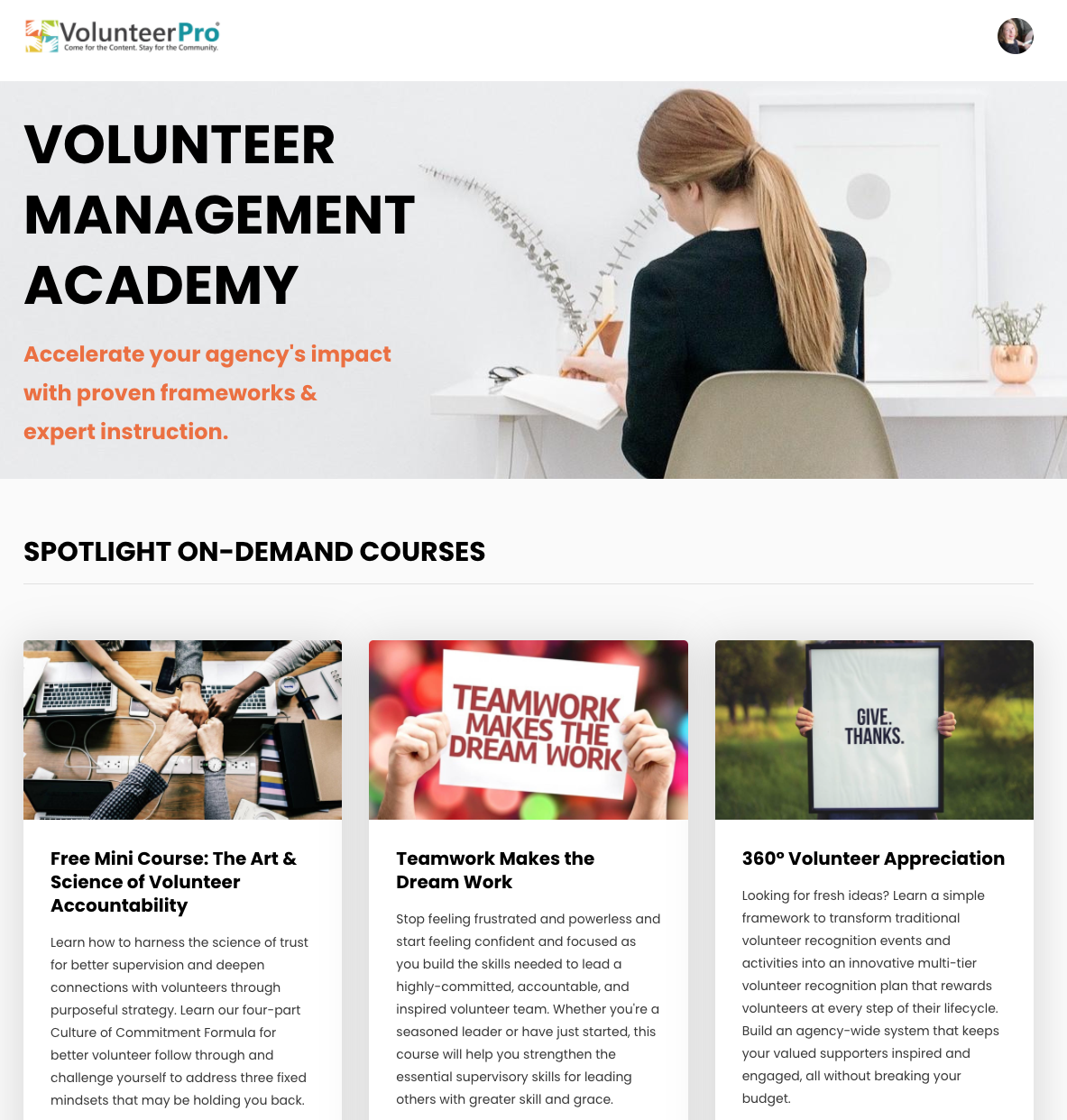 The level of sophistication in content presentation was not even possible back when I took my first Internet course. It's truly amazing how far we've come. 
When the COVID-19 pandemic hit, we had no idea how this would affect the business. Would people still be interested in learning and growing when faced with existential crises and uncertainty? 
The answer was a resounding "Yes!"  Our sector has proved itself to be diligent, resilient, and responsive to community needs.   
Many have pivoted their volunteer initiatives to online engagement in ever-evolving ways. 
And, we've been able to leverage our tools and evolving digital knowledge to do so. 
We've pivoted, too, helping organizations transform their annual conferences and training into quality digital events. This week, we present our third multi-day event of this kind, chock full of volunteer management goodness and presented in a new way. 
Key 
Takeaways
 for Volunteer Managers
and Organizations
I've learned a lot over the past decade, and over the course of my career in nonprofits, about leadership and better business practices.  It's been a constantly evolving set of takeaways. 
And, it keeps growing from there. 
If you're looking for some inspiration, here are my humble lessons … 
Lesson 1: Change is the Only Constant




While the speed of change may have accelerated, as humans we've always dealt with change. In fact, your body is changing right now, as you read this!  And, that 

doesn't

 mean that anything is wrong.  It just IS.  If we can shift our thinking and view it as a normal part of our work life it becomes easier to surf.




 

Lesson 2: No One Can Predict the Future




While we'd like to rest our heads on the illusion of certainty, it simply doesn't exist. 

 

WE can do our best to sense what's coming, but a better course of action is to improve our ability and processes in place to be more responsive and engage in nimble decision-making.  For example, throw out the five-year strategic planning process and replace it with a three-year set of guidelines and concrete annual goals and objectives.




 

Lesson 3: You Will Always Have Your Core Values




Every person, whether they realize it, has a set of core values and principles that guide their life. If you ask any adult – 

what's

 your motto? 

They'll

 more than likely have a saying ready that describes their approach to life (mine 

is:

 leave the world better than you found it). No matter what happens, no one can take your values away from you

.  

It is entirely within your power to decide how to you embody them every day. 

So,

 choose.




 

Lesson 4: Your Words and Deeds Have More Impact Than You Realize




Early in my career, as a new leader, I soon realized that what I said hit people harder than when I 

wasn't

 given a place of power. 

It's

 a crazy thing, and not something we often relish or welcome

.  

But 

it's

 there, nonetheless

.  

Your voice is "louder" as a leader

.  

So, take care with how you use it, and think about how it can be used for the greater good.




 

Lesson 5: Be MORE of Yourself, Not Less




Leadership also involved developing a sense of compassion and grace with our own limitations. 

Imposter syndrome

 is a common phenomenon in leadership – we are often intimidated by our own status as a leader and tend to shy away from who we are in favor of some idealized notion of what we should be. Forget that. Authenticity is a superpower when it comes to leadership. So, in the words of the brilliant and singular 

Oscar Wilde

, "Be Yourself; everyone else is already taken." 

Lesson 6: Be Your Own Biggest Advocate




We often look to others for recognition, acknowledgement, or acceptance. Unfortunately, you may have to wait a long time. Instead, become your own cheering squad to help you get through the tough times. I have literally been known to sing or talk aloud through challenging moments (the good news is that I work alone most of the time!  LOL), cheering myself on – you will CRUSH this!  Woo-hooo! Seriously. If you can't cheer yourself on with enthusiastic, fun-filled conviction, who else will?

 
When I started my business, I didn't have a clue where I would end up. When we launched VolunteerPro, I had no idea how to use online tools to deliver insights, let alone how to use digital marketing tactics.  And, I certainly didn't know what would happen next.
The fact is, we don't know what's coming around the corner. We never have.  
The best we can do is respond to the needs of those we can to the best of our ability, try to predict what direction the world is heading, and ride the bow wave of innovation.
We simply need to have the courage to bet on ourselves and muddle through.  
Everyone starts somewhere. The road is not easy – and can be downright scary sometimes.  But it's a helluva ride and one I'm so grateful to be able to take with you. 
How to Survive and Thrive During Times of Crisis –
Get Your Free Guide
Looking for a pick-me-up to get you through tough times?  
Download our Free Guide and read about how talented volunteer leadership professionals overcome challenges, stay motivated, stay positive and have fun, even when faced with a crisis.  
You will leave with 20 tips that will keep you inspired and motivated, giving you the ability to lift your community with you as you focus on what you are here to do: build a thriving support system for your nonprofit!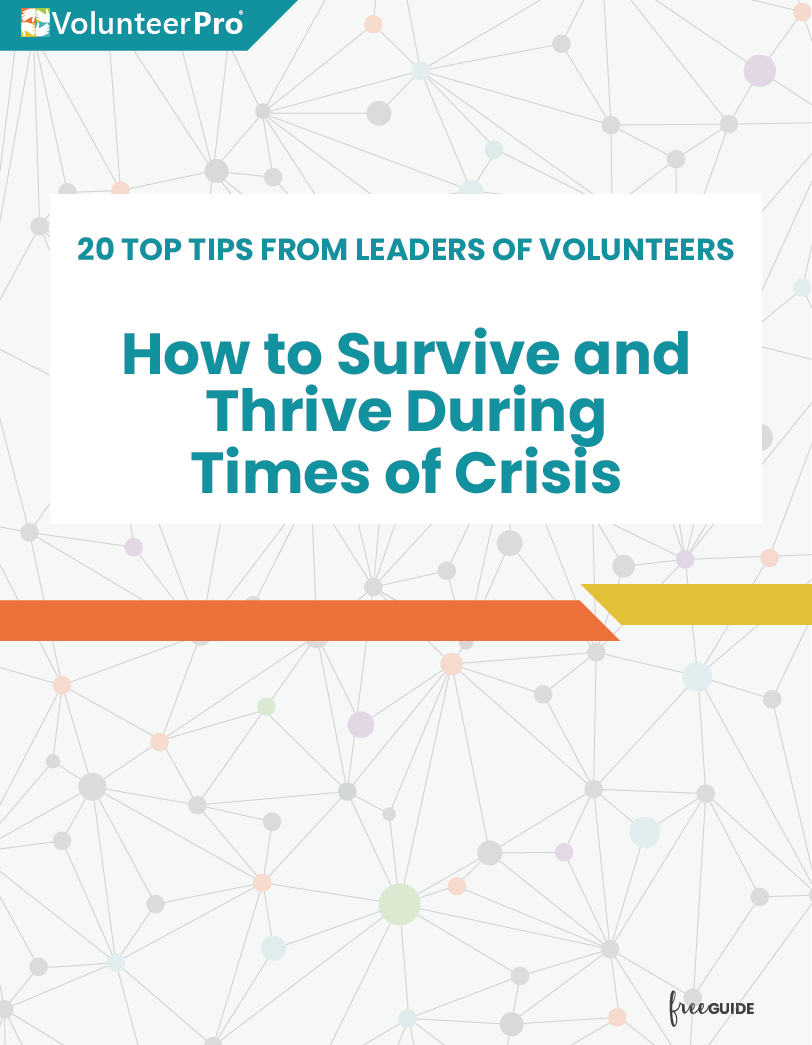 [FREE GUIDE] 20 Top Tips from Leaders of Volunteers: 
How to Survive and Thrive During Times of Crisis
26 pages of inspiration from leaders who walk the talk. 
Learn what your peers have to say about the following four themes:  
Overcoming Challenges: You can do Hard Things

Mindfulness: Good Vibes Only

Stay Motivated & Do Good Work

Be Yourself: Have Fun and Make a Difference