Why Volunteers are Essential to Nonprofit Sustainability
With talks of a looming recession due to COVID-19, the future of nonprofit sustainability is on the minds of many of us. 
And, while some relief has been made available for the short-term, there is plenty of talk out there about tightening belts, trimming budgets, and making do with less.  Although, there's much you can do internally to make things more efficient, more drastic measures may be called for.   
There's no doubt that organizations will be called upon to make some tough decisions about staffing. In the process, it may be that some sacred cows may get slaughtered.  But what's most important is that aid to our most vulnerable populations may evaporate.  
It's clear that if nonprofits don't get proactive, they may find themselves in jeopardy. If the work of the social sector is to change lives, then without their help, service beneficiaries will no doubt suffer undue hardship. 
So, it's time for some serious, strategic thinking about what's ahead.   
I don't think we're anywhere near feeling the final effects of the recession.  In fact, the impact on the nonprofit sector may lag behind what's experienced in the private sector as grant funding dwindles over time.   
We also need to get ready for the next big wave of challenge that is bound to come.   
We've already heard of volunteer coordinators who've been furloughed or lost their jobs completely due to COVID-19. But, at what cost to future nonprofit sustainability? 
Volunteers not only save organizations money through their labor; they are also more likely to make financial contributions.   
I've written extensively about the silos between donors and volunteers. The fact is that these groups overlap considerably — donors are volunteers and volunteers are donors.   
So, when staff support for volunteers is effectively removed, or the pause button is pushed on volunteer engagement due to any crisis, agencies have effectively bid farewell to the potential of these contributors.   
By divesting in volunteer programs, nonprofits effectively set up a triple loss for themselves of time, talent, and future treasure. 
Volunteer Stakeholders Can Help Shape Public Policy & Ensure Nonprofit Sustainability
In the end, the ability to support vibrant nonprofit sustainability through volunteer engagement will be about perceived value and politics both inside and outside the organization.  
A wide and engaged network of community stakeholders, in the form of volunteers, can help nonprofits make the case in the court of public opinion, both in legislative and funding matters as we weather the COVID-19 crisis. 
Passionate and dedicated supporters can help protect the interests of the people they serve and the financial future of the organizations they serve by helping shape public policy from their own lived experiences. 
This happens only when volunteers and donors are kept apprised and actively supported. 
Many nonprofits recognize their role in shaping public policy, but struggle to find the right balance, particularly in times of crisis.   
Clarity is essential in supporting your efforts, both in terms of your goals and advocacy activities. 
Volunteers can be involved in three major ways: 
1. Community Education — They can provide information to the public and partners and encourage others to share your message with policymakers,                      elected officials, and the public at large about the needs of your organization and the social sector in general.
2. Advocacy — Volunteer leaders can advise policymakers directly to influence their decisions, advocate for additional funding, or inform authorities how a                particular policy or law is impacting your target population through the eyes of an informed community member.
3. Lobbying — They can work directly with you to make the case to legislators to change or create new laws, rules, or regulations. 
The Advocacy Continuum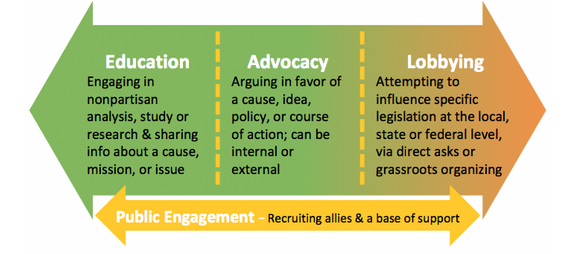 While many believe that nonprofits are not allowed to lobby directly to change specific legislation, they may do so to a limited extend and under certain circumstances.  And, there are no laws against members of the public making calls to their representatives about their concerns.   
In fact, the Independent Sector has been successfully leading lobbying and advocacy efforts through the COVID-19 crisis to ensure relief funding for nonprofits. 
Key Questions to Answer for Volunteer-led Advocacy
When you consider bringing volunteers in to assist in education and advocacy, consider the following: 
How Will Shaping Public Policy Help Your Stakeholders?

 What is your primary 

objective

 of an education or advocacy campaign? How can it help your organization stay 

sustainable

and be able to support those you serve

?  

Don't

 engage until you know the outcome(s) you are working toward.

 
What Specific Activities Does Your Organization Allow? 

Staff and volunteers need to be clear on what they can and cannot do.  Is it different, depending on your job title?  That's OK, but make sure your team has been trained.  Also make sure your rules are in writing, so that they can refer to them as questions arise.

 
What is Your Value to Policy Makers? 

Can you describe it 

succinctly

? 

Do

you know how many stakeholders or volunteers support your position? If a policymaker asked you, "Why should I work with your organization?" could you answer them on the spot

?  

You'll

 need 

to, if

 you want them to listen.

 
What Do People Need to Know about Working with You?

 What is your primary mission? What are your limitations?  What are your requirements for a successful partnership?

 
These questions can help you being to think about your current needs and how you might engage your volunteer team in your efforts. These will also help you consider what other organizations you might partner with to amplify your message. 
Also, as with any communication, it's always good to have stories on hand, stories about how your clients have changed their lives with the help of trained community members.  Equip and then empower your volunteers to share them in conversations with policymakers so you can first change hearts, then minds. 
Getting Proactive About Supporting Volunteer Services: Some Questions to Ask Yourself
Volunteers can be essential assets to supporting the sustainability of your organization. But they don't operate in a vacuum.   
They need acknowledgement from leadership and adequate support from volunteer services staff or a volunteer coordinator.  
If your organization is weighing the pros and cons of removing staff support at this time, below are some questions you might want to ask. 
The first set of questions related to the value of your organization on the community.  Now, more than ever, volunteer programs need to be able to describe their value in no uncertain terms.  
Consider:
Do the decision-makers at my organization and in my community understand the concrete value we offer the public, when it comes to volunteer impact?  Are they unabashed fans of what we do?

 
Do our clients strongly believe that our volunteer-driven services meet their needs in a way that makes sense?  Do they send others to us for help?

 
Do we offer a good return on investment?  Can we describe what it is, specifically and succinctly?  Can we describe what would happen if we didn't exist?

 
The second area of inquiry is to better understand what additional resources — beyond simply their labor – that volunteers bring to the table and what organizations might be losing if they are unsupported. These questions will help you build the business case for continued investment. 
Consider:
How do we leverage community support through volunteering that is a value-add for funders? What is the extent of volunteer contributions, both financial and in-kind?  Is this leverage documented and communicated publicly?

 
Are we responsible stewards of the funding we receive for volunteer services or programming?  Are we radically transparent about how we administer our funds, and is their disbursement directly tied to our core organizational goals?

 
Are there ways volunteers can help diversify our funding base, so that we are less vulnerable 

during

 the COVID-19 crisis and a 

possible

 recession?  Are there ways we can join ranks with others to merge services or back office functions? How can volunteers be engaged to help, but not replace, employees?

 
Do we have volunteers with "friends in high places" who can go to bat for us, if we are threatened?  Are volunteers well-trained to speak on our behalf about the difference we make?

 
Are we in coalition with other volunteer organizations who can band together for strength?  Are we active in associations who regularly communicate with legislators in Washington and in our state's capital about how critical we are to the nation?

 
If you discover any weak areas, take steps to address them.  That way, you won't get caught flat-footed and then wonder what hit you.   
And, if your organization is weathering the storm just fine, count your blessings.  You probably have a broad base of support for many of the reasons listed above.   
If so, reach out to colleagues who may not be faring as well.  They will likely need your help. 
Volunteer 
Impact &
 Nonprofit Sustainability 
Finally, making the case for continued volunteer engagement, support for volunteer services, and their role in nonprofit sustainability often requires proof of concept (no matter how heartfelt the assertion that volunteers are vital). 
Simply because there's a flurry of volunteer activity doesn't mean the critical work is getting done.  How many times have we sidetracked ourselves from a productive result with fairly mundane tasks that don't really contribute to our personal bottom line? 
Instead of listing tasks, consider how volunteer work directly advances your mission right now and how it will continue to do so in the future. Consider all aspects – labor, leadership, financial contributions, community advocacy efforts – in your analysis.  
If they are working remotely, can you draw direct lines between their projects and your agency's future? Is your leadership clear on these connections? 
What about the future? Are you prepared for the "new normal"? How will volunteers be essential to your organization's recovery efforts?  How can they directly help you get back on your feet? 
And, what if you had to start over from scratch?  What future productivity would be lost? 
If volunteers have been a critical part of your organization's success in the past, there is no doubt that can continue to be, and perhaps even more so.  
But when budgets are tight, organizations must make difficult choices. The return on investment of each program and project will  be under scrutiny. 
Volunteer programs aren't a smart place to start. If they are cut, organizations risk throwing the baby out with the bath water and damaging their chances of survival. 
Volunteer programs must be prepared to help ensure the sustainability of the entire organization even if others can see the clear fork in the road.