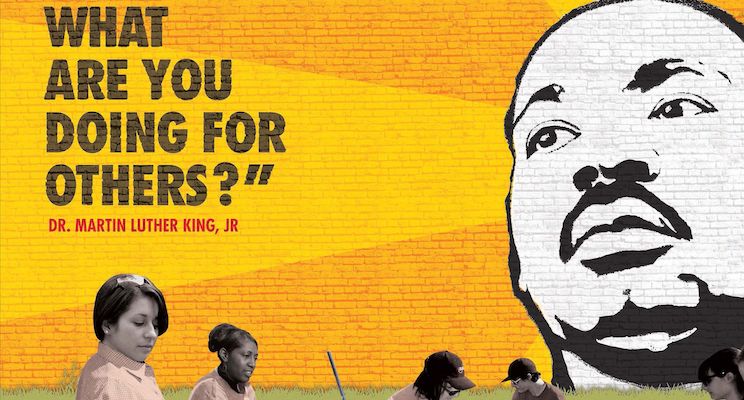 The Birthday of Martin Luther King Jr. holiday is more than a welcome three-day weekend or time to shop for bargain towels and discounts on bedding. It's about something more. It is a celebration of the human spirit and the power and promise of volunteerism and citizen engagement.
Now, more than ever, it's a time to consider what each of us can do — small and large — to improve the lives of our neighbors, communities, and those who need our allegiance most.
On this day we honor the most visible leader of the Civil Rights Movement and proponent of nonviolent activism, who demonstrated in no uncertain terms how regular people can organize and bring about major policy changes in the halls of government.
A Brief History of Volunteerism & Citizen Action
Dr. Martin Luther King's coalition successfully protested and gained support for federal and state laws preventing discrimination on the basis of race, color, religion, sex, or national origin. And, one might not expect that the hearts and minds of many were transformed along the way. In the end, the MLK holiday was signed into federal law by President Ronald Reagan, who lauded the work of Dr. King and lamented that "traces of bigotry still mar America."
Dr. King made the ultimate sacrifice in service to his ideals and values. His message was also buoyed up and carried forward by thousands of dedicated organizers, activists, and volunteers who made their own individual sacrifices to bring about change.
Since the early days of the Civil Rights Movement, volunteerism has rooted itself firmly in America's nonprofits, government agencies, and membership associations. According to the most recent data, 62.6 million people are involved in volunteerism, quietly going about their tasks as America's most unrecognized, yet powerful workforce. It is this hidden, altruistic economy that binds our country together and holds the most potential for harnessing lasting, positive change.
In 1994, federal legislation was passed to transform the holiday into a National Day of Service, challenging Americans to participate in citizen action and volunteerism in honor of Dr. King's legacy. Each year, the Corporation for National and Community Service and volunteer centers across the country mobilize volunteers and organizations to donate their time to make a difference on this day.
MLK Day Today
Over the years, millions of volunteers have taken their responsibilities as citizens seriously. They have been the engine that drives our democracy though collaboration and by making their voices heard through organizing, education, community service, and voting. It is how we, as citizens, work together to "form a more perfect union." And, it is rarely easy.
Even the establishment of Martin Luther King Day itself has been a challenge to establish and implement. Even today, some states refuse to fully acknowledge the day — both Alabama and Mississippi combine the celebration of Dr. King with the birthday of Confederate General Robert E. Lee, who publicly opposed racial equality.
Dr. King was fully aware of both the costs and rewards of liberty and devoted his life to realizing it for all people. His birthday is our opportunity to honor that life work and to follow the example of brilliant and humble leadership that so fully embodies what it means to be an American.
The founding fathers, mothers, sisters, and brothers did not intend that we relinquish the gifts of freedom they fought so hard to win. The preamble of the US Constitution does not read "We the elected officials" or "We the corporations" or "We the office of the President."
Rather, our charter document commences with "We the people." And, thus it endows us with all the rights and responsibilities possible to drive the direction of our democracy. Dr. King's legacy lives on as a reminder to us that all who live and work here own a share in our mutual destiny as a nation.
The Legacy of Dr. King and You
As the story of our democracy continues to unfold, opportunities abound to shape our collective future, both large and small. You will never know the full effect your words and deeds have on others, best rest assured each and every one of us makes an impression. So, this MLK Day, consider how your everyday actions have an impact on those in your community.
How can you uplift the spirits of people known and unknown? How can you be a faithful ally? What stories do you need to help advance? How can you can join with others in service to the greater good? What organizations could use your expertise and support to further a cause you believe in?
Five decades ago, Dr. King devoted his life to advancing equality, social justice, and economic opportunity for all. He taught us that every single one of us has a role to play. Volunteerism remains a powerful tool for strengthening our communities and connections with our fellow citizens.
It is time to recommit ourselves to one another through volunteerism, organizing, and action.  No matter how difficult the road ahead, steadfast dedication will have its reward. If you haven't yet had a chance to connect ad commit, reach out and find an opportunity to serve others. It will give you courage in the face of uncertainty as you put a shoulder to the wheel with a community of like-minded people.
As Dr, King said in the Strength to Love, "The ultimate measure of a man is not where he stands in moments of comfort and convenience, but where he stands at times of challenge and controversy."
There is no doubt that we still have work to do to realize Dr. King's dream. The good news is that it has never been easier to get started.