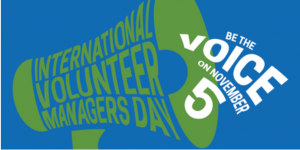 To all those involved in volunteer management around the world, Happy International Volunteer Managers Day! We are celebrating all week!
In keeping with this year's theme of "be the voice," we are releasing the 2018 Volunteer Management Progress Report survey this week. We hope you will take a moment to take the survey and become part of the largest crowdsourcing of volunteer administrator data in the world.
Over the past two years, over 1,500 leaders of volunteers in 18 countries have taken VolunteerPro's annual Volunteer Management Progress Report survey and it continues to grow.
It's been amazing to see how the survey has been embraced by the field and truly inspiring to read the insights and experiences of those who have participated so far. We've also heard from volunteer coordinators that they have used the results to argue for, and get, higher salaries and more resources. Good news!
With the survey in its third year, we will have the opportunity to share even more powerful advocacy data with you, now tracking trends over consecutive years. It's an exciting time!
This year's "state of the industry" survey will include questions related to your volunteer management practices, challenges, and needs. We will also be focusing some of our attention on gathering participation and retention benchmarks as well as the current state of volunteer diversity and inclusion.
If you work with volunteers, don't miss your chance to add your voice. In about 10 minutes you can can help "be the voice" for our field.
Hear the Results First: Add Your Voice to the 2018 Volunteer Management Progress Report
Take the survey Now! https://volpro.net/volunteer-management-progress-report/
As a bonus, everyone who completes the survey will be invited to a free "sneak peek" webinar in January.
The deadline is November 30, 2017.
P.S. If you would like to help send the survey link to your local network, email tobi at tobi@volpro.net. We will send you a press kit and add your organization's name to the list of partners.