7 Creative Ways to Recruit Volunteers with Free Content
In last week's blog post, I recommended that nonprofits consider creative ways to recruit volunteers with free content. This week, I get down to brass tacks about what that means in more detail.
Using Content Marketing to Attract Volunteers
Gone are the days when "cold traffic" to your website would quickly take action. Your visitors need time to get to know you.
Enter the new age of content marketing.
As defined by the Content Marketing Institute, "Content marketing is a strategic marketing approach focused on creating and distributing valuable, relevant, and consistent content to attract and retain a clearly defined audience — and, ultimately, to drive profitable customer action."
Offering freebies, otherwise known as "lead magnets," is a common content marketing strategy to build an audience of people who are interested in your cause and just might be interested – once they get to know you – in supporting you as a volunteer or donor.
As a strategy, content marketing in a nonprofit context has its benefits. It can help you increase the number of followers who convert into active volunteers. Building an engaged list of email subscribers can save money on paid advertising and save time sending ineffective e-blasts to random people.
In addition, volunteers who are "nurtured" through valuable educational content and regular contact become more informed about your organization's needs and goals. In the end, they'll also be more loyal, favoring your nonprofit over others they don't know as much about.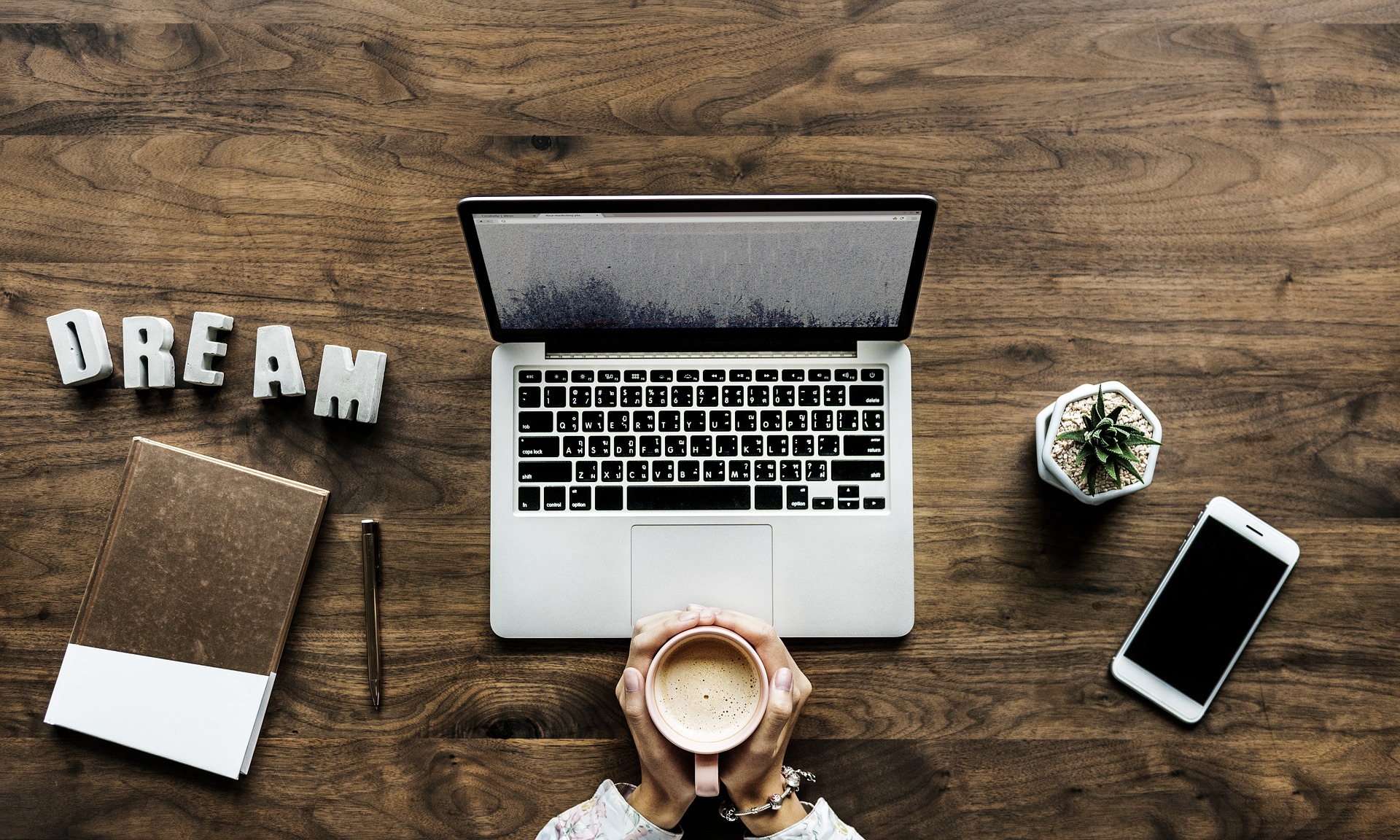 Building Trust in Nonprofits Through Content
Free content can also help your organization reinforce its mission and brand purpose, thus building trusting connections with the public.
According to the global professional services company Accenture, the connections between consumers and brand hinge on an alignment of values and purpose.
They note, "Consumers in the United States are no longer making decisions based solely on product selection or price; they're assessing what a brand says, what it does and what it stands for. They support companies whose brand purpose aligns with their beliefs. And they reject those that don't, with one in five walking away forever."
While nonprofits might believe that trust isn't a factor for them, the data says different.
According to the global public relations firm Edelman, while levels of public trust in institutions has risen modestly over the past year, distrust continues, even in nongovernmental organizations. Moreover, the firm's 2019 Trust Barometer points to a 16-point gap between "the more trusting informed public and the far-more-skeptical mass population, marking a return to record highs of trust inequality."
So, while you make take for granted that the public trusts you, the recent – and well-publicized – scandals with well-known charities may well have an impact on your image.
So, if you hope to gain support and loyalty from your community, it makes sense to take content marketing seriously and develop some creative ways to recruit volunteers.
Content for Levels of Engagement
Creating free content for followers can help you begin building relationships and, at the same time, warm up potential volunteer supporters to a future appeal.
Through your content, you can share special expertise, knowledge, or insights about your cause or industry to people who have an interest.
You can also design strategic content tailored for volunteers at each level of engagement.
Volunteer Content Engagement Pyramid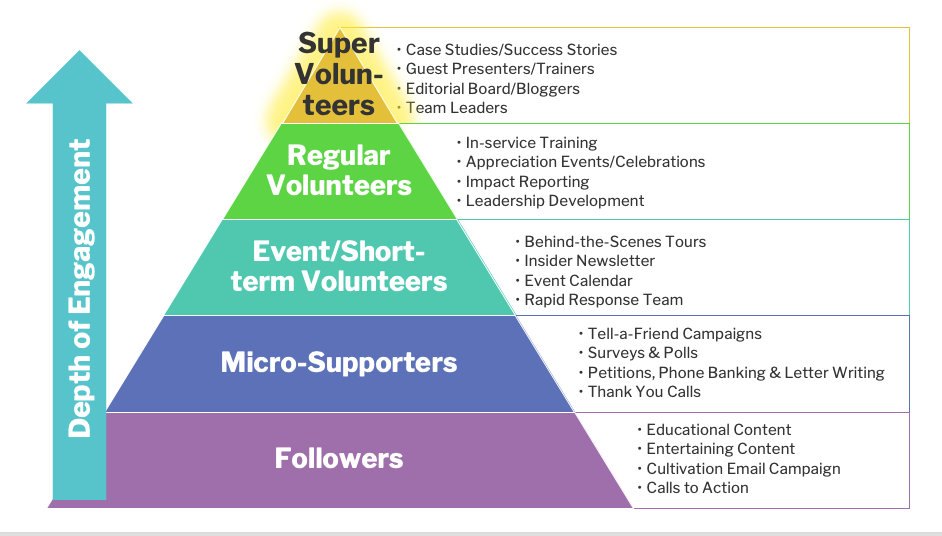 By personalizing content for different levels, you can better reach your core audience with messages and information that truly resonates.
When volunteers, current and future, feel you have their interests at heart – that you "get" them – you'll be more likely to build loyalty and commitment.
But, don't use "hard sell" tactics. These freebies should be more about offering value to the reader and should steer clear of direct advertisements for volunteers. Save those for your email and newsletter.
Once volunteers get to know you better, they will be more likely to respond.
How to Recruit Volunteers Using Free Content
So, what specifically, should you create? What will your audience find valuable? What makes sense in the volunteer context?
Below are seven creative ways to recruit volunteers using free content with information and examples on when and how to use them.
Remember, the goal is to educate and inform your audience, so they are more likely to respond to your volunteer recruitment calls to action. In other words, successful freebies will help build readiness for service.
See if any of the following make sense for you …
You don't have to create a ton of content to make a difference. Start out with one core piece and promote it on your website and via social media. Be sure to create an optimized opt-in that will generate a list you can communicate with going forward via your newsletter, blog, or email.
Informational Presentations & Case Studies
Presentations are great when you want to engage in a little "show and tell." These can be pre-recorded videos or live presentations online or on-land.
While it's most common to think of these as "volunteer orientations," they are something slightly different. They focus more on educating the public about your cause and the impact it makes in the community and less about volunteer policies and procedures.
Case studies take your readers on a journey from beginning to end. They outline a key problem and how it was solved. Volunteer success stories are perfect for case studies – but, be sure you have permission to use names or identifying characteristics of the people featured.
Examples:
•  Our cause 101
•  The fundamentals of [insert your topic area]
•  How to get involved in four easy steps
Worksheets & Workbooks
Use worksheets when a process needs to be mapped out. These are particularly useful when you want to help followers think through next steps or create an action plan. You can also create longer workbooks, as long as they help your audience find clarity or do something more quickly.
Examples:
• How to help a friend or family member overcome X, Y, Z
• Map out your volunteer involvement
Resource Guides, eBooks & Reports
Use longer resource guides and reports for deeper dives and reference points for your audience. These are excellent for the segment of your audience that enjoy data and want to see greater detail.
Examples:
• Myths and facts about X, Y, Z
• Our community impact report
• Recent industry research roundup about [insert your primary topic]
• The ultimate guide to [your topic]
Templates
Time-saving planners and templates are great ways to encourage "micro-volunteering." By taking baby steps, your audience can ease into supporting you with simple actions. You make it easy by supplying the words or a template they can use
Examples:
• Social media swipe file
• Email template for a letter to your elected official
Checklists & Cheat Sheets
A checklist is a list of actions the audience takes to reach a goal. Be careful not to overwhelm. Keep it to a single page of tasks to complete. These are even more helpful when they are arranged into a timeline. To spice it up, include inspirational quotes.
Cheat sheets are highly practical lists of concrete resources or tips to enhance an experience or help the reader reach a destination more quickly or efficiently. They will often be returned to again and again as a helpful reference.
Examples:
• Make a difference by taking these small steps
• New volunteer checklist
• Self-care checklist for advocates
Exercise or Quiz
Written exercises or online quizzes that generate personalized results can help volunteers make decisions or reflect on their readiness for service. They also help your audience pre-qualify themselves through self-reflection.
Examples:
• What kind of volunteer are you? Quiz
• Is volunteering with [insert your population served] for you?
Comparison Guide
Comparison guides help your audience when there are a lot of options to choose from. Think of these as a kind of "consumer guide" to your nonprofit or offers. If your organization is involved in community advocacy or grassroots organizing, these guides are a great option for explaining complex issues. These work best when they are presented as a chart or in some other kind of helpful graphic.
Examples:
• Key legislative & policy options compared
• Volunteer roles — your options compared
When it comes to free content, the sky's the limit. There are so many creative ways to recruit volunteers out there. And, talk to your volunteers. They will no doubt have fresh ideas about what other potential supporters might find helpful.
Wondering what the rest of the world thinks? Try search engine optimization tools like Ubersuggest to explore the most popular topics your audience is seeking online.
Do You Offer Free Content for Future Volunteers?
What do you make available? Describe your freebie and post a link to the web page where it lives comments. Do you have other creative ways to recruit volunteers? Tell us about them!