Volunteer Management Associations & Networks



Enhance Your Member Offerings
With a VolunteerPro Affiliate Partnership
Due to popular demand, we are pilot testing an affiliate program with a select group of organizations.  If it works, we'll keep going.
Want to Be Part of Our First Group?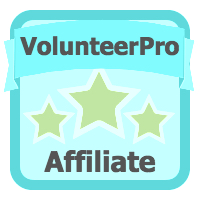 It's a A Triple Win!
Your audience gets access to our best-in-class professional development content and live training at a discounted rate

You receive commissions that you can re-invest in supporting your members

VolunteerPro is able to reach a wider audience and continue to grow the breadth and depth of our offerings

The Bonus? We all grow together and everybody wins
Want to Learn More? Join Us for a VolunteerPro Affiliate Info Session
Learn how to become a VolunteerPro Affiliate at one of two short informational webinars.  We'll give you the details and answer any questions you may have. Register as many people as you'd like from your team of decision-makers.
You can also download a one-page info sheet to share with your group HERE.
Choose from one of two sessions to match your time zone and schedule.
 Join Us As We Beta Test Partnership Marketing
How It Works With VolunteerPro
Partnership marketing is an effective way for you to offer your audience and members access to the benefits of a VolunteerPro membership at a discounted price.
Because affiliates will work closely with us to refer members, they are able to take advantage of bulk discounts. In addition to a base membership fee for your general audience, you'll also be able to offer your association members an additional discount using a promo code we provide you.
As our way of saying thanks, for each annual VolunteerPro membership you sell (through your unique affiliate link), you will receive a portion of the proceeds from VolunteerPro.
Each new member referred by an affiliate will get set up with their own individual VolunteerPro membership.
An Affiliate Partnership IS




For You If …
Your association or network has a solid reputation of service to its members

You are passionate about your membership and want to help them grow

You are ready to learn new ways to market to your current and future audience

You are willing to do the work needed to raise awareness of the offer, with our support
An Affiliate Partnership

 
IS NOT
For You If …
You don't see VolunteerPro as a valuable professional resource, worthy of investment

You have a very small group and the work needed wouldn't be worth it

You don't have the capacity or interest in expanding your digital marketing methods

You have an existing partnership that conflicts with our services
We Will Support You Every Step of the Way
When you are successful, we are successful.
We have built a successful online business and will show you how to make partnership marketing work for you.
Along the way, you'll also learn how to better market your own memberships and services.
 Tools & Support for VolunteerPro Affiliates
Customer Service Excellence is Our Cornerstone Value
We know your reputation is as important as ours. So, you can trust that anyone you refer will get the same, high-touch customer service experience that VolunteerPro is known for.  Over half of our members renew their subscriptions, so we know we are doing something right.  
If in the rare case any issues pop up, we are only an email or phone call away.
Discounts and Commission Structure
The public pricing for a VolunteerPro Annual Membership is $599 per person, per year. Affiliates may choose how they would like to structure their offer, either to offer a lower rate for their own members (via a promo code) or the same rate for their entire audience.
Pricing is as follows:
Affiliate Base Discount (10%): $539 US per person, per year — these are best for your general audience who may not be members or employees of your organization
Affiliate Member Discount w/ Promo Code (20%): $479 US per person, per year — these are best for those who are members or employees of your organization
Commissions earned depend entirely on the total number of sales that result from a referral.  The calculation we use to determine your revenue is — Referral Revenue x Commission % = Affiliate Marketing Revenue.
There is absolutely no cost or risk to you — we don't charge you to become an affiliate, and there are no fees to maintain your status. There are also no additional fees for your audience. It's that simple.
Help Your Members Save and Build Your Budget at the Same Time 
Affiliate Discounts
VolunteerPro Membership Fee
(per person, per year)
10% Affiliate Commission
(1-3 sales)
20% Affiliate Commission
(4+ sales)
Base Discount (10%)

$539 USD

$53.90 USD each

$107.80 USD each

Affiliate Member Discount
w/ Promo Code (20%)

$479 USD

$47.90 USD each

$95.80 USD each
About VolunteerPro
VolunteerPro, a service of Tobi Johnson & Associates, provides online volunteer management training, coaching, and community to leaders of volunteers at all levels. Our best-in-class courses and webinars include research, effective practices, and emerging innovations in volunteer engagement. Our webinars are focused on solving practical challenges to engaging today's volunteers and are offered a-la-carte or as a membership package. No matter what type of organization, our professional development training and tools will help you boost your results and impact.
Each year, we research and publish the Volunteer Management Progress Report, a global state-of-the-industry survey in 2015.  Over 1,000 volunteer management professionals from multiple countries participate in the study annually.
For more on VolunteerPro founder and webinar presenter Tobi Johnson, read her full bio HERE.