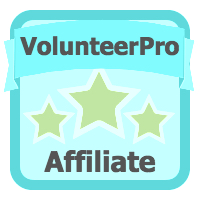 Marketing Resources and Exclusive Info for VolunteerPro Affiliates
Below is info & downloadable tools you can use to promote your affiliate offer. Feel free to use 'as is' or amend them to suit your needs.
Affiliate Sales Landing Page
https://volpro.net/volunteerpro-affiliate-deal/.
Note: In order to accrue commissions, affiliates should send traffic to this web page via their unique affiliate link. This page features 10% off annual VolunteerPro memberships.
Your Member Promo Code
DOUBLEDEAL (one word, all caps)
Note: This is most appropriate for your paid members, but can be shared with others. This will get them 20% off annual VolunteerPro memberships.