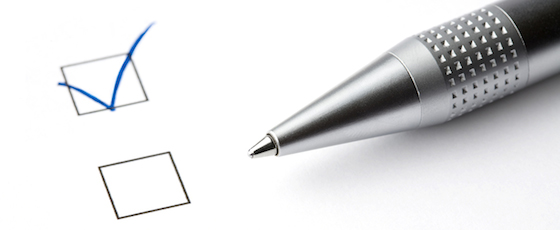 THE VOLUNTEER SATISFACTION SURVEY BUNDLE
Learn how to find out what might be bothering your volunteers before they decide to leave.
[Recording] Boost Your Volunteer Retention with Volunteer Satisfaction Surveys
In this 60-minute live recording, you will learn how to design and deploy questionnaires that generate actionable feedback to better inform your retention tactics and interventions. This webinar was originally presented on October 7, 2015.
Do-it-Yourself (DIY) Audits are a simple way to evaluate where you are and create a concrete plan for where you are going. By reviewing your program, you'll have the opportunity to identify your greatest challenges and form a plan to address those that may have the greatest impact on future success.
While obstacles are a part of everyday life, a DIY Audit can also help you identify what is going right so that you can "double down" on those approaches. This will also help you share best practices within and outside your agency to expand the quality of services offered by everyone.
 You will learn …
How to use the DIY Audit tool provided with this course
How to reduce natural biases inherent in all evaluation activities
How to best involve volunteers as leaders in the review process
How to identify and document best practices you can share
How to report your audit results so they generate greater internal support
[Recording] Volunteer Satisfaction Surveys: Making Sense of the Data
In this 60-minute live recording, you will learn a simple step-by-step process for reviewing your survey results, so you can discover what your data is really telling you even if you're not a math whiz. This webinar was originally presented on February 23, 2016.
Increasingly, volunteer services are called upon to prove impact, but what can you track that is meaningful, beyond volunteer hours & retention? How can organizations describe actual impacts versus outputs thus demonstrating the true return on investment of volunteer programs?
The ability to explain the value proposition of volunteer services, and to develop and track metrics that matter, can help us all position our sector to advocate more strongly for additional resources. This also helps us better share our story with emerging stakeholders interested in volunteerism. IN this webinar, you will learn a simple process to develop outcome indicators that can help make program improvement and even growth a reality.
You will learn…
How to use a Logic Model to describe your theory of change
How to develop SMART outcome indicators based on the model
How to decide which metrics are the highest priority for you
How to create dashboards to keep you on track throughout the year
How to communicate goals to volunteers so they take ownership
How to inspire a culture of continuous improvement & accountability
You also get this TOOLKIT:
[Tip Sheet] Statistics 101 Cheat Sheet
[Data Analysis Tool] Open-ended Data Coding Spreadsheet
[Template] Volunteer Satisfaction Survey Report
[Tip Sheet] Survey Announcement, Invitation, Introduction & Closing Tips
[Worksheet] Volunteer Satisfaction Survey Project Plan
[Tip Sheet] Likert Scale Cheat Sheet
PDFs of Slides