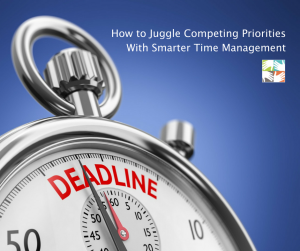 Free On-Demand Webinar:


How to Juggle Competing Priorities With Smart

er

 Time Management
Volunteer managers can boost their productivity, even in busy nonprofit environments.
It's no secret that volunteer managers wear many hats. You're expected to manage program outcomes, develop and maintain community partnerships, recruit volunteers, supervise people, and more!  Did we mention you're expected to do these things all at the same time? It's enough to make anyone feel frazzled.
Why not make a commitment to a saner self? Find your personal "sweet spot" – and greater productivity – through better boundaries and proven time management skills.   
Download this webinar and supporting tools to learn pro tips you can start using right away so you can start to really live and love your job with less stress and more inspiration. 
You will learn …
How to maintain clear boundaries so work is evenly shared

 

How to manage interruptions with less guilt & more grace

 

How to boost your personal productivity with brain-friendly tactics

 

How to find free or low-cost apps & hacks for working smarter not harder
How Volunteer Managers Can Stay Focused on Their Personal Goals
It's important to be clear on our most important goals so that we can assess where to most effectively focus our time. Remember that when you say "yes" to one thing, you say "no" to at least one other thing.
To say "no," be assertive. Say NO fist, then give one honest reason why you can't help. Recognize that the other's reaction is his or her right, but not worthy of a "Yes" for the cost of your focus. Offer alternatives. Find supporters; don't let naysayers or deterrents get in your way, and reward yourself for staying on point.
Set up ways to remind yourself to use your focus question, especially when things seem to get chaotic. Schedule a weekly appointment with yourself to plan your work week and calendar and to review your previous work.
Identify tasks that just aren't getting done and see if they are good candidates for delegation or removal entirely from your list (or better, put them on a Parking Lot for another time).