Free [Webinar Recording] Quick Ways to Refresh Your Core Volunteer Program Materials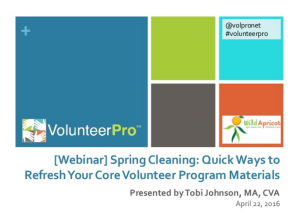 Program documents used to manage your volunteer recruitment process and communicate policies and procedures can tend to be dry and boring, but they don't have to be.
In fact, your volunteer materials are often underestimated, yet powerful opportunities to share expectations, to deepen connections between volunteers and your organization, and to communicate to volunteers the exceptional experience they are about to encounter.
Take this opportunity to refresh the way you present your organization to volunteers and see how these changes can inspire a whole new mood of commitment!
Key Takeaways:
How to use core documents to improve volunteer touch points

How to "prime" volunteer commitment using simple psychology

How to make volunteer position descriptions more mission focused

How to spice up dry and boring volunteer manuals

How to share volunteer rules and regulations in a friendly way

How to generate more compelling volunteer testimonials

Re-define engagement as a value-generating partnership that leads to success

Re-focus engagement efforts on what matters most to your stakeholders and advancing the association's goals

Shift your perspective on engagement to understanding its role at the heart of your business strategy

Volunteers don't always understand or make the connection to how their efforts will impact the organization – you need to point it out.

When volunteers acclimate, they experience a lot of conflicting emotions: surprise, anticipation, joy, fear, ambiguity. Be sure these emotions aren't discounted or ignored.
Free handouts included with your recording link:
Core Volunteer Program Documents Checklist
Spring Cleaning – Quick Ways to Refresh Your Program Materials Slides
Using Psychology to Get Commitment Tip Sheet
Tip Sheet for Better Volunteer Testimonials
Presented in partnership with: