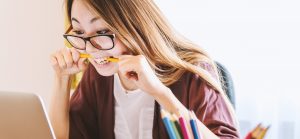 [Member Exclusive] Blended Learning 101: Training Volunteers in Your Sleep with a Simple, Time-Saving System
Thursday, February 7, 2019, 1:00-2:00pm EST/10:00-11:00am PST (60 minutes)
Want to Add Online Training to Your Mix Without Sacrificing Relationships or Your Time?
If you're looking to save time, then this webinar is for you!
Learn how to combine convenient online learning with traditional classroom methods that will save you time.
To attend this Exclusive Masterclass, you'll need to join the VolunteerPro Community.
Preparing volunteers for their work with your nonprofit can be costly and time-consuming, particularly if your training is extensive. You may spend hours teaching new volunteers, only to have a fraction of them convert to active supporters, making it all the more frustrating.
With so many options available today to share content, it makes sense to move some of your training online.  Using a blended approach of online and in-person training can help you save time by literally teaching while you sleep, reserving class time for the most important content.
In this masterclass, you'll learn how to put together a blended learning system for new volunteer orientations or for regular volunteer updates. Tobi has developed blended learning solutions for her consulting clients and will share fabulous tips on what works best and what to avoid.
A flipped classroom model that helps you better focus valuable face time

How to structure a system of lessons & activities that support better skill building

How to overcome 3 key challenges that can block blended learning success
+ Get These BONUS Materials
Blended Learning Design Workbook

Learning Objectives Worksheet

Video Recording (available for 14 days after live event)
Tobi Johnson is president and founder of VolunteerPro | Tobi Johnson & Associates and is an international speaker and expert in the field of volunteerism. With over 30 years direct experience, Tobi focuses exclusively on training and consulting with nonprofits to strengthen their volunteer strategy.