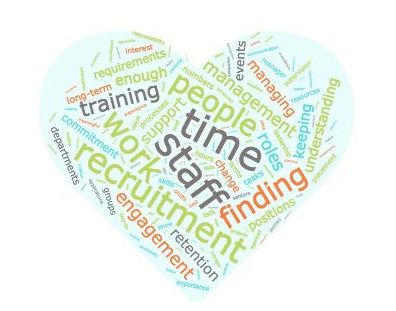 We've just released the 2018 Volunteer Management Progress Report. This "state-of-the-industry" report provides a rare glimpse into the world of volunteer management resource professionals who lead volunteers in a variety of settings.
More than 1,200 leaders of volunteers across 12 different countries participated in the survey, which includes industry research on work, salary, and satisfaction. Thank you to all who participated and supported the distribution of the survey to their networks!
Key Volunteer Management Takeaways
Here are just a few of the things we learned about our field throughout which, it turns out,  is more alike than different.
Key Takeaway #1 — Volunteer retention has risen steadily as a top challenge.
13% of respondents noted volunteer retention as a top challenge, climbing seven percentage points in the past three years. Retention is second only to recruitment as a top challenge, indicating perhaps a symbiotic relationship between the two.
Key Takeaway #2 — Volunteer manager salaries remain flat, but depend on job title.
This year, the average salary of US respondents was $45,703 (it was $45,325 in 2017). For Canada the average salary was $56,518 CAD; for Australia it was $64,816 AUD, and for the United Kingdom the average was £27,668 GBP.
Salaries are higher for Directors and Administrators and lower for Coordinators and also correlate with number of volunteers — in general, The higher the number of volunteers, the higher the salary — as well as other variables.
Key Takeaway #3 — We may have work to do around diversity & inclusion.
Nearly half (48%) don't believe the diversity of their volunteer corps matches the community they serve. Over half (55%) don't have a written inclusion plan for volunteers; another 18% didn't know whether a plan was in place.
Key Takeaway #4 — Volunteer coordinators like their jobs & most plan to stick around.
81% of leaders of volunteers are Somewhat or Very Satisfied. This has held steady year for year over three years. Nearly seven out of 10 (67%) respondents Somewhat or Strongly Agree they will be working in the field in the near future.
Key Takeaway #5 — Volunteer managers are responsible for engaging large groups of volunteers each year.
Respondents involve a wide range of volunteers, with an average corps of 251-500 volunteers across the organization.  About one quarter (24%) engage over 1,000 volunteers a year in service.
Key Takeaway #6 — Volunteer coordinators manage multiple tasks & priorities.
Staff continue to split their time between volunteer resource management and other duties. Although most (84%) work full-time, only 31% focus entirely on volunteer coordination, despite the fact that large numbers of volunteers involved.
Want More Detail?
Our 45-page Volunteer Management Progress Report has much more info and comparisons.
Get Your Free 2018 Report Here: https://volpro.net/volunteer-management-progress-report/.