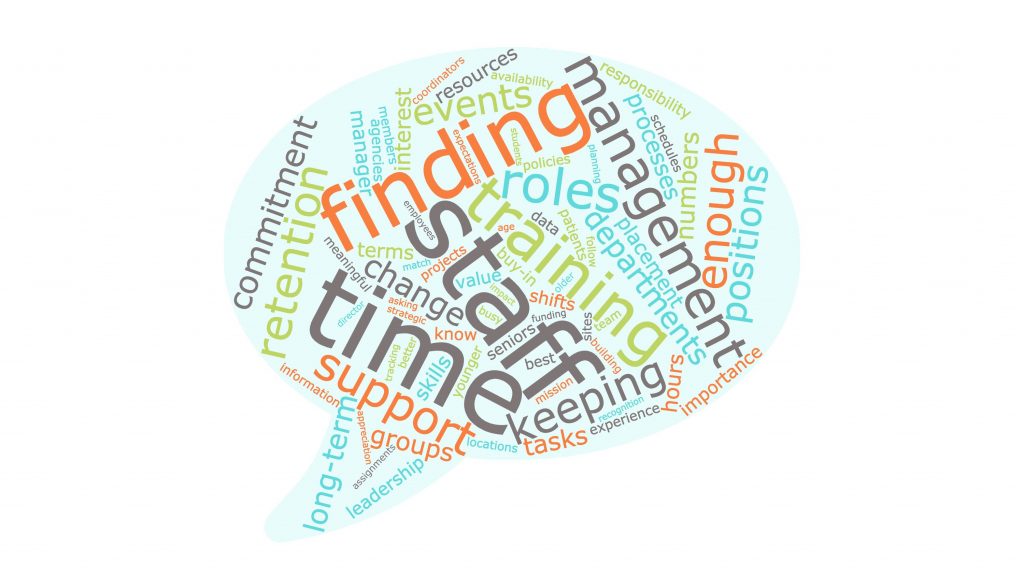 We're pleased to announce that our third annual Volunteer Management Progress Report survey is complete and the final report is ready for download.  
A total of 1,271 volunteer administrators (paid & volunteer) participated from 12 countries (and one reporting the continent of Africa). The vast majority of respondents (74%) were headquartered in the US, with 13% from Canada, 9% from Australia , 5% from the United Kingdom, and 2% from elsewhere.
The Good News
Regardless of the many challenges volunteer resource managers face, 81% of those who responded are Somewhat or Very Satisfied with their jobs. This result has held steady over three years.
Nearly seven out of 10 (67%) respondents Somewhat or Strongly Agree that they plan to be working in the field three years from now. Each year, moreover, the percentage of people with more than 10 years of experience grows, from 40% in 2016, to 43% in 2017, to 44% in this year's survey.

The Not So Good News
Leaders of volunteers continue to wear many hats and juggle competing priorities. While 85% of respondents work full-time, only 31% focus entirely on volunteer coordination. Over the past three years, the trend continues. This year, 55% of staff spent three quarters of their time or more on volunteer management, down from 64% three years ago.

In addition, the following were the most frequently cited issues in response to an open-ended question about their #1 biggest challenge, with the most noted subtopics for each:
Recruitment

(31%) – Finding enough volunteers & the right volunteers for specific roles

Respect and "Buy-In"

(14%) – Lack of executive support /understanding & co-worker resistance to volunteer involvement

Retention

(13%) – Fulfilling commitments to service & volunteers "aging out"

Roles & Matching

(10%) – Designing impactful roles & meeting volunteer interests

Time

(8%) –  Splitting time between competing priorities & not enough paid staff
Most notably, respondents have mentioned recruitment and respect and reliability as their top two challenges in this open-ended comment year after year.
In addition, volunteer retention has risen steadily as a top challenge, climbing seven percentage points over the past three years. This may reinforce what many leaders of volunteers report anecdotally – it may be getting harder to find and keep volunteers engaged, particularly over longer periods of service.
Get Your Copy of the 2018 Volunteer Management Progress Report
This year's 45-page report is chock full of information you need to better advocate for the field and your department. In it, we cover:
The top challenges for today's volunteer administrators (see pages 34-35)

How volunteer coordinators rate their level of support from co-workers (see pages 38-40)

Whether or not the diversity of today's volunteers aligns with the communities they serve and whether intentional volunteer diversity and inclusion is common (see page 41)

Whether we could establish retention benchmarks for short-term, long-term, and project-based volunteers (see pages 36-37)

How the job salaries and number of volunteers engaged compares across organizations of different sizes and types (see pages 27-32)

How volunteer managers compare their work, satisfaction, and intent to continue in the field (see pages 17-21, 22-26, 42-44)
Download your free copy from our web site here — https://volpro.net/volunteer-management-progress-report/
You can get the 2016 and 2017 reports there, too.
Tell Us What You Think?
After you review the Report, we'd love to hear what you think. Let us know by posting in the comments below.  
What surprised you about the results? What didn't? What information shared in the report was particularly helpful to you?
What's missing? What questions should we ask in next year's survey?